---
LF - Bogie Sheep Van
---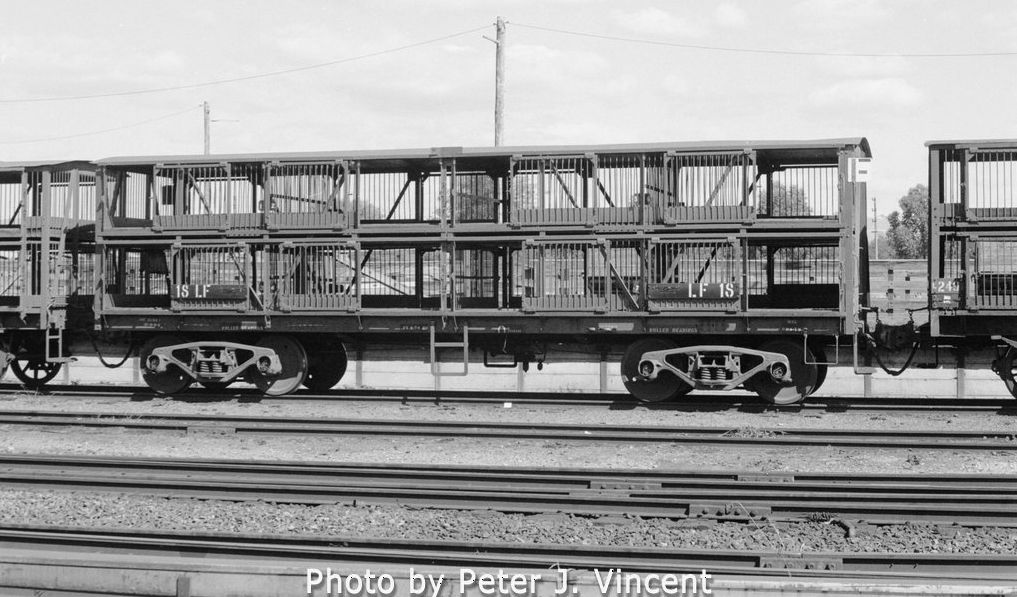 The LF sheepvans were converted from the mid 1960's to the early 1970's by replacing plain bearing bogies on _LL_ vans with roller bearing types.
The LF number group was 1 - 50.
Ten vans coded _LP_ were converted to LF in 1974/1975., with original numbers retained.
In the 1979 recoding, the LF class were relettered to VSAY.
   Photos   for  'LF  '

   FileID  Description................................................



   CN146   LF        -  rake at stockyard siding, Newmarket, 1970s, [oBAU]

   CC246   LF      1 - OR/hand lettering, Newport Workshops, 2/4/1979, [oPJV]

   CZ433   LF      2 - s1p, empty, Seymour, 23/9/1976, [oRXO]

   CN109   LF      3 - s1e1c, mt, Newmarket, 1970s, [oBAU]

   CN110   LF      5 - s1e1, mt, Dandenong, 1970s, [oBAU]

   CN112   LF      8 - s1e1c, mt, 1970s, [oBAU]

   CN113   LF     12 - s1e2, mt, Newmarket, 1970s, [oBAU]

   CN114   LF     16 - s2e2, mt, Newmarket, 1970s, [oBAU]

   DR666   LF     17, North Melbourne C&W Shops, 1/5/1979, [oPJV]

   CZ513   LF     17 - s1, r/b, Bendigo, 1/11/1976, [oRXO]

   CN111   LF     17 - s1e2,  mt, 1970s, [oBAU]

   CB508   LF     20 - part view / OR, Frezzers Siding, 8/4/1979, [oPJV]

   BA072   LF     20 - s2e1, Off Reg, r/b, stored, Freezers Siding, 8/4/1979, [oRXO]

   CN116   LF     22 - bogie/lettering, Newmarket, 1970s, [oBAU]

   CN117   LF     22 - e2p, Newmarket, 1970s, [oBAU]

   CN115   LF     22 - s2e2c, mt, Newmarket, 1970s, [oBAU]

   CN118   LF     24 - s1e1, mt, Newmarket, 1970s, [oBAU]

   CN119   LF     27 - s1e2, mt, Newmarket, 1970s, [oBAU]

   B3341   LF     31 - e2p, Tottenham Yard, 18/3/1979, [oPJV]

   B3342   LF     31 - e2q, Tottenham Yard, 18/3/1979, [oPJV]

   CB533   LF     38 - OR, Whites Siding, Bendigo, 8/4/1979, [oPJV]

   CN120   LF     39 - s2e2, mt, Newmarket, 1970s, [oBAU]

   BA140   LF     42 - s2e1, empty, p/b, Bendigo, 1/11/1976, [oRXO]

   CN121   LF     42 - s2e2, mt, Newmarket, 1970s, [oBAU]

   CN122   LF     45 - s1e1, mt, Dandenong, 1970s, [oBAU]

   CN123   LF     46 - s2e2, mt, Newmarket, 1970s, [oBAU]

   CN124   LF     48 - s1e1, mt, Dandenong, 1970s, [oBAU]

   CN125   LF     49 - s2e2, L4, cast/package bearings, mt, Newmarket, 1970s, [oBAU]

   CB509   LF     50 - OR COND, Frezzers Siding, 8/4/1979, [oPJV]

   CN126   LF     50 - s2e2, mt (light fogged), Dandenong, 1970s, [oBAU]

 
   No diagrams found for LF   
---
File c014m compiled by Peter J. Vincent, updated 18/1/2007