---
W - Workmens Sleeper Van
---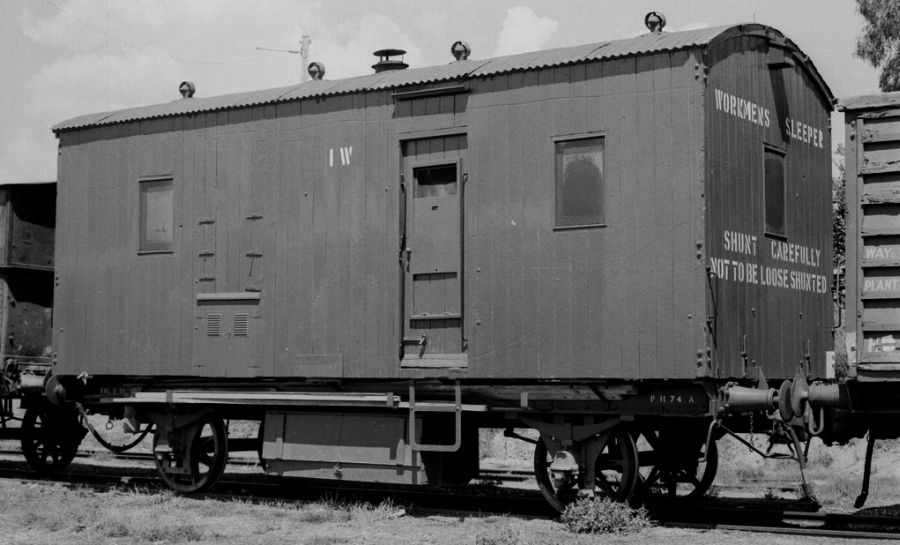 The workmen's sleeper vans represents one of the most fascinating groups of rolling stock. They represent the 'end of the line' for downgraded surplus carriages, mixed with vehicles built new from the 1900's. Some vehicles in this class were originally 1st class passenger carriages in the 18890s and were gradually downgraded over 30 to 40 years to Works sleepers.
An overview of the vehicle histories shows two events that produced surplus stock. The first event was the introduction of bogie carriages en-masse 1887-1893 which basically removed fixed wheel passenger vehicles from main line country running. These surplus vehicle were either scrapped or placed into works sleeper service. Most of this rolling stock dated back to the 1860's and were gradually scrapped from the 1900's through to the 1930's. Other fixed wheel stock that survived still saw traffic on trains, though on branchlines, limited use or as part of the Melbourne steam suburban train fleet. The second event that effectively 'cleaned out' fixed wheel stock was the introduction of electrification. Bogie vehicles were converted to electric service and the introduction of more bogie carriages removed fixed wheel stock from passenger trains by 1926. From these cars came conversions to the workmen's fleet which subsequently lasted up to the late 1970's. The majority of this stock was built 1883 to 1886.
The workmen's sleeper fleet in the 1880's was originally an ad-hoc group of cars. By about 1888 the cars were placed into a vehicle group coded _WS_.
In the 1910 recoding, the WS class was altered to W with new numbers allotted.
In 1901 a new van design was constructed leading to all new vans from this date being built to this design with slight modifications. This van became W 1.
There was van construction in 1911, 1914, 1928/29, 1934, 1936/37, 1943, 1945, 1958 to 1960. In between some of these years, surplus fixed wheel cars were converted to W.
There were many types of service for the W vans. They were used by painters, bridge gangs, track gangs, weighbridge repairers; all moving from station to station within the districts of the Victorian rail network. Large camp areas were situated at major points within each district. These camp sites were usually occupied as the 'mobile gangs' moved through the district on rerailing or resleepering projects. Special trains would move the cars en-masse to the next camp site.
Individual vans housing painters or bridge repairers would move to a station siding and set up base for a period of weeks to months.
Some men lived in these vans for most of their railway life, 15 to 20 years or more.
   Photos   for  'W  '

   FileID  Description................................................



   DJ756   W        -   cars in storage, Malmsbury, 15/8/1976, [oPJV]

   DJ757   W        -   cars in storage, Malmsbury, 15/8/1976, [oPJV]

   DE778   W        -  blurred/distant, 4whl, curved roof/5 side windows, Warburton, 1920s, [oPTC]

   DE780   W        -  blurred/distant, 5 windows, Warburton, 1920s, [oPTC]

   DE779   W        -  part view, shows brake pipe stand on car end, Warburton, 1920s, [oPTC]

   AA932   W        - 1906 built type, 1926, [oMDN]

   AR682   W        - body, Wangaratta, 1996, [sPJV]

   AR681   W        - body, North East, 1996, [sPJV]

   AR723   W        - body, Wallace, 1996, [sPJV]

   AF891   W        - body, Warrnambool, 1998, [oPXB]

   AF075   W        - body 1, [oDMG]

   AF076   W        - body 2, [oDMG]

   AF077   W        - body 3, [oDMG]

   AR730   W        - body, built into house, [sPJV]

   AF902   W        - body, interior, Warrnambol, [oPXB]

   AN022   W        - body, Magpie Lane house, [sPJV]

   AN021   W        - body, Magpie Lane house - 1, [sPJV]

   AL587   W        - body, off main road, Harcourt, 1997, [sPJV]

   AI321   W        - car, Gembrook, c1915, [sMXD]

   CB356   W        - row of 4 vans 402-401- x - 409, Bendigo, 8/4/1979, [oPJV]

   CC352   W      1 - e1q, Ararat, 29/4/1978, [oPJV]

   CC351   W      1 - s1/step, Ararat, 29/4/1978, [oPJV]

   CC353   W      1 - s2/step/battery box, Ararat, 29/4/1978, [oPJV]

   AR683   W      1 - s2e2, c1976, [oPJV]

   CN320   W      1 - s2e2, step/door, 1970s, [oBAU]

   AW688   W      6, [sMDN]

   BC703   W      7 - s1e2, ladder to open door, Morwell, 9/10/1976, [oRXO]

   AR710   W      7 - s1e2, step/door, [oPJV]

   CB885   W      8, Albury, NSW, 6/4/1979, [oPJV]

   BD276   W      8 - s1e2, ladder/door, Wodonga, 12/4/1975, [oPJV]

   AF006   W      9 - body, 1994, [oGXA]

   AR688   W     21 - s1e2, steps, c1976, [oPJV]

   CB136   W     30 - Camp: W 30 + HD 88, Toolamba, 15/4/1979, [oPJV]

   CB135   W     30 - s1e1c/step, Toolamba, 15/4/1979, [oPJV]

   CB138   W     30 - s2/step, Toolamba, 15/4/1979, [oPJV]

   AR698   W     35 - stored s1, Newport Workshops, c1925, [oMDN]

   AR707   W     47, [oMDN]

   AR708   W     49 - s2e1, 25/5/1976, [sPJV]

   AR709   W     54 - s1e2, c1975, [oPJV]

   AD488   W     56, [sFXK]

   CB921   W     64 - s1e1, Benalla, 7/4/1979, [oPJV]

   CF804   W     72 - e1, Ouyen, 19/4/1978, [oPJV]

   CF803   W     72 - e2 BNL 8.67, Ouyen, 19/4/1978, [oPJV]

   CF802   W     72 - s1, Ouyen, 19/4/1978, [oPJV]

   CF807   W     72 - s2, Ouyen, 19/4/1978, [oPJV]

   CN321   W     72 - s2e2, open door/no step, 1970s, [oBAU]

   BK590   W     74 - part view, Warragul, 3/10/1982, [oPJV]

   BK591   W     74 - part view, Warragul, 3/10/1982, [oPJV]

   BV019   W     74 - underframe ID lettering, Warragul, 9/12/1984, [oPJV]

   BK594   W     83 - draft gera/underframe/deck, Warragul, 3/10/1982, [oPJV]

   BK590   W     83 - underframe, Warragul, 3/10/1982, [oPJV]

   BK593   W     83 - underframe deck, Warragul, 3/10/1982, [oPJV]

   BK592   W     83 - underframe, eXp, buffers/auto/links, Warragul, 3/10/1982, [oPJV]

   BC704   W     84 - s2e1, firewood pile, Colac, 27/11/1976, [oRXO]

   BC705   W     90 - s2p, Traralgon, 9/10/1976, [oRXO]

   AR711   W     90 - Z underframe, Bairnsdale, 24/11/1977, [oPJV]

   CG234   W     92 - s1 step/door, Sealake, 21/4/1978, [oPJV]

   BG410   W     95 - s2e1, step/doors, Mangalore, 25/8/1976, [oPJV]

   CU315   W     96 - s2, Wallan, 28/3/1976, [oPJV]

   AR712   W     99 - s1e1c, s2 storeroom, Diggers Rest, c1976, [oPJV]

   BC706   W     99 - s1p, storeroom lhs, Diggers Rest, 8/11/1976, [oRXO]

   BC707   W    102 - s2e1, at platform, Terang, 28/11/1976, [oRXO]

   DA600   W    111 - s1e1, Pakenham, 17/7/1976, [oPJV]

   BC708   W    111 - s2, Bendigo, 1/11/1976, [oRXO]

   DA662   W    111 - s2p, Pakenham, 17/7/1976, [oPJV]

   AR684   W    111 - s2p, 7/1976, [oPJV]

   DA663   W    111 - s2q, Pakenham, 17/7/1976, [oPJV]

   AV609   W    116 - body, Elmhurst, 1/11/1999, [oPJV]

   AV608   W    116 - body behind house, Elmhurst, 1/11/1999, [oPJV]

   AV610   W    116 - e2, Elmhurst, 1/11/1999, [oPJV]

   AV612   W    116 - s1acute, Elmhurst, 1/11/1999, [oPJV]

   AR685   W    116 - s1e2c, Maroona, 13/8/1976, [oPJV]

   AV611   W    116 - s2e1, Elmhurst, 1/11/1999, [oPJV]

   BG415   W    122 - s1e2, step/door, Wallan, 25/8/1976, [oPJV]

   BC709   W    124 - s1e2, Warragul, 9/10/1976, [oRXO]

   BG446   W    124 - s2e1c, step/door, Bairnsdale, 22/9/1975, [oPJV]

   BK590   W    125 - part view, Warragul, 3/10/1982, [oPJV]

   BV206   W    125 - underframe after scrapping, Warragul, 9/12/1984, [oPJV]

   BV021   W    125 - underframe, top details, Warragul, 9/12/1984, [oPJV]

   BG448   W    144 - body, std end, Baddaginnie, 15/7/2000, [oDMG]

   BG447   W    144 - body, wedge end, Baddaginnie, 15/7/2000, [oDMG]

   BG449   W    144 - body, wedge side, roof added, Baddaginnie, 15/7/2000, [oDMG]

   AU721   W    144 - s2e2c/step ( should be W 441 ), Korong Vale, 22/4/1979, [oPJV]

   AA199   W    169 - body, Enfield, c1993, [oPJV]

   AT839   W    169 - body, Enfield, 9/1992, [oPJV]

   AT841   W    169 - body, side, Enfield, 9/1992, [oPJV]

   AT843   W    169 - body, sXq, Enfield, 9/1992, [oPJV]

   AT840   W    169 - eXp, body on ground, Enfield, 9/1992, [oPJV]

   AT842   W    169 - lettering:  WAY & WORKS , Enfield, 9/1992, [oPJV]

   CF961   W    175 - s1, Maryborough, 18/4/1978, [oPJV]

   AR686   W    175 - s1e2c, steps, 5/8/1975, [oPJV]

   CF964   W    175 - s2, Maryborough, 18/4/1978, [oPJV]

   BC710   W    178 - s2, ladder to door, Colac, 27/11/1976, [oRXO]

   AU463   W    181, [sFXK]

   BC711   W    181 - s1, Sunbury, 8/11/1976, [oRXO]

   BG508   W    182 - with W, Hamilton, 11/8/1976, [oPJV]

   AU730   W    183 - s1, Korong Vale, 22/4/1979, [oPJV]

   CB884   W    183*- on underframe, W 188 on body, Albury, NSW, 6/4/1979, [oPJV]

   BY339   W    186 - s2, North Melbourne C&W Shops, 1/5/1979, [oPJV]

   BG416   W    187 - s2e1, step/door, Wallan, 25/8/1976, [oPJV]

   CB884   W    188 - on body, W 183 on underframe, Albury, NSW, 6/4/1979, [oPJV]

   BC712   W    189 - underframe, Bendigo North W/S, 1/11/1976, [oRXO]

   CU318   W    190 - s1, ladder, Wallan, 28/3/1976, [oPJV]

   CB374   W    193, Bendigo, 8/4/1979, [oPJV]

   CB200   W    194 - s2/step, Numurkah, 15/4/1979, [oPJV]

   BC714   W    195 - s1, Mangalore, 23/9/1976, [oRXO]

   BC715   W    199 - s1p, Kilmore East, 23/9/1976, [oRXO]

   BG704   W    200, Dartmoor, 10/8/1976, [oPJV]

   CF960   W    202 - e1, Maryborough, 18/4/1978, [oPJV]

   CF959   W    202 - s1, Maryborough, 18/4/1978, [oPJV]

   CF965   W    202 - s2, Maryborough, 18/4/1978, [oPJV]

   BC716   W    205 - s2e1, Elphinstone, 2/10/1976, [oRXO]

   BD948   W    208 - s1e2, large sliding door only, North Geelong, 26/8/1984, [oPJV]

   BD949   W    208 - s2, e2 profile, rhs sliding door, North Geelong, 26/8/1984, [oPJV]

   BD950   W    208 - s2, rhs sliding door, North Geelong, 26/8/1984, [oPJV]

   AR689   W    211, c1976, [oPJV]

   BC717   W    211 - s2, Bridge Engineer, Warragul, 9/10/1976, [oRXO]

   BU970   W    212, Bendigo, 23/11/1980, [oPJV]

   AR690   W    230, c1976, [oPJV]

   BC718   W    230 - s1e1, c1977, [oRXO]

   AR691   W    238, Tinamba, 1/5/1976, [oPJV]

   CN322   W    238 - s1e1, 1970s, [oBAU]

   BV206   W    238 - underframe after scrapping, Warragul, 9/12/1984, [oPJV]

   DH718   W    243 - distant view (3r), Nowa Nowa, 21/6/1971, [oPJV]

   CG247   W    251 - e1q, Sealake, 21/4/1978, [oPJV]

   CG249   W    251 - e2q, Sealake, 21/4/1978, [oPJV]

   CG248   W    251 - s1e1 step/door, Sealake, 21/4/1978, [oPJV]

   CG251   W    251 - s2 step/door/fire extinguisher/240VAC lead, Sealake, 21/4/1978, [oPJV]

   CG246   W    256 - e1q, Sealake, 21/4/1978, [oPJV]

   CG244   W    256 - e2q, Sealake, 21/4/1978, [oPJV]

   CG252   W    256 - s1, Sealake, 21/4/1978, [oPJV]

   CG245   W    256 - s2 step/door, Sealake, 21/4/1978, [oPJV]

   AR693   W    257, 1/5/1976, [oPJV]

   BB216   W    257, Spotswood Rec Depot, 18/7/1984, [oPJV]

   CQ396   W    257 - s1e2, [oDAC]

   BM699   W    257 - s2e1c, lettered  U/S , North Geelong Yard, 5/9/1982, [oPJV]

   BM701   W    257 - s2p, North Geelong Yard, 5/9/1982, [oPJV]

   BM702   W    257 - stripped out interior, North Geelong Yard, 5/9/1982, [oPJV]

   AC674   W    258 - body (laser print copy), [sDMG]

   AR694   W    266, c1975, [oPJV]

   DY068   W    266 - body in bush, 2005, [sPJV]

   CU317   W    268 - s2, ladder, Wallan, 28/3/1976, [oPJV]

   AR695   W    271, [sPJV]

   BK366   W    271 - s1, Warragul, 16/3/1980, [oPJV]

   BC719   W    271 - s2, Warragul, 9/10/1976, [oRXO]

   11096   W    272 - camp rake step side, Beaufort, 29/4/1978, [oPJV]

   11088   W    272 - e2q h/brake square wrong, Beaufort, 29/4/1978, [oPJV]

   11090   W    272 - s1e1c, Beaufort, 29/4/1978, [oPJV]

   11087   W    272 - s2e1c door/step, Beaufort, 29/4/1978, [oPJV]

   BC720   W    272 - underframe obscured, Camperdown, 28/11/1976, [oRXO]

   11093   W    274 - e2q, Beaufort, 29/4/1978, [oPJV]

   11091   W    274 - s1e1 dark, Beaufort, 29/4/1978, [oPJV]

   11092   W    274 - s2e1 door/step, Beaufort, 29/4/1978, [oPJV]

   BC721   W    278 - at platform, Colac, 27/11/1976, [oRXO]

   BD955   W    278 - s1e2c, North Geelong, 26/8/1984, [oPJV]

   BD954   W    278 - W 444, W, scrap road, North Geelong, 26/8/1984, [oPJV]

   AF780   W    287, 1978, [oPJV]

   CF781   W    298 - s2, Ouyen, 19/4/1978, [oPJV]

   CN324   W    299 - s1e1, 1970s, [oBAU]

   DN266   W    300 - refurbishment, centre car, Sale, 1/11/1980, [oPJV]

   BC063   W    300 - s1, refurbished, sq windows, Maffra, 15/5/1981, [oPJV]

   CB499   W    301 - underframe, Bendigo Workshops, 8/4/1979, [oPJV]

   CB500   W    301 - underframe 2, Bendigo Workshops, 8/4/1979, [oPJV]

   BI864   W    302 - s2 Weighbridge fitters van, with WTT 31,30, Melbourne Yard, 18/1/1982, [oPJV]

   DJ758   W    303 - at end of camp, Wakool, 21/8/1976, [oPJV]

   BY409   W    303 - s2, North Melbourne C&W Shops, 1/5/1979, [oPJV]

   BK591   W    305 - part view, Warragul, 3/10/1982, [oPJV]

   BV019   W    305 - underframe ID lettering, Warragul, 9/12/1984, [oPJV]

   CN325   W    309 - s2e2, 1970s, [oBAU]

   BG710   W    310 - both doors open, Merino, 11/8/1976, [oPJV]

   BB876   W    311 - Off Reg, s2, Weighbridge Fitters traffic, Newport Workshops, 4/1981, [oPJV]

   BC086   W    311 - scrapping, Newport Workshops, 14/6/1981, [oPJV]

   AR696   W    312 - 1, c1976, [oPJV]

   BI716   W    312 - part view, Weighbridge Fitters, Bendigo, 18/10/1981, [oPJV]

   CQ396   W    313 - part view, [oDAC]

   BP079   W    315 - body,  U/S , s2, North Geelong Yard, 5/9/1982, [oPJV]

   BP080   W    315 - ID, North Geelong Yard, 5/9/1982, [oPJV]

   BC722   W    316 - s2e1, c1977, [oRXO]

   AU719   W    317 - s1/step, Korong Vale, 22/4/1979, [oPJV]

   BG395   W    317 - s1e2, Bendigo, 23/5/1976, [oPJV]

   BO253   W    327 - s1e2c Weighbridge fitters, Newport Workshops, 21/1/1981, [oPJV]

   BO263   W    327 - Weigbridge fitters s1e1, Newport Workshops, 21/1/1981, [oPJV]

   CF775   W    331 - e2, Ouyen, 19/4/1978, [oPJV]

   CF776   W    331 - s1, Ouyen, 19/4/1978, [oPJV]

   CF774   W    331 - s2, Ouyen, 19/4/1978, [oPJV]

   DK584   W    335 - part view, Sunbury, 1973, [oPJV]

   BC723   W    337 - s1e2c, Bendigo, 1/11/1976, [oRXO]

   BC725   W    338 - s1p, Seymour, 23/9/1976, [oRXO]

   BC726   W    339 - s2p, Traralgon, 9/10/1976, [oRXO]

   BC727   W    341 - s1e2c, door steps, Morwell, 9/10/1976, [oRXO]

   BL022   W    348 - e2p, Harcourt, 29/6/1975, [oPJV]

   BL021   W    348 - e2q, Harcourt, 29/6/1975, [oPJV]

   BC728   W    348 - s1, Elphinstone, 2/10/1976, [oRXO]

   BL020   W    348 - s1e1, Harcourt, 29/6/1975, [oPJV]

   BL019   W    348 - s1p, Harcourt, 29/6/1975, [oPJV]

   BG408   W    350 - camp rake, Mangalore, 25/8/1976, [oPJV]

   CN326   W    355 - s1e2, 1970s, [oBAU]

   BC729   W    355 - s1p, Seymour, 23/9/1976, [oRXO]

   BC730   W    356 - s2e2, Traralgon, 9/10/1976, [oRXO]

   AU731   W    358 - s2, Korong Vale, 22/4/1979, [oPJV]

   BC731   W    360 - s1e1c, Bendigo, 1/11/1976, [oRXO]

   AR699   W    360 - s1e2,no door this side, Eaglehawk, 26/2/1978, [oPJV]

   CN327   W    363 - s2e1, ladder uf, step/door, 1970s, [oBAU]

   BC732   W    363 - s2p, Seymour, 23/9/1976, [oRXO]

   CN328   W    365 - s1e2c, 1970s, [oBAU]

   BL771   W    366 - s1e2, door/steps, modified windows, Echuca, 13/4/1980, [oPJV]

   BG773   W    368 - s1e1, Stratford, 17/11/1975, [oPJV]

   BC733   W    368 - s2e1c, Seymour, 23/9/1976, [oRXO]

   BG764   W    369 - rake in siding, Stratford, 17/11/1975, [oPJV]

   BG763   W    369 - s1e2, plat, Stratford, 17/11/1975, [oPJV]

   DN266   W    371 - refurbishment, distant, last car, Sale, 1/11/1980, [oPJV]

   BC062   W    371 - s1, refurbished, sq windows, Maffra, 15/5/1981, [oPJV]

   BL887   W    375 - s2, step/door, Dimboola, 2/6/1979, [oPJV]

   BQ099   W    377 - s1e2, Transfer Vehicle Jol - Bo, Flinders Street Yard, 23/2/1980, [oPJV]

   BM722   W    377 - s2, Transfer Vehicle Jol-Bo, Jolimont Workshops, 3/3/1980, [oPJV]

   BG444   W    378 - s1, washing line, step/door, Bairnsdale, 22/9/1975, [oPJV]

   BC734   W    379 - s2, c1977, [oRXO]

   CB626   W    379 - s2, Seymour, 7/4/1979, [oPJV]

   DB173   W    381 - part view, s1e2, Daylesford, 9/1/2003, [oPJV]

   DB186   W    381 - restored, at platform, no aircon in service, Daylesford, 9/1/2003, [oPJV]

   BC737   W    381 - s1e2, Ballarat East, 2/10/1976, [oRXO]

   BD952   W    383 - body, North Geelong, 26/8/1984, [oPJV]

   BD951   W    383 - body on ground with body B 269, North Geelong, 26/8/1984, [oPJV]

   BM706   W    383 - body, part view, with B 269 body, North Geelong Yard, 5/9/1982, [oPJV]

   BM708   W    383 - body, s1e1, North Geelong Yard, 5/9/1982, [oPJV]

   CF974   W    385 - ID, Maryborough, 18/4/1978, [oPJV]

   CF973   W    385 - LD 7.55 DL lettering, Maryborough, 18/4/1978, [oPJV]

   CF975   W    385 - P 2.73 BR lettering, Maryborough, 18/4/1978, [oPJV]

   CF963   W    385 - s1, Maryborough, 18/4/1978, [oPJV]

   BV033   W    385 - s2, Sale, 9/12/1984, [oPJV]

   CF962   W    385 - s2e2c, Maryborough, 18/4/1978, [oPJV]

   CA898   W    386 - s1/step, Numurkah, 15/4/1979, [oPJV]

   AU720   W    387 - s2/step, Korong Vale, 22/4/1979, [oPJV]

   CB627   W    388 - s2, Seymour, 7/4/1979, [oPJV]

   BG700   W    389 - in works camp, Dartmoor, 10/8/1976, [oPJV]

   BL882   W    390 - s1e1, step/door, Dimboola, 2/6/1979, [oPJV]

   BL768   W    391 - e1p, Echuca, 13/4/1980, [oPJV]

   BL769   W    391 - e1q, Echuca, 13/4/1980, [oPJV]

   CG233   W    391 - reserve  1 , s1,  Not-To-Be-Loose-Shunted , Sealake, 21/4/1978, [oPJV]

   BL767   W    391 - s2e1c, modified windows, Echuca, 13/4/1980, [oPJV]

   BC738   W    393 - s1, part u/f obscured, Colac, 27/11/1976, [oRXO]

   CF782   W    394 - s2, Ouyen, 19/4/1978, [oPJV]

   BC739   W    395 - s2e1, Traralgon, 9/10/1976, [oRXO]

   DB185   W    396 - at platform, restored, Daylesford, 9/1/2003, [oPJV]

   BC740   W    396 - s1e2, Warragul, 9/10/1976, [oRXO]

   BG378   W    397 - s2e1, Bendigo, 23/5/1976, [oPJV]

   BG405   W    398 - s1e1c, Longwood, 25/8/1976, [oPJV]

   CB358   W    401 - OR/s1, Bendigo, 8/4/1979, [oPJV]

   AR700   W    402, 5/1976, [oPJV]

   CB356   W    402 - head of 4 vans, Bendigo, 8/4/1979, [oPJV]

   CB357   W    402 - OR/s2, Bendigo, 8/4/1979, [oPJV]

   DB194   W    403 - at platform, Daylesford, 9/1/2003, [oPJV]

   DN266   W    403 - refurbishment, with W 300, W 371, Sale, 1/11/1980, [oPJV]

   BC741   W    403 - s1, Ballarat East, 2/10/1976, [oRXO]

   BC064   W    403 - s1, refurbished, sq windows, Maffra, 15/5/1981, [oPJV]

   CU321   W    405 - s2, ladder, Wallan, 28/3/1976, [oPJV]

   BK105   W    405 - s2/step, Numurkah, 15/4/1979, [oPJV]

   CN330   W    406 - door/step/battery/gas compt detail, 1970s, [oBAU]

   BC742   W    406 - s2e1, Bendigo, 1/11/1976, [oRXO]

   CN329   W    406 - s2e1c, twin end windows, 1970s, [oBAU]

   BG397   W    406 - s2e2, step/door, Bendigo, 23/5/1976, [oPJV]

   BG417   W    407 - s1e1, Wallan, 25/8/1976, [oPJV]

   BM726   W    408 - s1e2c, 2 end windows, Jolimont Workshops, 3/3/1980, [oPJV]

   CB360   W    409 - open side box, Bendigo, 8/4/1979, [oPJV]

   DB134   W    409 - platform view, Daylesford, 9/1/2003, [oPJV]

   CB359   W    409 - s1, Bendigo, 8/4/1979, [oPJV]

   BL881   W    410 - s2, step/door, Dimboola, 2/6/1979, [oPJV]

   BG810   W    411 - part view, Hamilton, 11/8/1976, [oPJV]

   CN331   W    411 - s1e2, step/door, 1970s, [oBAU]

   BG506   W    411 - s2e1, Hamilton, 11/8/1976, [oPJV]

   BG442   W    412 - e2p, part fogged, Bairnsdale, 22/9/1975, [oPJV]

   BG441   W    412 - e2q, Bairnsdale, 22/9/1975, [oPJV]

   BG439   W    412 - Ganger, house for 15 years+, Bairnsdale, 22/9/1975, [oPJV]

   BG440   W    412 - s1e2, ganger at door, Bairnsdale, 22/9/1975, [oPJV]

   BG438   W    412 - s1e2, steps/door/permanent residence, Bairnsdale, 22/9/1975, [oPJV]

   AR701   W    412 - s1e2c, twin end windows, step/door, Bairnsdale, c1975, [oPJV]

   BL716   W    415 - lettered  Transfer Jol-Bo , Bendigo Workshops, 13/4/1980, [oPJV]

   BK714   W    415 - part view, Bendigo Workshops, 27/7/1980, [oPJV]

   BV126   W    415 - Transfer vehicle, Bendigo Workshops, 23/11/1980, [oPJV]

   BL770   W    418 - s1e2, modified windows, Echuca, 13/4/1980, [oPJV]

   BC743   W    419 - s1e2, Morwell, 9/10/1976, [oRXO]

   AU153   W    422 - s1, Korong Vale, 22/4/1979, [oPJV]

   BC744   W    424 - s2p, Traralgon, 9/10/1976, [oRXO]

   AR702   W    427, c1974, [oPJV]

   CN332   W    427 - s2, e2 curved roof, 1970s, [oBAU]

   BC745   W    427 - s2e1, Glenhuntly, 26/5/1976, [oRXO]

   BC746   W    427 - s2e2, Glenhuntly, c1977, [oRXO]

   CF739   W    429 - s1, Ballarat Workshops, 17/4/1978, [oPJV]

   CF737   W    429 - side cladding white/orange, s2, Ballarat Workshops, 17/4/1978, [oPJV]

   B1169   W    432 - OR, Tottenham Yard, 25/3/1979, [oPJV]

   BC748   W    432 - s1e1, c1977, [oRXO]

   BC749   W    432 - s1e2, Bendigo, 1/11/1976, [oRXO]

   B3387   W    432 - s2 OR, Tottenham Yard, 18/3/1979, [oPJV]

   AR703   W    434 - s2p, incorrect handbrake sign, Woodend, [oPJV]

   CN333   W    435 - s1e2, 1970s, [oBAU]

   BC750   W    435 - s1p, Glenhuntly, 22/8/1976, [oRXO]

   B3390   W    437 - e1/lettering, Tottenham Yard, 18/3/1979, [oPJV]

   B1168   W    437 - OR, Tottenham Yard, 25/3/1979, [oPJV]

   B3388   W    437 - s1 OR, Tottenham Yard, 18/3/1979, [oPJV]

   CU323   W    438 - s2, ladder, Wallan, 28/3/1976, [oPJV]

   BC751   W    439 - s2, Seymour, 23/9/1976, [oRXO]

   CG019   W    440, Maryborough, 18/4/1978, [oPJV]

   CG020   W    440 - e2 curved end, Maryborough, 18/4/1978, [oPJV]

   CG021   W    440 - s1, Maryborough, 18/4/1978, [oPJV]

   AU721   W    441 - lettered as W 144, Korong Vale, 22/4/1979, [oPJV]

   CC355   W    442 - s1 e1 flat end, Ararat, 29/4/1978, [oPJV]

   CC354   W    442 - s2, e2 curved end, Ararat, 29/4/1978, [oPJV]

   CN334   W    442 - s2e2, e2 curved roof, 1970s, [oBAU]

   CA901   W    443 - s1/step with W 461 s1/step, Numurkah, 15/4/1979, [oPJV]

   BD954   W    444 - part view, scrap road, North Geelong, 26/8/1984, [oPJV]

   AK506   W    445 - s2, sq ends, North Melbourne C&W Shops, 20/10/1977, [oPJV]

   CN335   W    446 - s2 acute view, 1970s, [oBAU]

   AF074   W    447, [oDMG]

   BC752   W    447 - s1p, Malmsbury, 7/9/1976, [oRXO]

   BG758   W    448 - s2e1, Stratford, 17/11/1975, [oPJV]

   BG771   W    448 - s2p, Stratford, 17/11/1975, [oPJV]

   BG770   W    448 - s2q, Stratford, 17/11/1975, [oPJV]

   DG444   W    449 - part view, s1e2, 1980s, [oDVC]

   AU877   W    450 - s2e1, Malmsbury, 18/2/1977, [oPJV]

   BC753   W    450 - s2e2, Malmsbury, 7/9/1976, [oRXO]

   CB727   W    451 - s1, Woodend, 8/4/1979, [oPJV]

   CB725   W    451 - s2 flat ends, Woodend, 8/4/1979, [oPJV]

   CN336   W    451 - s2, uf obscured, Woodend, 1970s, [oBAU]

   BC754   W    451 - s2e2, Bendigo, 1/11/1976, [oRXO]

   CA899   W    453 - s1, curved end s2, Numurkah, 15/4/1979, [oPJV]

   CU316   W    453 - s1e2, curved #2 end, Wallan, 28/3/1976, [oPJV]

   AR704   W    454, Caulfield, c1976, [oPJV]

   AF966   W    454, 1975, [oPJV]

   BC755   W    455 - at platform, tall chimney, Terang, 28/11/1976, [oRXO]

   BG398   W    456 - s1e2, Bendigo, 23/5/1976, [oPJV]

   BY559   W    457, Jolimont Workshops, 9/7/1980, [oPJV]

   BG396   W    459 - s2e1, Bendigo, 23/5/1976, [oPJV]

   AR705   W    460, Sunbury, c1975, [oPJV]

   BM704   W    460 - s1, exterior cladding stripped off, North Geelong Yard, 5/9/1982, [oPJV]

   BM705   W    460 - s1e2, exterior cladding stripped off, North Geelong Yard, 5/9/1982, [oPJV]

   CA900   W    461 - s1/step, flat ends, Numurkah, 15/4/1979, [oPJV]

   BL884   W    462 - s1e1c, step/door, Dimboola, 2/6/1979, [oPJV]

   BD277   W    465 - e1q, Wodonga, 12/4/1975, [oPJV]

   BD273   W    465 - e2q, part s2, ladder to door, Wodonga, 12/4/1975, [oPJV]

   BD274   W    465 - s1e2, Wodonga, 12/4/1975, [oPJV]

   BD275   W    465 - s1p, Wodonga, 12/4/1975, [oPJV]

   AR706   W    467 - s1e2, c1976, [oPJV]

 
   Diagrams   for  'W  '

   FileID  Description................................................



   AS699   W        -  steam, [oPTC]

 
---
File c039m compiled by Peter J. Vincent, updated 22/3/2007