---
ZB - Guards Van
---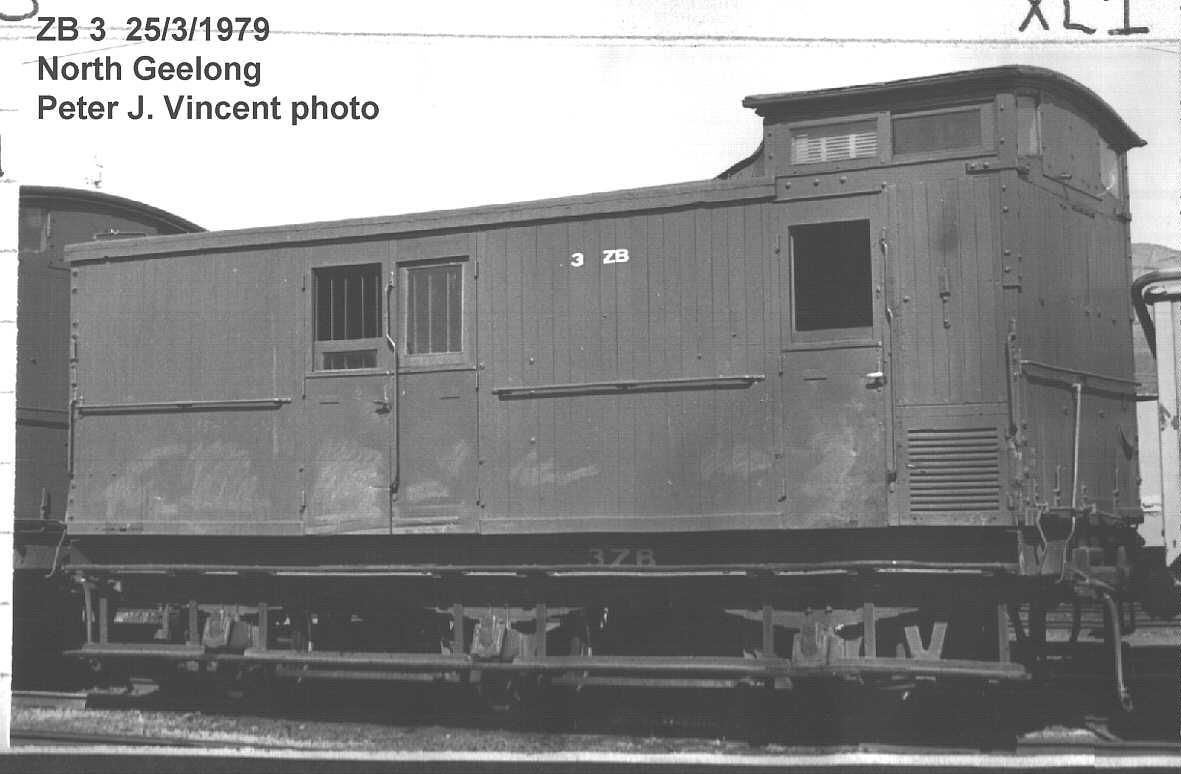 To improve the riding qualities of fixed wheel brakevans, twenty vans were 'ballasted' with three tons of rail. The rail was placed along the floor of the van area and a new floor placed over the top.
Vans of the type _Z__ / _ZL_ type were modified in 1971 and reclassed to ZB, numbers 1 to 20.
The first scrapping was in 1973, with most of the class removed from service in the mid 1980's.
   Photos   for  'ZB  '

   FileID  Description................................................



   B1487   ZB      1 - part view, North Melbourne C&W Shops, 13/4/1978, [oPJV]

   AS021   

ZB      3

, North Geelong Yard, 25/3/1979, [oPJV]

   B3298   ZB      3, North Geelong Yard, 25/3/1979, [oPJV]

   CN387   ZB      3, 1970s, [oBAU]

   BB662   ZB      5 - rear Apex spcl train, Sandy Creek, 30/3/1975, [oPJV]

   BA455   ZB      5 - top view, passing, Ebden/Tallangatta, 30/3/1975, [oPJV]

   BX701   ZB      7 - body, Bet Bet, 22/4/1979, [oPJV]

   AU786   ZB      7 - body with HH 11 body, Bet Bet, 22/4/1979, [oPJV]

   11485   ZB      8 - partially burnt, Tottenham Yard, 16/4/1978, [oPJV]

   11486   ZB      8 - partially burnt, with burnt ZL 336, Tottenham Yard, 16/4/1978, [oPJV]

   BP132   ZB      9 - part view, North Melbourne C&W, 20/8/1982, [oPJV]

   B3446   ZB     12, Tottenham Yard, 18/3/1979, [oPJV]

   B3448   ZB     12 - ceXp, Tottenham Yard, 18/3/1979, [oPJV]

   B3447   ZB     12 - ceXq, Tottenham Yard, 18/3/1979, [oPJV]

   BE808   ZB     12 - no cuploa roof, Newport Workshops, 1/10/1984, [oPJV]

   BG256   ZB     12 - scrapping, cupola roof removed, Newport Workshops, c1984, [oPJV]

   BA260   ZB     13 - lettering/number only, Newport, 18/7/1984, [oPJV]

   BA259   ZB     13 - Metro traffic only, Newport, 18/7/1984, [oPJV]

   BC832   ZB     14, Port Melbourne, 19/10/1976, [oRXO]

   CY966   ZB     18 - dogbox door broken, North Melbourne C&W Shops, 2/7/1976, [oPJV]

   CY965   ZB     18 - dogbox interior detail/door broken, North Melbourne C&W Shops, 2/7/1976, [oPJV]

   CY967   ZB     18 - false door step: van to goods area, North Melbourne C&W Shops, 2/7/1976, [oPJV]

   CY968   ZB     18 - false floor in goodsvan area, North Melbourne C&W Shops, 2/7/1976, [oPJV]

   AO269   ZB     18 - part view, North Melbourne C&W Shops, 23/4/1979, [oPJV]

   BC833   ZB     20 - at platform, North Melbourne C&W Shops, 17/10/1976, [oRXO]

 
   No diagrams found for ZB   
---
File c050m compiled by Peter J. Vincent, updated 3/4/2007