---
ZF - Steel Bogie Guards Van
---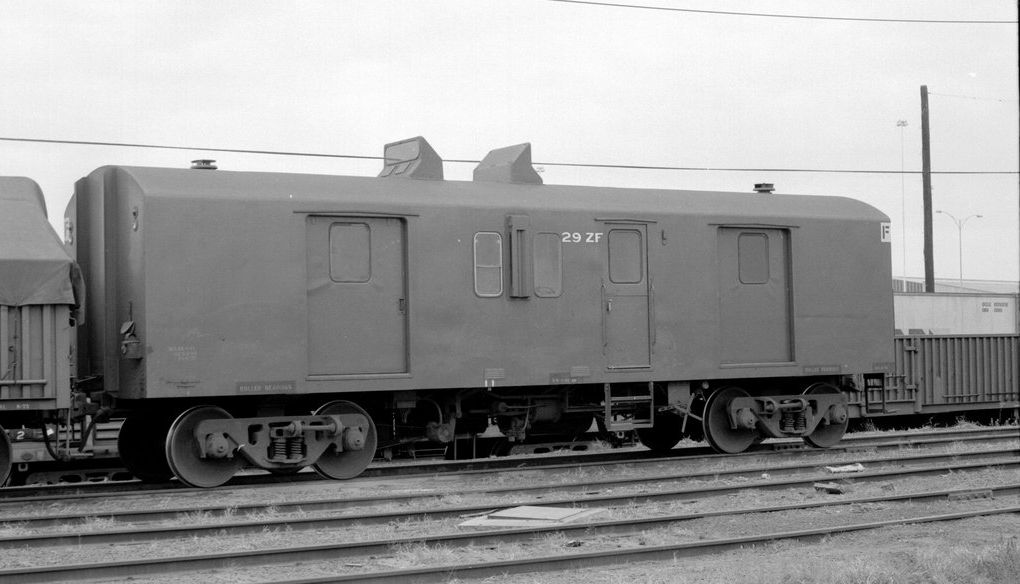 From 1970 to 1972 the railways built fifty new steel bogie vans. The code allocated was ZF and the numbers were 1 - 50. _ZF_ had previously been used on vans which became the ZLP_ class in 1968.
These new steel ZF vans replaced ageing fixed wheel _ZL_ vans on freight trains.
In the early 1970's, vents were provided at floor level in the guards compartment area.
In the late 1970's, some vans were provided with crew compartments for crews travelling between depots. These vans feature a small sliding door to a crew compartment at one end.
In the 1983 van recoding, they were recoded to VVDY.
In 1983, the Vline logo began to be applied to rolling stock. In an unusual twist, the van ZF 17 was photographed with a Vline logo, one of the few, if not the only, rolling stock with an old code and a Vline logo.
   Photos   for  'ZF  '

   FileID  Description................................................



   AK508   ZF        -   vans in storage: ZL, ZF, ZLP, North Melbourne C&W Shops, 20/10/1977, [oPJV]

   BQ760   ZF        - on train, 2 flats, T loco, Flinders Street, 5/2/1980, [oPJV]

   CN396   ZF      1 - lettering/periscope detail, 1970s, [oBAU]

   CN395   ZF      1 - std, 1970s, [oBAU]

   AS027   ZF      2, Flinders Street Yard, 1975, [oPJV]

   BG212   ZF      2 - crew compt, grills,  VR Suck , Tottenham Yard, 13/9/1981, [oPJV]

   BG982   ZF      2 - e2p, Flinders Street Yard, 3/7/1975, [oPJV]

   BG981   ZF      2 - e2q, Flinders Street Yard, 3/7/1975, [oPJV]

   BG980   ZF      2 - s1e2c, Flinders Street Yard, 3/7/1975, [oPJV]

   BG213   ZF      2 - window grill detail, Tottenham Yard, 13/9/1981, [oPJV]

   BC844   ZF      3, Westall, 31/10/1976, [oRXO]

   DE059   ZF      3*- body ex VVDY 29, Newbury, 12/2000, [oJXS]

   AM545   ZF      4 - s2 centre detail, Maryborough, 22/4/1979, [oPJV]

   AM543   ZF      4 - s2e2, Maryborough, 22/4/1979, [oPJV]

   B1590   ZF      5, Tottenham Yard, 12/3/1979, [oPJV]

   BJ012   ZF      7 - grill/crew compt., North Melbourne C&W Shops, 18/1/1982, [oPJV]

   BK339   ZF      7 - part view, s1, Westall, 16/3/1980, [oPJV]

   BK340   ZF      7 - s2e1c, Westall, 16/3/1980, [oPJV]

   DE061   ZF      9*- body lettering VVDY 43, Newbury, 12/2000, [oJXS]

   DE063   ZF      9*- body of VVDY 43, Newbury, 12/2000, [oJXS]

   B1057   ZF     11, Tottenham Yard, 25/3/1979, [oPJV]

   BY865   ZF     11, North Melbourne C&W Shops, 1/9/1980, [oPJV]

   BI513   ZF     12 - window grill, Flinders Street Yard, 23/10/1981, [oPJV]

   CC362   ZF     13, Ararat, 29/4/1978, [oPJV]

   AS026   ZF     15, North Geelong Yard, 10/6/1978, [oPJV]

   BH199   ZF     15 - crew compt, no test stencil, Shepparton, 15/3/1981, [oPJV]

   B3586   ZF     15 - Test Bogie Centre/stencil, North Geelong Yard, 10/6/1978, [oPJV]

   CN397   ZF     15 - Test Bogie Centres, 1970s, [oBAU]

   AI325   ZF     15 - test bogies/stencil, [oPJV]

   BI826   ZF     16 - crew compt,  WNG  chalk, Dandenong, 27/1/1982, [oPJV]

   AX257   ZF     17 - s2, crew compt, Vline logo, North Melbourne C&W, 18/11/1983, [oPJV]

   AT003   ZF     17 - Vl, part view, Spencer Street, 21/8/1983, [oPJV]

   AT002   ZF     17 - Vl, s2, Spencer Street, 21/8/1983, [oPJV]

   BG897   ZF     19 - compartment window grill, Tottenham Yard, 1/2/1981, [oPJV]

   BC845   ZF     22, East Yard, 12/1976, [oRXO]

   CA954   ZF     22, North Melbourne C&W Shops, 16/4/1979, [oPJV]

   B1548   ZF     23 - s1, Flinders Street Yard, 25/3/1978, [oPJV]

   BC848   ZF     24, Port Melbourne, 27/10/1976, [oRXO]

   BK304   ZF     24 - s2, Flinders Street Yard, 12/12/1981, [oPJV]

   BR202   ZF     25 - part view, window grill, North Geelong Yard, 4/1/1981, [oPJV]

   BI712   ZF     26 - kero tail light, Bendigo, 18/10/1981, [oPJV]

   BL893   ZF     28 - periscope/roofline, Dimboola, 2/6/1979, [oPJV]

   BL892   ZF     28 - roof, Dimboola, 2/6/1979, [oPJV]

   BL891   ZF     28 - s2, Dimboola, 2/6/1979, [oPJV]

   BE524   ZF     31 - crew compt, Flinders Street Yard, 14/8/1981, [oPJV]

   BC275   ZF     31 - part view, Woodend, 8/11/1976, [oRXO]

   BC849   ZF     31 - part view, Woodend, 8/11/1976, [oRXO]

   BQ765   ZF     32, Flinders Street, 5/2/1980, [oPJV]

   BQ763   ZF     32 - lettering, Flinders Street, 5/2/1980, [oPJV]

   BF005   ZF     32 - s1e1c, Newport Workshops, 20/9/1975, [oPJV]

   AU890   ZF     33 - crew compartment, Melbourne Yard, 15/9/1983, [oPJV]

   AU893   ZF     33 - part view, Melbourne Yard, 15/9/1983, [oPJV]

   BH133   ZF     33 - part view, North Melbourne C&W Shops, 4/3/1981, [oPJV]

   11495   ZF     34, Tottenham Yard, 16/4/1978, [oPJV]

   DR667   ZF     34, Geelong Loco, 29/4/1979, [oPJV]

   BC850   ZF     35, Bendigo, 1/11/1976, [oRXO]

   BQ951   ZF     37 - s2, Tottenham Yard, 4/1/1981, [oPJV]

   BK316   ZF     37 - s2, Flinders Street Yard, 18/12/1981, [oPJV]

   BH187   ZF     38 - kero tail light, North Melbourne C&W Shops, 3/3/1981, [oPJV]

   BC148   ZF     38 - part view, Dandenong, 14/11/1976, [oRXO]

   BC851   ZF     38 - part view, Dandenong, 14/11/1976, [oRXO]

   BH188   ZF     38 - vertical class / number lettering only, North Melbourne C&W Shops, 3/3/1981, [oPJV]

   BE148   ZF     39 - crew compartment, Flinders Street Yard, 3/8/1981, [oPJV]

   BM445   ZF     39 - s1, Echuca, 11/5/1980, [oPJV]

   BC852   ZF     40, Bendigo, 1/11/1976, [oRXO]

   CF736   ZF     41, Ballarat Workshops, 17/4/1978, [oPJV]

   AS028   ZF     44, c1976, [oPJV]

   BC853   ZF     46, Westall, 31/10/1976, [oRXO]

   CN398   ZF     46, 1970s, [oBAU]

   BG608   ZF     48 - part view, Newport Workshops, 6/11/1975, [oPJV]

   BX708   ZF     49, North Geelong Yard, 29/4/1979, [oPJV]

   AT675   ZF     49 - periscope detail, Bendigo, 22/4/1979, [oPJV]

   BV115   ZF     50 - burnt, Bendigo Workshops, 23/11/1980, [oPJV]

   BV125   ZF     50 - burnt, Bendigo Workshops, 23/11/1980, [oPJV]

   BV138   ZF     50 - burnt body, Bendigo Workshops, 23/11/1980, [oPJV]

   CF912   ZF    45, Donald, 19/4/1978, [oPJV]

 
   Diagrams   for  'ZF  '

   FileID  Description................................................



   AU677   ZF        -  wood, c1963, [oD26]

 
---
File c052m compiled by Peter J. Vincent, updated 6/4/2007