---
B - Fixed Wheel Steel Boxvan
---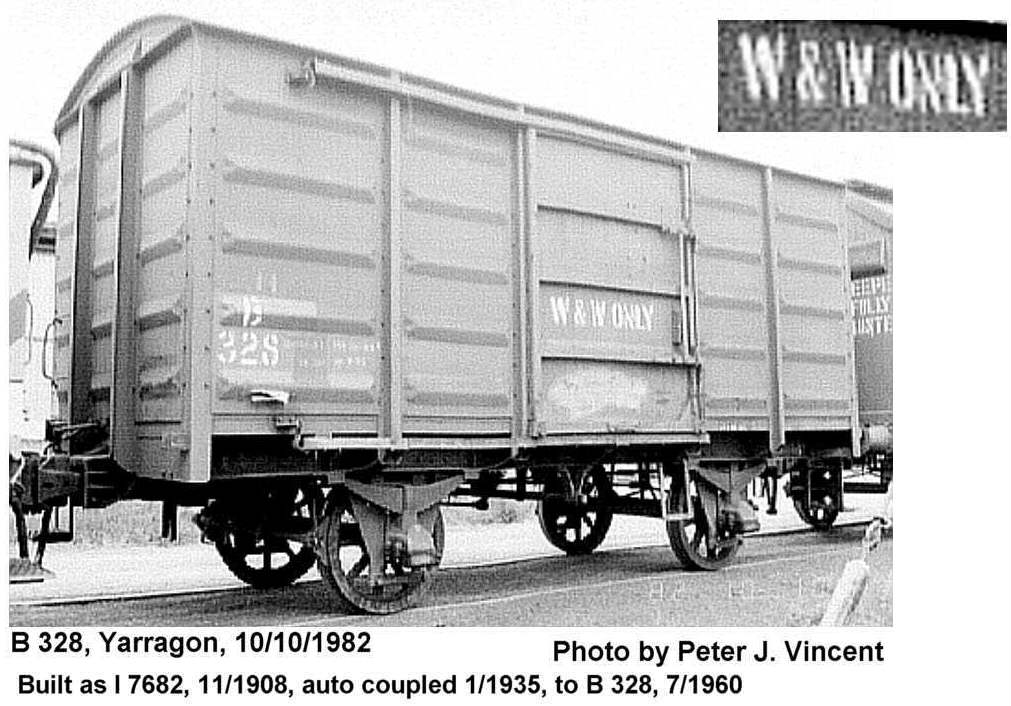 By the late 1950's, many of the older open wagons and louvre vans were being scrapped. To provide additional capacity, steel bodies were built onto scrapped underframes. The bodies were of a style similar to the meduim size bogie boxvans coded _BB_ at the time.
The original plan was for 500 vans. This was later reduced to 400. The order was stopped at 350 built, but with extra components still left, construction continued until 380 were built.
The prototype van B 1, was unusual in that it featured sheet ends, without the pressings.
By the early 1980's, most were being scrapped with some in use as service vans for the Way and Works Branch.
In later years bodies started to be placed at Train Examiner depots as work sheds.
   Photos   for  'B  '

   FileID  Description................................................



   DO081   B        -  van body, Simsmetal, in use as shed, Brooklyn, 9/11/2003, [oPJV]

   AV530   B        -  Assorted shims ,  Lift equipment , Maryborough, 1/11/1999, [oPJV]

   AU617   B        -  Off Reg , Maffra, 1/1985, [oPJV]

   AV531   B        -  Workshop #3 , Maryborough, 1/11/1999, [oPJV]

   AV532   B        -  Workshop #3 , lettering, Maryborough, 1/11/1999, [oPJV]

   AA352   B        - Bodies, Train Examiners Sheds, Shepparton, [oPJV]

   AV533   B        - body, Maryborough, 1/11/1999, [oPJV]

   BM345   B        - body on stumps, Huntly, 12/5/1980, [oPJV]

   BI739   B        - body, as RGR shed, Wodonga, 7/11/1982, [oPJV]

   AV525   B        - body, east on main road, Avoca, 1/11/1999, [oPJV]

   AI494   B        - body, Northern region, 1996, [oPJV]

   BD956   B        - body, Train examiner area,  humpy , North Geelong, 26/8/1984, [oPJV]

   AA980   B        - van bodies, [oPJV]

   AI493   B        - van bodies lettering, SRHC, Seymour, [oPJV]

   AQ345   B        - van bodies, SHRC, Seymour, [oPJV]

   AI492   B        - van, 2 bodies, [oPJV]

   AI501   B        - Wodonga loco, [sPJV]

   BL899   B        - yellow, Newport Workshops, 17/4/1980, [oPJV]

   BL900   B        - yellow  ..TEMP LOAN STEAMRAIL , Newport Workshops, 17/4/1980, [oPJV]

   BL910   B        - Yellow, HOLD CME INSTRUCTIONS, Newport Workshops, 17/4/1980, [oPJV]

   AA782   B      1, Benalla, 28/1/1975, [oPJV]

   AH431   B      1 - body, Sims, [sPJV]

   DJ094   B      1 - distant view in yard, s2, Bairnsdale, 1973, [oPJV]

   CC084   B      1 - s1e1 load chalk, Centre Yard, 5/4/1979, [oPJV]

   AY934   B      2 - s2 perp, 7 , East Yard, 29/9/1976, [oRXO]

   AV931   B      4 - side 2, Ararat, 27/2/1977, [oPJV]

   AY935   B      6 - s1e2, East yard, 12/11/1976, [oRXO]

   AY936   B      6 - s2, East Yard, 12/1976, [oRXO]

   AA784   B     10 - (2nd) ex HR, SRHC, Seymour, 1997, [oPJV]

   AA783   B     10 - body, [oPJV]

   AF005   B     10 - body, Echuca, 1994, [oGXA]

   AX178   B     10 - body, Echuca, 3/1993, [oPJV]

   AY938   B     10 - s1, East Yard, 12/1976, [oRXO]

   AY937   B     10 - s2, East Yard, 12/11/1976, [oRXO]

   CB493   B     10 - s2, Bendigo Workshops, 8/4/1979, [oPJV]

   CF970   B     12, Maryborough, 18/4/1978, [oPJV]

   AY939   B     12 - s1, East Yard, 12/1976, [oRXO]

   BK763   B     13 - s1e2, L4, Imp Let, Castlemaine, 29/6/1975, [oPJV]

   BW543   B     16 - part view, Tottenham Yard, 7/4/1979, [oPJV]

   AY940   B     18 - s1, Morwell, 9/10/1976, [oRXO]

   AY941   B     22 - s1, Morwell, 9/10/1976, [oRXO]

   BD503   B     23 - s1, U van wood door, Wodonga, 12/4/1975, [oPJV]

   CM953   B     23 - s2, U van door, 1970s, [oBAU]

   AA976   B     23 - wood U van door, Wodonga, 10/4/1975, [oPJV]

   AY942   B     25 - s2, East Yard, 23/11/1976, [oRXO]

   CM954   B     26 - s2, U van door, 1970s, [oBAU]

   CG334   B     28, Tottenham Yard, 16/4/1978, [oPJV]

   AY943   B     32 - s2, ldd, Westall, 12/1976, [oRXO]

   BL945   B     33 - part view, OR, North Melbourne C&W Shops, 18/4/1980, [oPJV]

   AY944   B     35 - s1e2, East Yard, 12/1976, [oRXO]

   CC242   B     37, Newport Workshops, 2/4/1979, [oPJV]

   CB833   B     37 - OR ( BNL DW 2.84 ), Tottenham Yard, 7/4/1979, [oPJV]

   CB834   B     37 - OR / lettering / waybill, Tottenham Yard, 7/4/1979, [oPJV]

   AY945   B     37 - s2, East Yard, 16/11/1976, [oRXO]

   AA984   B     39, Bairnsdale, [sPJV]

   AY107   B     39 - body, Bairnsdale, 20/4/1994, [oPJV]

   AU637   B     40 - part view, North Melbourne, 2/1977, [oPJV]

   AY946   B     40 - s2e1, Dandenong, 14/11/1976, [oRXO]

   AY947   B     42 - s2, East Yard, 12/1976, [oRXO]

   AA985   B     43, [sPJV]

   AY948   B     43 - s2, East Yard, 18/11/1976, [oRXO]

   BP486   B     44 - OR, s2, Spotswood Rec Depot, 10/6/1982, [oPJV]

   AY949   B     45 - s1 perp, Oakleigh, 21/1/1977, [oRXO]

   AT050   B     46 - Imp lettering, Albury, 22/ 3/1974, [oPJV]

   AT057   B     46 - lettering, [sPJV]

   AY950   B     48 - s1, East Yard, 16/11/1976, [oRXO]

   AY951   B     50 - s2, East Yard, 12/1976, [oRXO]

   AY952   B     52 - s1e2, Curdie, 28/11/1976, [oRXO]

   AA986   B     56 - body, Wodonga, 1995, [sPJV]

   B2990   B     59 - OR, Canal Zone, 1/4/1978, [oPJV]

   AY953   B     59 - s2 perp, U 1560 door, Dandenong, 30/1/1977, [oRXO]

   AF012   B     60 - body, [oGXA]

   B1607   B     61, Tottenham Yard, 12/3/1979, [oPJV]

   AY954   B     62 - s1, East Yard, 12/1976, [oRXO]

   AY955   B     63 - s2, East Yard, 12/11/1976, [oRXO]

   AY956   B     63 - s2, East Yard, 12/1976, [oRXO]

   AY957   B     64 - s1, Albury, 8/10/1981, [oRXO]

   BV451   B     66, Tottenham Yard, 6/5/1979, [oPJV]

   AY959   B     68 - s1, East Yard, 25/11/1976, [oRXO]

   AY960   B     69 - s2, North Melbourne C&W, 17/10/1976, [oRXO]

   AY961   B     70 - s1, Dandenong, 30/1/1977, [oRXO]

   AY962   B     71 - s2, East Yard, 12/1976, [oRXO]

   DG046   B     79, Mildura, 20/4/1978, [oPJV]

   AY963   B     79 - s1, East yard, 12/1976, [oRXO]

   AV719   B     80 - side 1, Spencer Street, 18/2/1977, [oPJV]

   BP270   B     81 - lettering: NOT TO BE MOVED, North Melbourne C&W, 7/4/1982, [oPJV]

   BV025   B     81 - OR, in camp siding, Yarragon, 9/12/1984, [oPJV]

   BP271   B     81 - OR, s2, NOT TO BE MOVED, North Melbourne C&W, 7/4/1982, [oPJV]

   AY964   B     82 - s1, Bendigo, 13/11/1976, [oRXO]

   AU589   B     84 - part view, Bairnsdale, 22/9/1975, [oPJV]

   CF928   B     85 - s1, St Arnaud, 19/4/1978, [oPJV]

   DA570   B     87 - s2, Dandenong, 17/7/1976, [oPJV]

   AY965   B     89 - s2, East Yard, 12/1976, [oRXO]

   BF947   B     94 - part view, North Melbourne C&W Shops, 2/10/1981, [oPJV]

   AY966   B     96 - s2, East Yard, 12/1976, [oRXO]

   CB753   B    102 - s1, Castlemaine, 8/4/1979, [oPJV]

   AY967   B    102 - s2, ldd, Westall, 31/10/1976, [oRXO]

   AY968   B    105 - s1, East Yard, 19/11/1976, [oRXO]

   AY969   B    107 - s2e1, Dandenong, 30/1/1977, [oRXO]

   DA626   B    108 - s2, door open,  Terang ,  MT  lettering, Dandenong, 17/7/1976, [oPJV]

   AY970   B    109 - s2, East Yard, 12/1976, [oRXO]

   AW635   B    111, Centre Yard, 20/4/1979, [oPJV]

   AY971   B    111 - s2p, Dandenong, 30/1/1977, [oRXO]

   BD391   B    112 - part view, Jolimont Workshops, 7/1981, [oPJV]

   AY972   B    113 - s2, Newport Goods Yard, 20/11/1976, [oRXO]

   CF866   B    115, Birchip, 19/4/1978, [oPJV]

   AY973   B    117 - s2, East Yard, 16/11/1976, [oRXO]

   AY974   B    119 - s1, East Yard, 3/11/1976, [oRXO]

   AJ974   B    120, Tottenham Yard, 29/4/1979, [oPJV]

   AY975   B    120 - s1, East Yard, 26/10/1976, [oRXO]

   CC290   B    121, Spencer Street, 1/4/1979, [oPJV]

   CN305   B    122 - part view/lettering, Ararat, 1970s, [oBAU]

   AY976   B    122 - s1, East yard, 12/1976, [oRXO]

   BD503   B    123 - part view, std door/B 23 wood type, Wodonga, 12/4/1975, [oPJV]

   AY977   B    125 - s2, East Yard, 12/1976, [oRXO]

   DA624   B    127 - s1e1, Dandenong, 17/7/1976, [oPJV]

   CT500   B    129 - part view, Victoria Park, 7/7/1977, [oPJV]

   BE235   B    131*- (181), off reg, s1e2c, North Geelong, 26/8/1984, [oPJV]

   BE234   B    131*- (181), off reg, with B 180 off reg, North Geelong, 26/8/1984, [oPJV]

   AY978   B    135 - s2, East Yard, 12/1976, [oRXO]

   B9927   B    136, Woodend, 15/3/1978, [oPJV]

   B9928   B    136 - door: load lettering/chalk, Woodend, 15/3/1978, [oPJV]

   AY979   B    138 - s1p, East yard, 3/11/1976, [oRXO]

   CG067   B    139, Robinvale, 21/4/1978, [oPJV]

   11405   B    140, Frankston, 6/4/1978, [oPJV]

   CB924   B    140 - s2e1c, Benalla, 7/4/1979, [oPJV]

   AY980   B    141 - s1, East yard, 19/11/1976, [oRXO]

   AY981   B    142 - s2, Woodend, 13/11/1976, [oRXO]

   AV249   B    143 - body, side 1, Benalla, 18/1/2000, [oPJV]

   AV247   B    143 - body, side 2, Benalla, 18/1/2000, [oPJV]

   AV248   B    143 - Lettering/Off Reg marking, Benalla, 18/1/2000, [oPJV]

   CB411   B    143 - lifted, Bendigo, 8/4/1979, [oPJV]

   AY982   B    143 - s2, East yard, 12/1976, [oRXO]

   AY983   B    144 - s1, East Yard, 12/1976, [oRXO]

   AY984   B    145 - s1, East Yard, 19/11/1976, [oRXO]

   CB753   B    146 - part view, L7, Castlemaine, 8/4/1979, [oPJV]

   AY985   B    150 - s2, East Yard, 12/11/1976, [oRXO]

   CU678   B    151 - s1, Dandenong, 10/1/1979, [oPJV]

   CB707   B    152, Tottenham Yard, 7/4/1979, [oPJV]

   CG332   B    155, Tottenham Yard, 16/4/1978, [oPJV]

   AY986   B    157 - s2, East Yard, 12/1976, [oRXO]

   DB100   B    159 - lettering panel/restored L4, Daylesford, 9/1/2003, [oPJV]

   DB099   B    159 - s1e2, at platform, restored L4 lettering, Daylesford, 9/1/2003, [oPJV]

   BD957   B    160 - body, humpy, portable, North Geelong, 26/8/1984, [oPJV]

   CU377   B    162, Tottenham Yard, 18/3/1979, [oPJV]

   AY987   B    165 - s1, number on door, on rhs of left, East Yard, 15/10/1976, [oRXO]

   AY988   B    165 - s2, number on door, rhs on left body, East yard, 12/1976, [oRXO]

   CG069   B    166, Robinvale, 21/4/1978, [oPJV]

   AY989   B    166 - s1, East Yard, 12/1976, [oRXO]

   CF523   B    167, Warrenheip, 29/4/1978, [oPJV]

   AY990   B    170 - s2, East Yard, 12/1976, [oRXO]

   CZ093   B    172 - s1, East Yard, 23/11/1976, [oRXO]

   DA625   B    172 - s2, Dandenong, 17/7/1976, [oPJV]

   AH578   B    173 - part view, 1978, [oBAU]

   CZ094   B    175 - s2, East Yard, 12/1976, [oRXO]

   CZ095   B    179 - part view, Spencer Street, 12/1976, [oRXO]

   BE234   B    180 - part view, off reg, North Geelong, 26/8/1984, [oPJV]

   BE236   B    180 - s2e1, off reg, North Geelong, 26/8/1984, [oPJV]

   BY574   B    182 - OR, North Geelong Yard, 29/4/1979, [oPJV]

   CB085   B    186 - OR, North Melbourne C&W Shops, 16/4/1979, [oPJV]

   CZ096   B    189 - s2, Dandenong, 30/1/1977, [oRXO]

   AR729   B    192 - body, Warrnambool, [oPJV]

   BB074   B    192 - s1, off reg, Warnambool, Easter1993, [oPJV]

   BB117   B    192 - s2,  5 , up end of yard, Warnambool, Easter1993, [oPJV]

   AA785   B    192 - stored, Warrnambool, 1993, [sPJV]

   BM958   B    194 - part view, North Melbourne C&W, 28/2/1980, [oPJV]

   CF598   B    195, Avoca, 18/4/1978, [oPJV]

   CT611   B    198 - s1e1, Arden Street Sidings, 4/9/1977, [oPJV]

   CZ097   B    198 - s2, Mortlake, 28/11/1976, [oRXO]

   BE192   B    199 - body on ground, Newport Workshops, 5/8/1981, [oPJV]

   BD386   B    199 - s2e1, Off Reg, Newport Workshops, 14/7/1981, [oPJV]

   AV721   B    202 - side 1, Spencer Street, 18/2/1977, [oPJV]

   CU698   B    206, Dandenong, 10/1/1979, [oPJV]

   BW507   B    207 - s2e2c, Tottenham Yard, 7/4/1979, [oPJV]

   CZ098   B    208 - s1, Cobden, 28/11/1976, [oRXO]

   CF600   B    211, Avoca, 18/4/1978, [oPJV]

   CZ099   B    212 - s1, East Yard, 12/1976, [oRXO]

   CC321   B    214, Ararat, 29/4/1979, [oPJV]

   CU701   B    219, Dandenong, 10/1/1979, [oPJV]

   BK761   B    222 - s2e2, L7, Castlemaine, 29/6/1975, [oPJV]

   CZ100   B    223 - s1, 4  lettering, East Yard, 28/10/1976, [oRXO]

   CZ101   B    224 - s2, Colac, 27/11/1976, [oRXO]

   BY877   B    225, North Melbourne C&W Shops, 1/5/1979, [oPJV]

   CZ102   B    226 - hansa, Off Reg,  Hold CME Instructions , Newport Workshops, 9/6/1982, [oRXO]

   AA975   B    226 - OR, painted yellow/store shed, Newport Workshops, 24/8/1978, [oPJV]

   B2981   B    227, Canal Zone, 1/4/1978, [oPJV]

   CB088   B    228 - OR, North Melbourne C&W Shops, 16/4/1979, [oPJV]

   CM952   B    229 - s1e1c, 1970s, [oBAU]

   CT607   B    231 - s2, Arden Street Sidings, 4/9/1977, [oPJV]

   BC074   B    234 - s1e2c, Off Reg, Seymour, 26/5/1981, [oPJV]

   CZ103   B    234 - s2, East Yard, 12/1976, [oRXO]

   CZ104   B    237 - s2, Yarrawonga, 18/9/1976, [oRXO]

   CZ105   B    240 - s1, East Yard, 12/1976, [oRXO]

   B1024   B    245 - OR, Tottenham Yard, 25/3/1979, [oPJV]

   CZ106   B    246 - s2, East Yard, 12/1976, [oRXO]

   CZ107   B    251 - s1, West Footscray, 8/11/1976, [oRXO]

   CB045   B    255, Dandenong, 19/4/1979, [oPJV]

   CZ108   B    256 - s2, East yard, 12/1976, [oRXO]

   CC289   B    257, Spencer Street, 1/4/1979, [oPJV]

   CZ109   B    257 - s1, Albury, 6/10/1981, [oRXO]

   AV718   B    258 - side 1, Spencer Street, 18/2/1977, [oPJV]

   AU053   B    260, Vite Vite, 27/2/1977, [oPJV]

   AV941   B    260 - side 2, Vite Vite, 27/2/1977, [oPJV]

   CG207   B    261 - s1, Manangatang, 21/4/1978, [oPJV]

   11219   B    263, North Melbourne C&W Shops, 7/4/1978, [oPJV]

   B1532   B    263 - s1e2c, North Melbourne C&W Shops, 1/4/1978, [oPJV]

   B2979   B    264, Canal Zone, 1/4/1978, [oPJV]

   CZ110   B    264 - s1, East yard, 15/10/1976, [oRXO]

   CZ111   B    264 - s2, East Yard, 12/11/1976, [oRXO]

   B1662   B    267, Tottenham Yard, 12/3/1979, [oPJV]

   BD953   B    269 - body, North Geelong, 26/8/1984, [oPJV]

   BD951   B    269 - body on ground with body W 383, North Geelong, 26/8/1984, [oPJV]

   BM706   B    269 - body, s1e1, with W 383 body, North Geelong Yard, 5/9/1982, [oPJV]

   CZ112   B    269 - s2, East Yard, 19/11/1976, [oRXO]

   AA977   B    271, Frankston, 5/1975, [oPJV]

   AA978   B    275 - louvre in door, Arden Street Sidings, 1/9/1977, [oPJV]

   CB494   B    275 - s1, Bendigo Workshops, 8/4/1979, [oPJV]

   BK609   B    275 - traffic W&W Only, Yarragon, 4/10/1982, [oPJV]

   AA780   B    275*- 2, Fernbank, [oPJV]

   AA779   B    275*- body, Fernbank, [oPJV]

   CB411   B    276 - part view, Bendigo, 8/4/1979, [oPJV]

   BV384   B    283, Tottenham Yard, 6/5/1979, [oPJV]

   CZ113   B    284 - s2, Woodend, 13/11/1976, [oRXO]

   CZ114   B    286 - s2, East yard, 12/1976, [oRXO]

   CZ115   B    288 - s2, Bendigo, 13/11/1976, [oRXO]

   BP272   B    289 - OR, s1, NOT TO BE MOVED, North Melbourne C&W, 7/4/1982, [oPJV]

   BV115   B    293 - part view, Bendigo Workshops, 23/11/1980, [oPJV]

   CZ116   B    296 - s2, East Yard, 19/11/1976, [oRXO]

   CZ117   B    298 - s1e2c, Camberwell, 31/10/1976, [oRXO]

   AA981   B    301, [sPJV]

   CZ118   B    301 - s2e1c, Camberwell, 12/1976, [oRXO]

   B1201   B    302, Frankston, 25/3/1978, [oPJV]

   CZ119   B    303 - s2p, Camberwell, 16/10/1976, [oRXO]

   CG146   B    305 - with graffitti  Pollies out Fraser out , North Melbourne C&W Shops, 25/4/1978, [oPJV]

   11044   B    306, Mildura, 20/4/1978, [oPJV]

   DA627   B    307 - s2, Dandenong, 17/7/1976, [oPJV]

   CZ120   B    312 - s2, Bendigo, 13/11/1976, [oRXO]

   BI221   B    313 - lettering: Npt W/S a/c Steamrail, Newport Workshops, 24/11/1981, [oPJV]

   BI220   B    313 - Off reg, Npt W/S a/c Steamrail, Newport Workshops, 24/11/1981, [oPJV]

   CB204   B    315 - part view, Oakleigh, 13/4/1979, [oPJV]

   AF165   B    316 - body, [oDMG]

   CZ121   B    316 - s1, East Yard, 12/1976, [oRXO]

   CK463   B    317, North Geelong Yard, 12/3/1979, [oPJV]

   CF895   B    318, Donald, 19/4/1978, [oPJV]

   CC343   B    319, Ararat, 29/4/1979, [oPJV]

   CZ122   B    319 - s1, East Yard, 12/1976, [oRXO]

   BM937   B    324 - part view, North Melbourne C&W, 25/2/1980, [oPJV]

   CZ123   B    326 - s1, Bendigo, 13/11/1976, [oRXO]

   CZ124   B    328 - s2, East Yard, 23/11/1976, [oRXO]

   BK610   B    328 - traffic W&W Only, Yarragon, 4/10/1982, [oPJV]

   AA982   B    328 - W&W service, Yarragon, 10/10/1982, [oPJV]

   CZ125   B    329 - s2, East yard, 19/11/1976, [oRXO]

   CU679   B    330 - s2, Dandenong, 10/1/1979, [oPJV]

   DA633   B    331 - s1e1,  Meeniyan ,  Var  load chalk, Dandenong, 17/7/1976, [oPJV]

   CZ126   B    333 - s1, East yard, 23/11/1976, [oRXO]

   CZ127   B    336 - s2, East yard, 18/11/1976, [oRXO]

   CZ128   B    337 - s2, East Yard, 19/11/1976, [oRXO]

   AF028   B    339 - body, [oDMG]

   11406   B    340, Frankston, 6/4/1978, [oPJV]

   AT423   B    340 - part view, Bruthen, 12/9/1970, [oPJV]

   BI737   B    342 - body, s1, as RGR shed, Wodonga, 7/11/1982, [oPJV]

   BI738   B    342 - body, s2, as RGR shed, Wodonga, 7/11/1982, [oPJV]

   CZ129   B    350 - s1, Bendigo, 13/11/1976, [oRXO]

   CZ130   B    355 - s2, East yard, 12/1976, [oRXO]

   DG039   B    357, Mildura, 20/4/1978, [oPJV]

   CZ131   B    357 - s2, Colac, 27/11/1976, [oRXO]

   CZ132   B    368 - s2, Port Melbourne, 27/10/1976, [oRXO]

   BQ150   B    369 - body, South Dynon, 5/2/1980, [oPJV]

   BQ151   B    369 - body at BG turntable, South Dynon, 5/2/1980, [oPJV]

   DC711   B    369 - body, BG turntable, South Dynon, 18/6/2003, [oPJV]

   CK497   B    370 - s2e1, Newport Workshops, 7/3/1979, [oPJV]

   11687   B    372, Tottenham Yard, 16/4/1978, [oPJV]

   DB098   B    372 - s2e1, at platform, Daylesford, 9/1/2003, [oPJV]

   CA945   B    373, Frankston, 16/4/1979, [oPJV]

   DG044   B    375, Mildura, 20/4/1978, [oPJV]

   DG045   B    375 - doors lettered  375 , Mildura, 20/4/1978, [oPJV]

   CZ134   B    376 - s2, East Yard, 12/11/1976, [oRXO]

   AA983   B    377, North Melbourne C&W Shops, 15/3/1977, [oPJV]

   BP129   B    377 - OR, s1e2, NOT TO BE MOVED, North Melbourne C&W, 20/8/1982, [oPJV]

   BP273   B    377 - OR, s2, NOT TO BE MOVED, North Melbourne C&W, 7/4/1982, [oPJV]

   BT169   B    377 - OR/scrapping, Newport Workshops, 12/1984, [oPJV]

   BY409   B    377 - part view, North Melbourne C&W Shops, 1/5/1979, [oPJV]

   CZ135   B    377 - s1, East yard, 12/1976, [oRXO]

   AV826   B    377 - side 2, Spencer St, 1/2/1976, [oPJV]

   CG068   B    378, Robinvale, 21/4/1978, [oPJV]

   CZ136   B    378 - s1, East Yard, 12/1976, [oRXO]

   CZ137   B    379 - s1p, East Yard, 3/11/1976, [oRXO]

   CZ139   B    380 - s2, Yarragon, 9/10/1976, [oRXO]

 
   Diagrams   for  'B  '

   FileID  Description................................................



   AU706   B        -  1-380, [oD26]

   AK189   B        -  van, 1958, [sPJV]

   AS888   B        -  van, diagram B-8, 14/6/1973, [oPTC]

 
---
File c064m compiled by Peter J. Vincent, updated 15/4/2007