---
C / CA / VVAP - Bogie Brake Van
---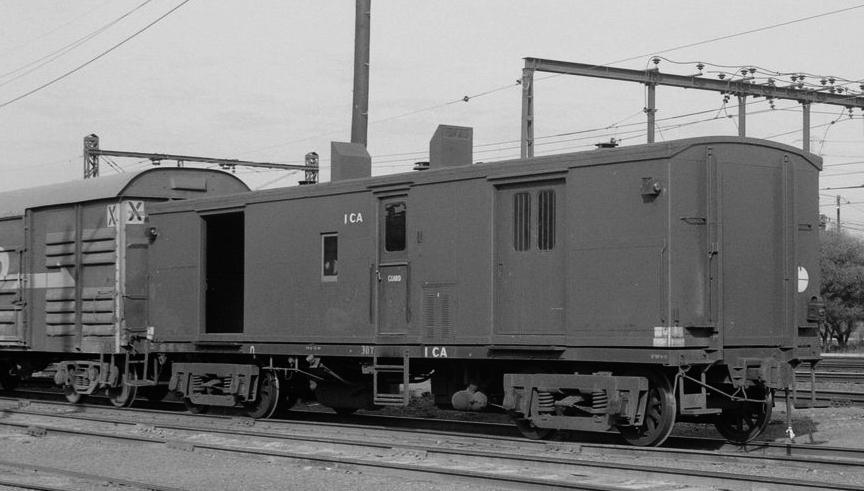 C
In 1960/61, fifteen freight brakevans were built. They were coded C 1 - 15. As there were already _C__ class vans in service, the existing C vans in the number range 1 - 15 were re-numbered.
CA
As the old C's were passenger vans and the new C's were freight ( or possibly unsuitable for passenger working ), the freight C vans were recoded to CA in 1961. Van numbers were retained.
VVAP
Between 1983 and 1986 the CA van were reclassed to VVAP. As guards vans on freight trains were being phased out of service, not all vans were reclassed before removal from service.
In 1986, those vans coded VVAP were being withdrawn from service.
Several van bodies can be found in country areas
   Photos   for  'CA  '

   FileID  Description................................................



   BD091   CA      1, Castlemaine, 13/11/1976, [oRXO]

   BP976   CA      1 - s1p, Flinders Street Yard, 2/4/1982, [oPJV]

   BP977   CA      1 - s1q, Flinders Street Yard, 2/4/1982, [oPJV]

   AI579   CA      3, Flinders Street Yard, 13/6/1975, [oPJV]

   BD092   CA      5 - s1, Dandenong, 14/11/1976, [oRXO]

   AI585   CA      6, Traralgon, 24/12/1978, [oPJV]

   BG377   CA      7 - s1, Bendigo, 23/5/1976, [oPJV]

   BD094   CA      7 - s2, Bendigo, 13/11/1976, [oRXO]

   BD095   CA      9 - s1, North Melbourne C&W, 17/10/1976, [oRXO]

   AI560   CA     10 - s2, Ballarat East, 27/2/1977, [oPJV]

   CB986   CA     11 - s2p, Wodonga, 6/4/1979, [oPJV]

   CB985   CA     11 - s2q, Wodonga, 6/4/1979, [oPJV]

   CU423   CA     12 - s1, Canal Zone, 11/1/1979, [oPJV]

   BP506   CA     14 - part s1, roof, North Melbourne C&W, 15/6/1982, [oPJV]

   BP505   CA     14 - roof line, North Melbourne C&W, 15/6/1982, [oPJV]

 
   Diagrams   for  'CA  '

   FileID  Description................................................



   AW292   CA  - Proposed crew quarters, 12/11/1975, [oPTC]

 
   Photos   for  'VVAP  '

   FileID  Description................................................



   BV024   VVAP      2, Warragul, 9/12/1984, [oPJV]

   AW361   VVAP     10 - end profile/bogie/lettering/axle gen, Flinders Street Yard, 21/11/1984, [oPJV]

   AW360   VVAP     10 - s1, Flinders Street Yard, 21/11/1984, [oPJV]

   AR631   VVAP     16, [sPJV]

 
   No diagrams found for VVAP   
---
File c109m compiled by Peter J. Vincent, updated 3/6/2007