---
S - Bogie Boxvan
---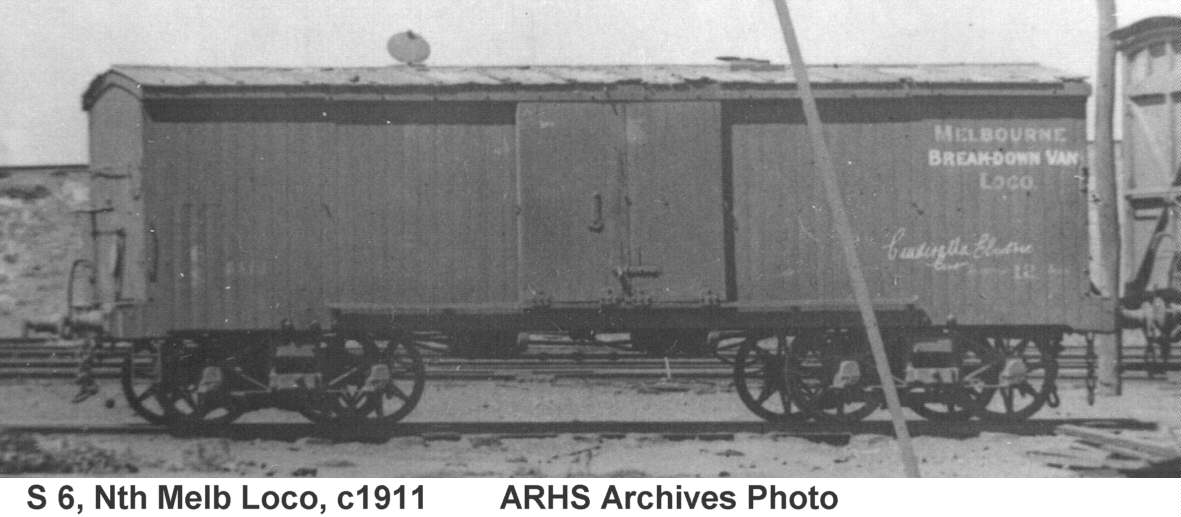 In 1880, twenty boxvans were placed into service. The class given was S, the numbers 1 - 20.
They were for general traffic. By 1886, S 16 was used for milk transport. During 1889, two wagons, numbers 18 and 20 were modified for use as rasberry transports. They were back in normal traffic by 1900.
Several vans were written off in 1891. These vans were put back into traffic as 'Casualty Trucks'; assigned to engine depots to assist with rerailing activities.
All the vans were out of service by 1913, replaced by newer casualty van conversions from the _OO_ wagons in 1912.
   Photos   for  'S  '

   FileID  Description................................................



   AD958   

S      6

, North Melbourne, 1911, [sFXK]

 
   Diagrams   for  'S  '

   FileID  Description................................................



   BF723   QB, [sPJV]

   BF723   QR, [sPJV]

   BF723   R, [sPJV]

   BF723   S        -  boxvan, [sPJV]

   BF550   S        -  boxvan, 1904, [oD04]

   BF550   T        -  short wb, 1904, [oD04]

   BF723   T       /- TFM, [sPJV]

   BF723   TFM, [sPJV]

   BF550   TH        -  fw, 1904, [oD04]

   BF550   TT, 1904, [oD04]

   BF550   U        -  (2 dia), 1904, [oD04]

 
---
File c263m compiled by Peter J. Vincent, updated 11/9/2007