---
TP - Bogie Insulated Van
---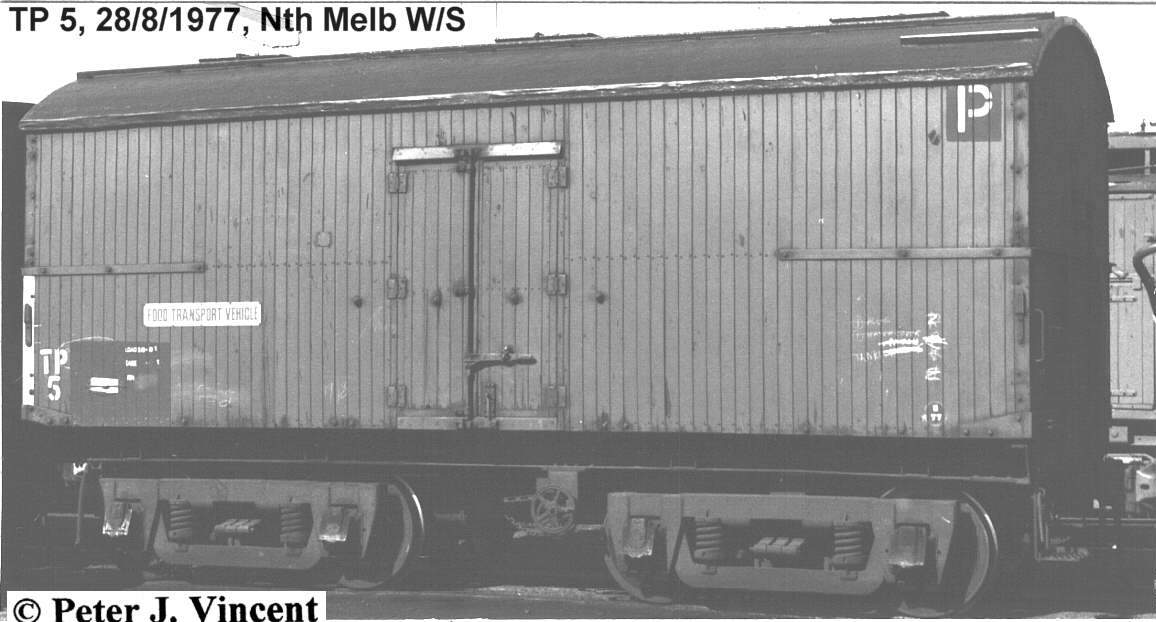 In 1958 two _T__ insulated vans were converted to high speed bogies. The traffic was for fast goods running between Melbourne and Mildura, 400 miles to the north west ofMelbourne. In 1959, a further three vans were converted. The vans were fitted with _C__ van type welded bogies. It can be summised that these bogies were surplus from _UP_ to _UB_ conversions
The class designation was TP, and the van numbers were 1 - 5.
Vans 1, 2 and 3 had single doors at each end of each side as well as the T van centre doors. Vans 4 and 5 only had the standard T can centre doors.
In the late 1970's the vans were fitted with "FOOD TRANSPORT ONLY" signs as health regulations required.
Vans 1 - 3 were out of service by 1983. Vans 4 and 5 were out of service in 1984.
The 1979 recoding for these vehicles was VRPY. None of the vans were recoded. Working Timetable references in 1983 show a VRPY reference despite the vans not being reclassed.
   Photos   for  'TP  '

   FileID  Description................................................



   DO510   TP        -  van trails loco on NE goods (3,4,5), Broadmeadows, 7/12/1978, [oPJV]

   AQ870   TP      1, [sPJV]

   AT761   TP      1 + TP 2, Mildura, 2/1971, [oNXB]

   CY953   TP      1 - e1p, RPE 12.75, Melbourne Yard, 2/7/1976, [oPJV]

   CW744   TP      1 - e1q, Melbourne Yard, 2/7/1976, [oPJV]

   CB393   TP      1 - OR/COND, Bendigo, 8/4/1979, [oPJV]

   CW743   TP      1 - s1e1c, Melbourne Yard, 2/7/1976, [oPJV]

   AT761   TP      2 + TP 1, Mildura, 2/1971, [oNXB]

   CN244   TP      2 - s2e1, Dandenong, 1970s, [oBAU]

   CN243   TP      2 - s2e2c, Food Transport Vehicle, Dandenong, 1970s, [oBAU]

   CN242   TP      2 - s2p, Dandenong, 1970s, [oBAU]

   AQ871   TP      3, [sPJV]

   CQ401   TP      3 + TP 5 - end of train, FTV signs, tail lamps, Mildura, [oDAC]

   DS181   TP      3 - Bogie/body lift/P/end door, North Geelong Yard, 29/4/1979, [oPJV]

   BY542   TP      3 - Food Transport Vehicle, North Geelong Yard, 29/4/1979, [oPJV]

   BW295   TP      3 - in T van row, North Geelong Yard, 9/5/1979, [oPJV]

   BQ184   TP      3 - lettering / Off Reg, Newport Workshops, 17/3/1981, [oPJV]

   BQ185   TP      3 - lettering: Hold for Inspection, Newport Workshops, 17/3/1981, [oPJV]

   BC085   TP      3 - part view, Off Reg, scrap line, Newport Workshops, 14/6/1981, [oPJV]

   BQ901   TP      3 - s1e1, Newport Workshops, 8/12/1980, [oPJV]

   BQ183   TP      3 - s1e1c, OR, Newport Workshops, 17/3/1981, [oPJV]

   CQ400   TP      3 - s2p, tail lamps fitted, [oDAC]

   BW321   TP      4, North Geelong Yard, 9/5/1979, [oPJV]

   AQ872   TP      4, [sPJV]

   BM009   TP      4 - s2p, Spencer Street, 24/2/1976, [oPJV]

   BM010   TP      4 - s2q, Spencer Street, 24/2/1976, [oPJV]

   AQ873   TP      5, [sPJV]

   AY002   TP      5 + TP 4 - OR, c1980, [oPXW]

   BW295   TP      5 - part view, North Geelong Yard, 9/5/1979, [oPJV]

   CQ401   TP      5 - part view, end of train, Mildura, [oDAC]

 
   Diagrams   for  'TP  '

   FileID  Description................................................



   AU681   TP        -  3 door, [oD26]

 
---
File c278m compiled by Peter J. Vincent, updated 12/9/2007