---
DVE / CE / VHE - Bogie Express Guards Van
---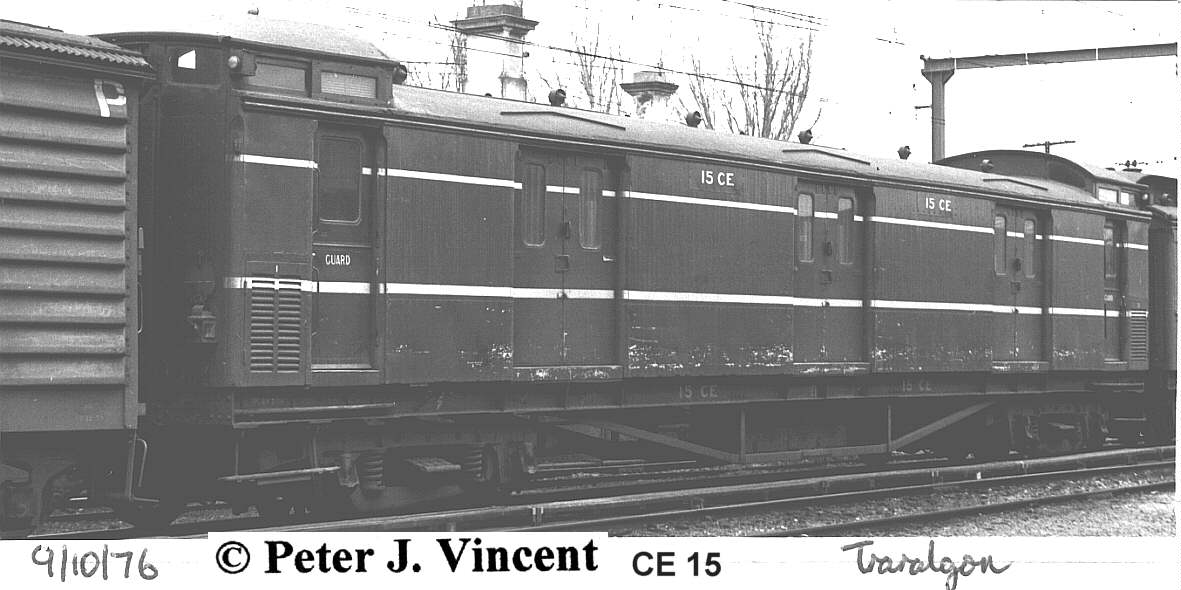 DVE
New express carriages were built from 1906 to the mid 1920's. To complement these cars new guards vans were built. The car lengths were 71' over body, the vans were only 60'.
The vans were issued as DVE 1 - 16 between 1906 and 1909.
CE
In the 1910 recoding the DVE class letters were altered to CE. DVE 1 - 16 became CE 1 - 16.
CE vans 17 to 25 were built in 1909, 26 - 32 built in 1923, 33 - 37 built 1924.
Vans 33 - 37 were built with arched roofs and fitted with four wheel bogies.
In 1930 a collision at Seymour destroyed van CE 15. A replacement van was built. This new van had an arched roof rather than the clerestory roof style fitted to the original.
These vans ran in service til the late 1980's when changed carriage working replaced older wooden cars with new steel cars and improved rostering.
VHE
In 1963 van CE 35 was modified for standard gauge service. It was reclassed to VHE 1; V=Victoria, H=NSW guards van code, E=Van type as for CE.
In 1969 the van was restored to broad gauge and relettered CE 35.
   No photos found for DVE   
   Diagrams   for  'DVE  '

   FileID  Description................................................



   BF622   DVE        -  1-4 JS, 1908, [sPJV]

   BF627   DVE        -  5,6 (swapped for 1,2), 1908, [sPJV]

 
   Photos   for  'CE  '

   FileID  Description................................................



   BO942   CE        - 4 x bodies 8, 21, 10, 20, Newport Workshops, 6/7/1982, [oPJV]

   AW737   CE        - part view arch roof, square windows, Bairnsdale, 1/1967, [oPJV]

   BD096   CE      5, Spencer Street, 12/1976, [oRXO]

   CB175   CE      6 - 1, Cobram, 15/4/1979, [oPJV]

   CB176   CE      6 - 2, Cobram, 15/4/1979, [oPJV]

   AW885   CE      6 - part views, Bairnsdale, 9/1967, [oPJV]

   BI301   CE      7 - body, Drouin, 1/5/1983, [oPJV]

   AX093   CE      7 - fitted disc wheels ex Tait, Spencer Street, 20/4/1979, [oPJV]

   BO941   CE      8 - body, rubber seals, Newport Workshops, 6/7/1982, [oPJV]

   BO942   CE      8 - head of CE bodies 8, 21, 10, 20, Newport Workshops, 6/7/1982, [oPJV]

   BI861   CE      8 - head of stored cars rake, Melbourne Yard, 18/1/1982, [oPJV]

   AW770   CE      9, Bairnsdale, 4/11/1967, [oPJV]

   BD097   CE      9, Spencer Street, 20/10/1976, [oRXO]

   CC267   CE      9, Spencer Street, 5/4/1979, [oPJV]

   BG426   CE      9 - eXp, Bairnsdale, 22/9/1975, [oPJV]

   BG428   CE      9 - eXq, Bairnsdale, 22/9/1975, [oPJV]

   BG429   CE      9 - photo id, Bairnsdale, 22/9/1975, [oPJV]

   BD098   CE     10, Spencer Street, 27/10/1976, [oRXO]

   BO944   CE     10 - body, rubber seals, Newport Workshops, 6/7/1982, [oPJV]

   AI764   CE     11, Spencer Street, 11/2/1976, [oPJV]

   BB137   CE     11 - undergear removed/scrapping, Newport Workshops, 18/7/1984, [oPJV]

   BD099   CE     12, Spencer Street, c1977, [oRXO]

   BD100   CE     13 - end clear, Spencer Street, 14/10/1976, [oRXO]

   AV723   CE     13 - rubber seals/d/w, 12whls, Spencer Street, 18/2/1977, [oPJV]

   BF925   CE     14 - end collision damage, Newport Workshops, 1/10/1981, [oPJV]

   AI765   CE     15, Traralgon, 9/10/1976, [oPJV]

   BD101   CE     15 - arch roof, Traralgon, 9/10/1976, [oRXO]

   BK838   CE     16 - head of cars, storage rake, Newport Workshops, 15/10/1982, [oPJV]

   BK839   CE     16 - stored, Newport Workshops, 15/10/1982, [oPJV]

   BD102   CE     18 - end clear, Spencer Street, 26/10/1976, [oRXO]

   BD103   CE     19 - end clear, Spencer Street, 18/10/1976, [oRXO]

   BD105   CE     20, Spencer Street, 27/10/1976, [oRXO]

   BO945   CE     20 - body, rubber seals, Newport Workshops, 6/7/1982, [oPJV]

   BO947   CE     20 - eXp, Newport Workshops, 8/7/1982, [oPJV]

   BO946   CE     20 - eXq, Newport Workshops, 6/7/1982, [oPJV]

   BO948   CE     20 - oeXq, Newport Workshops, 8/7/1982, [oPJV]

   BO949   CE     20 - osX, Newport Workshops, 8/7/1982, [oPJV]

   BD106   CE     21, Spencer Street, 20/10/1976, [oRXO]

   BO943   CE     21 - body, rubber seals, Newport Workshops, 6/7/1982, [oPJV]

   BA201   CE     23, Spencer Street, 20/4/1979, [oPJV]

   BO746   CE     27 - part view, North Melbourne C&W, 16/8/1982, [oPJV]

   BD107   CE     28, Spencer Street, 14/10/1976, [oRXO]

   BB130   CE     29 - on  aligned  shop trucks, Newport Workshops, 18/7/1984, [oPJV]

   CM976   CE     31, 1970s, [oBAU]

   BL833   CE     31, Flinders Street Yard, 17/4/1980, [oPJV]

   BO940   CE     32 - rubber seals, Newport Workshops, 6/7/1982, [oPJV]

   AW880   CE     33 - part view, Flinders Street Yard, 16/9/1967, [oPJV]

   BO807   CE     33 - Vic / tangarine, Spencer Street, 3/9/1982, [oPJV]

   AA863   CE     34, 1925, [oMDN]

   AI766   CE     35, Albury, NSW, 26/10/1974, [oPJV]

   BD108   CE     35 - end clear, welded, two axle bogies, Spencer Street, 15/11/1976, [oRXO]

   CG292   CE     35 - oiling chalk, Mildura, 20/4/1978, [oPJV]

   CG046   CE     36 - Vinelander stencil, Mildura, 21/4/1978, [oPJV]

   AI767   CE     37, Mildura, 18/8/1976, [oPJV]

   AI346   CE     37 - welded bogie VINELANDER, [oPJV]

   B3596   CE     37 - Welded/double clasp bogie stencilled: VINELANDER, Mildura, 18/8/1976, [oPJV]

 
   Diagrams   for  'CE  '

   FileID  Description................................................



   AQ058   CE        -  1-4, Joint Stock, 1908, [sPJV]

   AQ061   CE        -  33 - 37, 1924, [sPJV]

   AS454   CE        -  5, clerestory, [oPTC]

   AQ060   CE        -  6 - 25, 1914, [sPJV]

   AS453   CE        -  clerestory roof, [oPTC]

   AQ059   CE      5, 1907, [sPJV]

 
   Photos   for  'VHE  '

   FileID  Description................................................



   CS208   VHE      1, 1960s, [oPXC]

 
   No diagrams found for VHE   
---
File c297m compiled by Peter J. Vincent, updated 24/9/2007