---
MM / MF / VSBY - Bogie Cattle Truck
---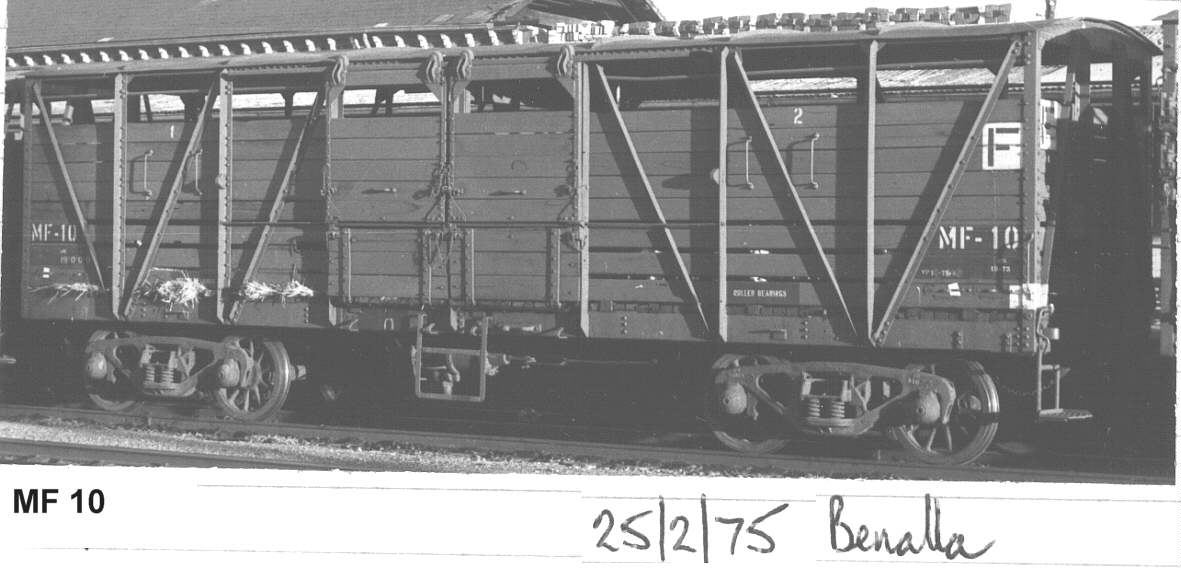 MM
In 1928, twenty five bogie cattle vans were built and placed into service. They were fitted with 'barframe' bogies.
They were built with autocoupler equipment but were fitted with 'transition hooks' for compatability. They were fitted with auto-couplers 1933 and 1936.
Between 1965 and 1973, the vans were upgraded and fitted with roller bearing bogies. They were recoded MF when modified.
MF
The MF lettering remained until the 1979 recoding when they were relettered to VSBY. Between 1979 and 1983 only ten vehicles were recoded.
Those not recoded had been scrapped or removed from service.
VSBY
The vehicles recoded to VSBY were: 2 - 5, 10, 15, 20 - 22 and 25.
The vehicles were removed from service in the mid 1980's.
   Photos   for  'MM  '

   FileID  Description................................................

 
   No diagrams found for MM   
   Photos   for  'MF  '

   FileID  Description................................................



   CB513   MF        - roof detail, Rangelea, 8/4/1979, [oPJV]

   CN140   MF      1 - s2e2, 1970s, [oBAU]

   AR759   MF      2 - s2p, Bendigo, 22/4/1979, [oPJV]

   AR756   MF      2 - s2q, Bendigo, 22/4/1979, [oPJV]

   BL229   MF      5 - r/b, s1e1, Newport Goods Yard, 19/9/1975, [oPJV]

   AQ876   MF      5 - with M, MC containers, Bendigo, 22/4/1979, [oPJV]

   BD175   MF      6 - part view, Bendigo North Workshops, 1/11/1976, [oRXO]

   CZ592   MF      6 - s2e1, L7, door open, Bendigo North Workshops, 1/11/1976, [oRXO]

   CB511   MF     12 - lettering OR / COND, Frezzers Siding, 8/4/1979, [oPJV]

   BK730   MF     12 - Off Reg, cast bogies a/c off reg, Freezers, 27/7/1980, [oPJV]

   CB510   MF     12 - s2 OR COND, Frezzers Siding, 8/4/1979, [oPJV]

   CG270   MF     14 - lettering, Mildura, 21/4/1978, [oPJV]

   CG271   MF     14 - s2 package bearing, Mildura, 21/4/1978, [oPJV]

   DF040   MF     18 - part view, Melbourne Yard, c1980, [oPHD]

   CQ774   MF     18 - part view, Melbourne Yard, c1978, [sPHD]

   CB537   MF     18 - s2e2, Whites Siding, Bendigo, 8/4/1979, [oPJV]

   CB533   MF     19 - OR, Whites Siding, Bendigo, 8/4/1979, [oPJV]

   CB536   MF     23 - OR COND barframe, Whites Siding, Bendigo, 8/4/1979, [oPJV]

   CB535   MF     24 - OR COND, Whites Siding, Bendigo, 8/4/1979, [oPJV]

   DA574   MF     25 - s2e2, 1xdisc bogie, 1 x spoke bogie, Dandenong, 17/7/1976, [oPJV]

 
   No diagrams found for MF   
   Photos   for  'VSBY  '

   FileID  Description................................................



   BL965   VSBY     10 - s2e1, horizontal lettering, Flemington, 20/4/1980, [oPJV]

   BL964   VSBY     21 - s2e1c, vertical lettering, Flemington, 20/4/1980, [oPJV]

   BB436   VSBY     25U- s1e2c, North Melbourne C&W, 20/8/1984, [oPJV]

 
   No diagrams found for VSBY   
---
File c309m compiled by Peter J. Vincent, updated 29/9/2007