---
BZ - Second Class Sitting
---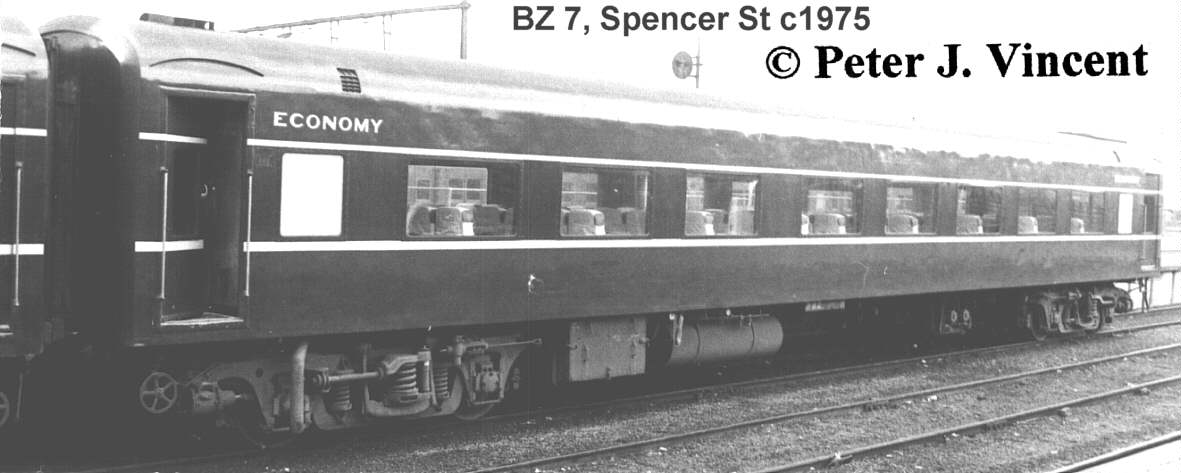 The 'Z' group of steel welded cars were introduced in the late 1950's in a railway rehabilitation programme.
Between 1957 and 1960 twelve cars entered service: BZ 1 - 12.
During the construction of BZ 13, the partially completed shell caught fire. The shell was rebuilt but in the ensuing time, there were BZ car conversion to standard guage ( SG ) services. The car entered service as VFK_ 5.
For SG service, four BZ cars were reclassed VFK 1 - 4 in 1961.
In the 1980's, the renumbering scheme placed the VFK numbers into the '270' range: VFK 1 became VFK 271, etc.
In the early 1990's all the standard guage cars were replaced to broad gauge; replaced by the XPT train sets.
   Photos   for  'BZ  '

   FileID  Description................................................



   BO825   BZ      1 - end profile, North Melbourne C&W, 14/7/1982, [oPJV]

   BO972   BZ      1 - vic East end, North Melbourne C&W, 14/7/1982, [oPJV]

   BO973   BZ      1 - vic West end, North Melbourne C&W, 14/7/1982, [oPJV]

   BO822   BZ      1 - west end lettering, North Melbourne C&W, 14/7/1982, [oPJV]

   BO823   BZ      1 - weXp, North Melbourne C&W, 14/7/1982, [oPJV]

   BO824   BZ      1 - weXq, North Melbourne C&W, 14/7/1982, [oPJV]

   CG064   BZ      2 - ID, Mildura, 21/4/1978, [oPJV]

   CG049   BZ      2 - s2, Mildura, 21/4/1978, [oPJV]

   CF538   BZ      3 - SG, South Dynon, 26/4/1978, [oPJV]

   BD133   BZ      4 - gen side, Spencer Street, 20/10/1976, [oRXO]

   BO913   BZ      5 - eXp, Newport Workshops, 22/7/1982, [oPJV]

   BO911   BZ      5 - eXq, phone plug, Newport Workshops, 22/7/1982, [oPJV]

   BO914   BZ      5 - ID, Newport Workshops, 22/7/1982, [oPJV]

   BO912   BZ      5 - profile / end, Newport Workshops, 22/7/1982, [oPJV]

   CG065   BZ      6 - ID, Mildura, 21/4/1978, [oPJV]

   CG048   BZ      6 - s1, Mildura, 21/4/1978, [oPJV]

   AI526   BZ      7, Spencer Street, c1975, [oPJV]

 
   Diagrams   for  'BZ  '

   FileID  Description................................................



   AS860   BZ        -  1,2: diagram B-1, 1971, [oPTC]

   AS865   BZ        -  3, diagram B-3, 1971, [oPTC]

   AS864   BZ        -  4 - 7, diagram B-2, 1971, [oPTC]

 
---
File c329m compiled by Peter J. Vincent, updated 10/10/2007