---
V - Washdock Shunter
---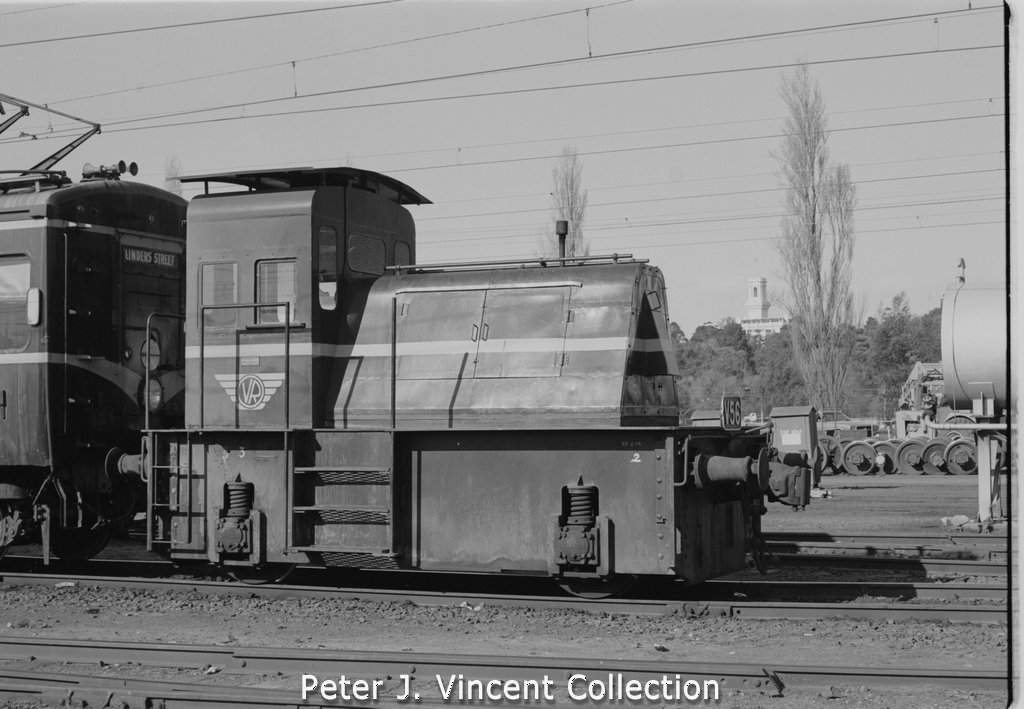 V 56 was built to propel suburban trains through a washdock plant. It was built in 1959 at Newport Workshops. It was powered by a tractor engine.
Buffers and autocouplers were fitted to allow it to couple up to screw coupled stock ( swing door, sliding door trains ) or autocoupled stock ( Harris train, Hitachi trains ). For coupling to the new Comeng trains of 1981, the Comeng train autocoupler adaptor coupler was required. This attached to the Comeng 'multi function' coupler and converted it to a fixed jaw autocoupler.
Whilst propelling trains through the washdock, speed was about 1km/hr. Other moves were made at 3 - 5km/hr though the maximum speed was rated at 16km/hr.
By 1997, V 56 was used at the Steamrail Depot, Newport for small shunting moves.
   Photos   for  'V  '

   FileID  Description................................................



   AR268   V     56, [oPJV]

   BP603   V     56 - cpld to HR wagons/transfer to Newport?, Jolimont Workshops, 8/6/1982, [oPJV]

   DL024   V     56 - draws Harris through wash, Jolimont Workshops, 24/11/1978, [oPJV]

   DL017   V     56 - draws Harris through washdock, Jolimont Workshops, 24/11/1978, [oPJV]

   DL018   V     56 - draws Harris through washdock 2, Jolimont Workshops, 24/11/1978, [oPJV]

   DL019   V     56 - draws Harris through washdock 3, Jolimont Workshops, 24/11/1978, [oPJV]

   DL022   V     56 - s2p, Jolimont Workshops, 24/11/1978, [oPJV]

   DL021   V     56 - side view, draws Harris, Jolimont Workshops, 24/11/1978, [oPJV]

   DL020   V     56 - side view, flaps open/cooling, Jolimont Workshops, 24/11/1978, [oPJV]

   BA992   V     56 - VR logo on cab, Jolimont Workshops, 13/6/1984, [oPJV]

   B1350   V     56 - with 71M MV pan, Jolimont Workshops, 14/4/1979, [oPJV]

   B1353   V     56 - with Tait, 71M, 2 x MK, Jolimont Workshops, 14/4/1979, [oPJV]

   DG246   V    544 - EDI builders plate, model GT46C, South Dynon, 18/6/2003, [oPJV]

   DG249   V    544 - FA, cab, with G 524 cab comparison, loco shed, South Dynon, 18/6/2003, [oPJV]

   DG248   V    544 - FA, s2e1c, loco shed, South Dynon, 18/6/2003, [oPJV]

   DG245   V    544 - FA, s2e2, loco shed, South Dynon, 18/6/2003, [oPJV]

   DG250   V    544 - interior, controls, South Dynon, 18/6/2003, [oPJV]

   DG251   V    544 - interior: 2nd man side/microwave/fridge, South Dynon, 18/6/2003, [oPJV]

   DG257   V    544 - interior: brake valve on window side, South Dynon, 18/6/2003, [oPJV]

   DG252   V    544 - interior: driver controls, South Dynon, 18/6/2003, [oPJV]

   DG254   V    544 - interior: driver controls/layout, Mark Bau inspects, South Dynon, 18/6/2003, [oPJV]

   DG256   V    544 - interior: driver controls/Mark Bau, South Dynon, 18/6/2003, [oPJV]

   DG253   V    544 - interior: front console/display/controls, South Dynon, 18/6/2003, [oPJV]

   DG255   V    544 - interior: front dash, South Dynon, 18/6/2003, [oPJV]

   CP520   V    544 - magazine cover, 5/2002, [sAFU]

   DG247   V    544 - part view builders plate, South Dynon, 18/6/2003, [oPJV]

 
   Diagrams   for  'V  '

   FileID  Description................................................



   AS709   V        -  hydraulic, [sPJV]

 
---
File c546m compiled by Peter J. Vincent, updated 3/3/2008