---
BMF - 1978 Steel Boxvan
---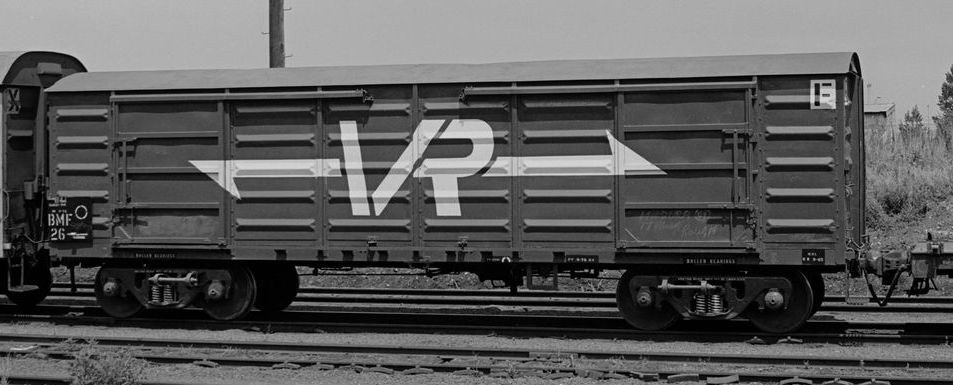 The BMF was a medium capacity boxvan converted in 1978 from BMX vans. This was the second group of vans coded BMF. The first group were vans in service between 1961 and 1963.
They were part of an overall strategy to reduce the number of bogie exchange vehicles in the interstate 'pool'. The BMF vans were fitted with Aligned bogies from _VF_ vans being withdrawn from service at the time.
The BMF class were recoded in the 1979 recoding to VBAY.
The BMF numbers were:

     3,      7 -     9,     11,     18,     19,     24 -    26,
    28 -    30,     35,     38,     40,     43,     44,     48,     49
    52,     53,     57,     58,     60,     61,     63,     66,     67
    69,     72,     73,     75,     76,    102


Vehicle history list
   Photos   for  'BMF  '

   FileID  Description................................................



   CC295   BMF      3, East Yard, 1/4/1979, [oPJV]

   CB926   BMF     14, Benalla, 7/4/1979, [oPJV]

   AM592   BMF     15, Maryborough, 22/4/1979, [oPJV]

   CC092   BMF     18, Centre Yard, 5/4/1979, [oPJV]

   AW537   BMF     22 - s1 wood doors, Electric Crane Area, 20/4/1979, [oPJV]

   AI246   BMF     22 - U van doors, s1e2, Morwell, 24/12/1978, [oPJV]

   AI247   BMF     26, South Dynon, 5/11/1978, [oPJV]

   CU703   BMF     28, Dandenong, 10/1/1979, [oPJV]

   B3156   BMF     30, North Geelong, 25/3/1979, [oPJV]

   B3155   BMF     30 + BMX 59, North Geelong, 25/3/1979, [oPJV]

   B3158   BMF     30 - s1p, North Geelong, 25/3/1979, [oPJV]

   CB934   BMF     33, Benalla, 7/4/1979, [oPJV]

   CC265   BMF     35, Dandenong, 4/4/1979, [oPJV]

   CC262   BMF     43, Dandenong, 4/4/1979, [oPJV]

   CC068   BMF     45, East Yard, 5/4/1979, [oPJV]

   AW757   BMF     63 - s2e2c, East Yard, 20/4/1979, [oPJV]

   CC288   BMF     69, Spencer Street, 1/4/1979, [oPJV]

   DS288   BMF     72, South Dynon, 2/5/1979, [oPJV]

   CN286   BMF     72 - part view/lettering, 1970s, [oBAU]

   CB065   BMF     76 - DO, Dandenong, 19/4/1979, [oPJV]

   CK516   BMF    102 - s1, steel doors, Spencer Street, 7/3/1979, [oPJV]

 
   Diagrams   for  'BMF  '

   FileID  Description................................................



   AS887   BMF        -  cancelled diagram, B-4, 1970, [oPTC]

 
---
File c003m compiled by Peter J. Vincent, updated 21/1/2007