---
VF / VLBY / VLBF - Bogie Louvre
---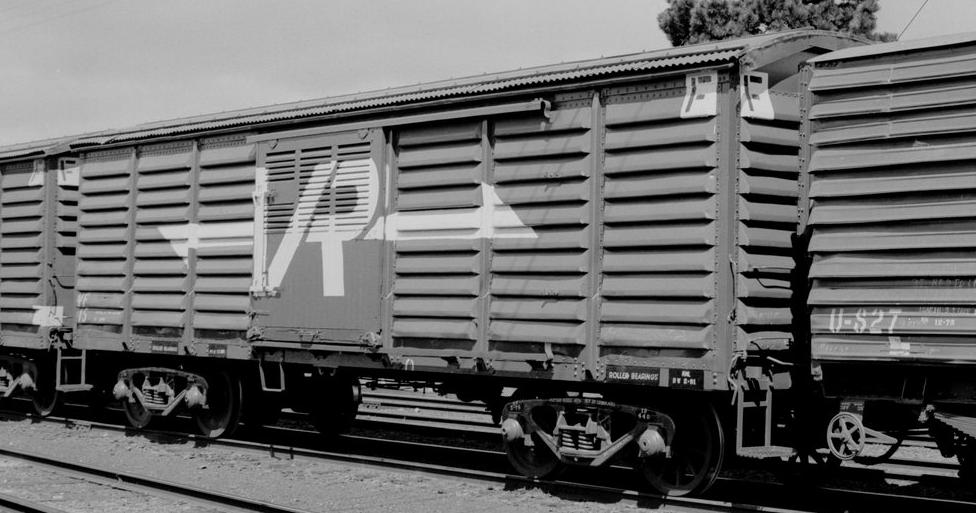 VF
To provide for more rolling stock on the standard gauge and faster train running, many wagons were upgraded with better bogies.
The VF class had origins in the
_V__ class of 1925. VF's began appearing 1961, with most of the fleet being converted. The VF number group was 1 - 81, V82 being scrapped in 1960.
As there was some confusion with vehicles being suitable for operation between broad and standard gauge the letter 'X' was introduced from 1963. The letter 'X' vehicles required Grade Control and uniform brake rigging attachments, bogie fittings and a suitable class and number information plate.
Conversion was started in 1967 for converting the VF class to VX but was halted due to the expense of conversion. The only vehicle in the process of conversion was VF 29 and this was returned to traffic as a VF after the Grade Control equipment was removed. It came out of the workshops retaining the large class and number board, the only VF so fitted ( CME memo 20/12/1967 ).
Traffic was very general, with a few being allotted to 'Paper' trains.
In the 1979 recoding , the few remaining vans were recoded to VLBY.
VLBY
The numbers recorded by the author as being VLBY were: 2, 17, 44, 54, 65, 66, 69, 72 and 81.
In 1983 with changes to passenger train running and set makeup, some of the VLPY bogie passenger vans were down rated and placed into freight service. Bogies from these vehicles were placed under steel box vans in freight service to become _D__ vans.
The VLBY ex VLPY vans were numbered in the group 100 - 149.
About 1988, the letter 'Y' as last letter in the code was found to be an incorrect application. The letter 'Y' was altered to letter 'F'. This changed the class to VLBF.
VLBF
By 1991 most of these wagons were out of service and stored. During the early to mid 1990's these wagons were scrapped or sold as bodies. Some can be found in the Bendigo area on farms.
Types
There were three types:
The original 1925 vans, Nos. 1,2. These had single door per side with sheet roof.
The first batch built by VR. Identical to type 1, except a corrugated roof was used.
The third batch were were built with two doors per side. The doors were placed near each end. These were also similar to the VLPY type.
Vehicle history lists: _VF_ , VLBY
   Photos   for  'VF  '

   FileID  Description................................................



   AO849   VF        -  with VOWA, Puckapunyule, 1996, [sPJV]

   AO846   VF        - and VOWA, Puckapunyul, [sPJV]

   AO847   VF        - and VOWA, Puckapunyul, [sPJV]

   AR321   VF        - body, [sPJV]

   AR323   VF      1, [sPJV]

   BD016   VF      1 - s2, aligned, VR, East Yard, 18/11/1976, [oRXO]

   BD018   VF      6 - s1, aligned, VR, East Yard, 18/11/1976, [oRXO]

   CG268   VF      7 - s1  load Merbein , Mildura, 21/4/1978, [oPJV]

   AR333   VF      8, [sPJV]

   AY000   VF      8 - body, Logan Rd, Wedderburn, 4/1998, [oJAS]

   BD020   VF      8 - s1, aligned, VR, Castlemaine, 13/11/1976, [oRXO]

   BD017   VF      8 - s1, XB bogies, VR, East Yard, 25/11/1976, [oRXO]

   BD021   VF      9 - s2, aligned, VR, East Yard, 12/1976, [oRXO]

   BD022   VF     10 - s1, aligned, VR, Bendigo, 13/11/1976, [oRXO]

   CN308   VF     11 - s1e2, Traralgon, 1970s, [oBAU]

   BD023   VF     12 - s1, XB, VR, West Footscray, 8/11/1976, [oRXO]

   AY005   VF     14 - body,  Glenilda , Longswamp Rd, Rocklyn, 1/1997, [oNXB]

   BD024   VF     14 - s2, XB, VR, Spencer Street, 9/11/1976, [oRXO]

   BD026   VF     16 - s1, aligned, VR, East Yard, 18/11/1976, [oRXO]

   AY004   VF     17 - body, Campbells Forest, 7/1997, [oNXB]

   BD027   VF     17 - s1, XB, VR, Bendigo, 13/11/1976, [oRXO]

   BD025   VF     18 - s2, XB, VR, East Yard, 28/10/1976, [oRXO]

   CG109   VF     19 + VF 48 - bodies as sheds, 4/1978, [oPJV]

   CG110   VF     19 + VF 48 - ends of bodies, 4/1978, [oPJV]

   CG106   VF     19 - body on stumps, 4/1978, [oPJV]

   AY003   VF     19 - body, Calder Highway, Glenalbyn, 6/1998, [oNXB]

   CG108   VF     19 - lettering crayon:  Hold for scrapping /waybill intact, 4/1978, [oPJV]

   AV694   VF     21 - on trestle one end, lift, s1, Ballarat Workshops, 18/2/1977, [oPJV]

   CV902   VF     23 - s2, door open, Melbourne Yard, 2/7/1976, [oPJV]

   BD028   VF     24 - s1, aligned, VR, East Yard, 12/1976, [oRXO]

   AY008   VF     25 - body, Meyers/Blampied/Mollogghip Rds, Rocklyn, 1/1997, [oNXB]

   BD029   VF     25 - s1, aligned, VR, Dandenong, 30/1/1977, [oRXO]

   B1526   VF     25 - VR logo, North Melbourne C&W Shops, 1/4/1978, [oPJV]

   CB525   VF     27 - storage rake, Rangelea, 8/4/1979, [oPJV]

   CC296   VF     28, East Yard, 1/4/1979, [oPJV]

   BV118   VF     28 - OR, Bendigo Workshops, 23/11/1980, [oPJV]

   AR324   VF     29, [sPJV]

   BM892   VF     29 - e2p, Spencer Street, 20/1/1976, [oPJV]

   BM891   VF     29 - e2q, Spencer Street, 20/1/1976, [oPJV]

   CB495   VF     29 - part(hold), Bendigo Workshops, 8/4/1979, [oPJV]

   BM889   VF     29 - s1e2c, class panel, Spencer Street, 20/1/1976, [oPJV]

   AT509   VF     31 - body, cnr Tait Hamilton and Gamble rds, Cornella, 5/1998, [oNXB]

   CC261   VF     32, Dandenong, 4/4/1979, [oPJV]

   BC626   VF     33 - s1e2, aligned, VR, East Yard, 12/1976, [oRXO]

   BC627   VF     34 - aligned, s2, VR, Dandenong, 30/1/1977, [oRXO]

   AT508   VF     36 - body, Dunstans Machinery, Kerang, 6/1998, [oJAS]

   AT517   VF     36 - body, Dunstans Machinery, Kerang, 6/1998, [oJAS]

   B1447   VF     37 - part view, Canal Zone, 13/4/1978, [oPJV]

   BC628   VF     37 - s1e2, L4, small VR, aligned, Dandenong, 30/1/1977, [oRXO]

   AR325   VF     38, [sPJV]

   AR326   VF     40, [sPJV]

   BC629   VF     40 - s1, VR, XB bogies, East Yard, c1977, [oRXO]

   BC630   VF     40 - s1e2, VR, XB bogies, Woodend, 8/11/1976, [oRXO]

   BC631   VF     42 - s1e2, aligned, VR, East Yard, 16/11/1976, [oRXO]

   AT523   VF     43 - body, 7/1997, [oNXB]

   AT518   VF     43 - body, Ruthakers Rd, Woodvale, 4/1996, [oNXB]

   CB495   VF     45, Bendigo Workshops, 8/4/1979, [oPJV]

   BC632   VF     45 - s1e2, VR, Spencer Street, c1977, [oRXO]

   CG109   VF     48 + VF 19 - bodies as sheds, 4/1978, [oPJV]

   CG110   VF     48 + VF 19 - ends of bodies, 4/1978, [oPJV]

   CG107   VF     48 - body on stumps, 4/1978, [oPJV]

   AT524   VF     48 - body, Calder highway, Glenalbyn, 6/1998, [oNXB]

   BC633   VF     51 - s1e2, VR, aligned bogies, Spencer Street, 14/10/1976, [oRXO]

   AR327   VF     54, [sPJV]

   AR328   VF     57, [sPJV]

   AT710   VF     58 - part view/OR, Rangelea, 22/4/1979, [oPJV]

   BC634   VF     58 - s1e1, VR, XB bogies, Bendigo, 1/11/1976, [oRXO]

   BC635   VF     61 - s1e2, VR, aligned, East Yard, 12/1976, [oRXO]

   AR329   VF     62, [sPJV]

   BC637   VF     62 - s2p, small VR, XB bogies, East Yard, c1977, [oRXO]

   CV901   VF     64 - s2, doors open, Melbourne Yard, 2/7/1976, [oPJV]

   CB352   VF     65, Bendigo, 8/4/1979, [oPJV]

   AA154   VF     66, Flinders Street, 26/12/1977, [oPJV]

   B1447   VF     66 - part view, Canal Zone, 13/4/1978, [oPJV]

   AT536   VF     68 - body, Campbells Forest, 7/1997, [oNXB]

   BC638   VF     68 - s1e2c, XB bogies, small VR, Dandenong, 30/1/1977, [oRXO]

   AR330   VF     70, [sPJV]

   AR331   VF     73, [sPJV]

   CC069   VF     76, East Yard, 5/4/1979, [oPJV]

   AT537   VF     77 - body, Glenalbyn, 5/1993, [oNXB]

   AU755   VF     77 - body, Wedderburn, 22/4/1979, [oPJV]

   AT538   VF     78 - body, level crossing, down end, Bealiba, 4/1998, [oJAS]

   AR332   VF     79, [sPJV]

   CB523   VF     81 - ID / lettering, Rangelea, 8/4/1979, [oPJV]

   CB522   VF     81 - OR COND, Rangelea, 8/4/1979, [oPJV]

   BC639   VF     82 - s1, VR, aligned, one steel door, Warragul, 9/10/1976, [oRXO]

 
   Diagrams   for  'VF  '

   FileID  Description................................................



   AS496   VF        -  2 door, diagram V-8, 10/7/1969, [oPTC]

   AS495   VF        -  4 door, diagram V-7, 19/3/1973, [oPTC]

 
   Photos   for  'VLBY  '

   FileID  Description................................................



   AF178   VLBY        - body, [oDMG]

   AF179   VLBY        - body, Wodonga Coal Siding, [oDMG]

   AF180   VLBY        - body, Wodonga Coal Siding, [oDMG]

   BL601   VLBY      2 - lettering / bogie, Port Melbourne, 3/4/1980, [oPJV]

   BL600   VLBY      2 - s1e2, Port Melbourne, 3/4/1980, [oPJV]

   BL599   VLBY      2 - s2e1, Port Melbourne, 3/4/1980, [oPJV]

   BR820   VLBY     44, Newport Workshops, 24/11/1980, [oPJV]

   AV058   VLBY     44 - s2e1c, Newport Workshops, 6/5/1980, [oPJV]

   BO659   VLBY     66, North Melbourne C&W, 9/5/1980, [oPJV]

   AU328   VLBY     72 - class/number, News Express Goods tra, [oPJV]

   BO329   VLBY     72 - lettering: class/Newspaper Express, North Melbourne C&W, 21/1/1981, [oPJV]

   BO328   VLBY     72 - s1e2c, North Melbourne C&W, 21/1/1981, [oPJV]

   AR468   VLBY     81, [sPJV]

   CA974   VLBY     81 - lettering/door/ aligned  bogie, North Melbourne C&W Shops, 16/4/1979, [oPJV]

   BL485   VLBY     81 - s2, East Yard, 20/3/1980, [oPJV]

   CA975   VLBY     81 - s2e2, North Melbourne C&W Shops, 16/4/1979, [oPJV]

   BL724   VLBY     89 - OR, Rangelea, 13/4/1980, [oPJV]

   BB450   VLBY    102Q- lettering/bogie, North Melbourne C&W, 20/8/1984, [oPJV]

   BB448   VLBY    102Q- s1e1, VR, North Melbourne C&W, 20/8/1984, [oPJV]

   AI515   VLBY    103, [oBXY]

   AI518   VLBY    103, [oBXY]

   AI521   VLBY    103, [oBXY]

   CB807   VLBY    103 - VL, Dandenong, 7/12/1997, [oJAB]

   DG469   VLBY    103C- Vline, s2e2, 1980s, [oDVC]

   AV017   VLBY    104L- no logo, Dandenong, 24/9/1983, [oPJV]

   AR463   VLBY    107 - body, Wodonga, 1995, [sPJV]

   AR462   VLBY    107 - body, [sPJV]

   BK833   VLBY    108 - lettering/bogie XB 581/spokes, Dandenong, 14/10/1982, [oPJV]

   BK834   VLBY    108 - lettering/panel, L7, Dandenong, 14/10/1982, [oPJV]

   BK832   VLBY    108 - s1e2, spoke wheels, Dandenong, 14/10/1982, [oPJV]

   AR464   VLBY    116, [sPJV]

   AR465   VLBY    138, 1996, [sPJV]

   AT680   VLBY    143 - s1e2, Spencer Street, 15/6/1983, [oPJV]

   AR466   VLBY    148, 1996, [sPJV]

   AR467   VLBY    148 - bogie / lettering, [sPJV]

 
   No diagrams found for VLBY   
   Photos   for  'VLBF  '

   FileID  Description................................................



   AI516   VLBF    110 - cast bogies, [oBXY]

   AI517   VLBF    110 - letter panel, [oBXY]

   AH410   VLBF    110 - stored/cast bogies, North Melbourne C&W Shops, 10/6/1990, [oRXO]

 
   No diagrams found for VLBF   
---
File c028m compiled by Peter J. Vincent, updated 18/2/2015