---
VLPY / VLPF - Bogie Mail/Baggage Van
---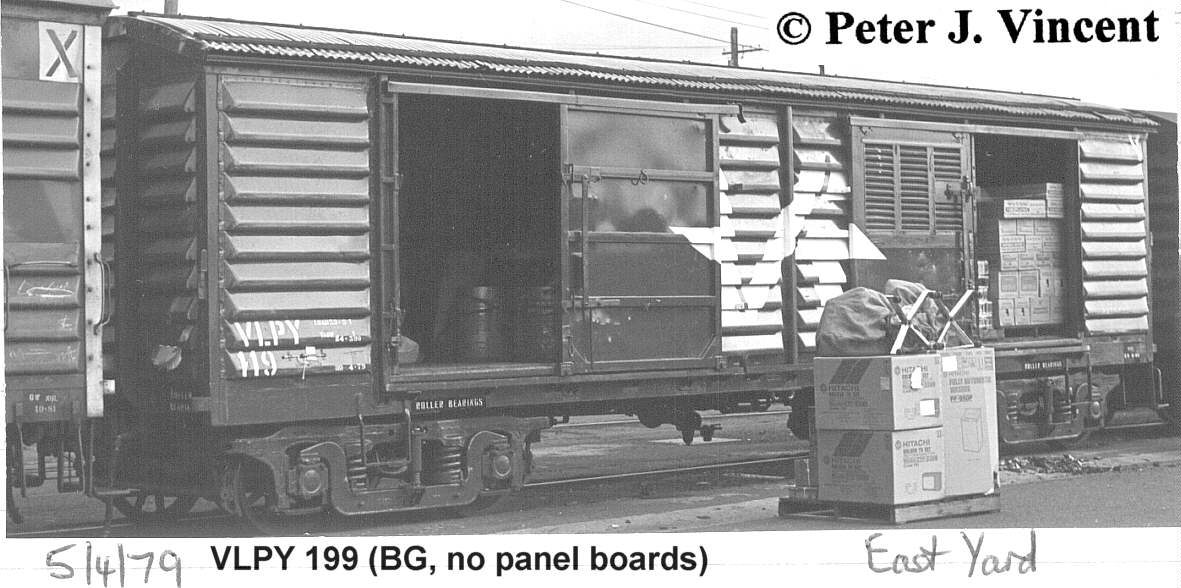 VLPY
The VLPY code was the 1979 recoding of the _VP_ bogie louvre van used on passenger trains for mail, baggage and parcels.
By the mid 1980's, these vans were not required in passenger traffic. They were given roller bearing freight bogies and recoded VLBY with the same numbers.
Vans that operated on standard gauge ran with lettering boards with code, number and service data. Those on broad gauge had this data painted directly on the sides.
The VLPY numbers were 100 - 149.
VLPF
Two vans were reported as VLPF 100 and 126 in 1996. They were in storage at Spotswood. No other information available at 11/97.
This class was recoded to VLBY which then went to VLBF.
   Photos   for  'VLPY  '

   FileID  Description................................................



   BQ115   VLPY     89*- wrong code, should be VBPY 89, East Yard, 7/2/1980, [oPJV]

   BQ116   VLPY     89*- wrong coded VBPY 89, East Yard, 7/2/1980, [oPJV]

   BK486   VLPY    100 - SG, South Dynon, 21/7/1980, [oPJV]

   BI875   VLPY    103 - L4, large VR, no class panel, VSX roof, North Melbourne C&W Shops, 18/1/1982, [oPJV]

   DG470   VLPY    103C- sling door, 1980s, [oDVC]

   BB891   VLPY    105 - s1e2c, Tottenham Yard, 5/4/1981, [oPJV]

   BK500   VLPY    108 - SG, on transfer bogies, South Dynon, 21/7/1980, [oPJV]

   DT102   VLPY    113 - BG, North Melbourne C&W Shops, 1/5/1979, [oPJV]

   BO729   VLPY    117 - part view, North Melbourne C&W, 16/8/1982, [oPJV]

   BQ375   VLPY    119 - BG, part view, Spencer Street, 27/4/1979, [oPJV]

   AW971   VLPY    119 - e1p BG, Spencer Street, 20/4/1979, [oPJV]

   AX008   VLPY    119 - e1q BG, Spencer Street, 20/4/1979, [oPJV]

   CC074   VLPY    119 - e2q Y in corners, East Yard, 5/4/1979, [oPJV]

   AX092   VLPY    119 - ID, Spencer Street, 20/4/1979, [oPJV]

   CC075   VLPY    119 - s2e1 Y in corners, DO, East Yard, 5/4/1979, [oPJV]

   BQ092   VLPY    124, Flinders Street, 22/2/1980, [oPJV]

   BP644   VLPY    124 - part view, Spencer Street, 28/2/1980, [oPJV]

   BQ776   VLPY    125 - (dark), North Melbourne C&W, 5/2/1980, [oPJV]

   BJ001   VLPY    127 - part view, North Melbourne C&W Shops, 18/1/1982, [oPJV]

   BK485   VLPY    129 - SG, South Dynon, 21/7/1980, [oPJV]

   BQ090   VLPY    131, Flinders Street, 22/2/1980, [oPJV]

   DG445   VLPY    131 - VR logo, 1980s, [oDVC]

   BE167   VLPY    132 - s1e2, Flinders Street Yard, 3/8/1981, [oPJV]

   BK487   VLPY    137 - SG, South Dynon, 21/7/1980, [oPJV]

   BG219   VLPY    139 - s1e2, Flinders Street Yard, 14/9/1981, [oPJV]

   BK501   VLPY    140 - SG, on transfer bogies, South Dynon, 21/7/1980, [oPJV]

   AV089   VLPY    142U- VR, s1, North Melbourne C&W Shops, 26/9/1983, [oPJV]

   BH195   VLPY    143 - s2e1, Shepparton, 15/3/1981, [oPJV]

   BQ270   VLPY    144 - s1e2c, BG, North Melbourne C&W, 1/2/1982, [oPJV]

   BQ778   VLPY    145, North Melbourne C&W, 5/2/1980, [oPJV]

   DT324   VLPY    146, North Melbourne C&W Shops, 11/7/1980, [oPJV]

   BO661   VLPY    146 - part view, North Melbourne C&W, 9/5/1980, [oPJV]

   BY338   VLPY    147 - BG, steel door, Tottenham Yard, 12/10/1980, [oPJV]

 
   No diagrams found for VLPY   
   No photos found for VLPF   
   No diagrams found for VLPF   
---
File c300m compiled by Peter J. Vincent, updated 24/9/2007