---
VP - Passenger Mail/Baggage Van
---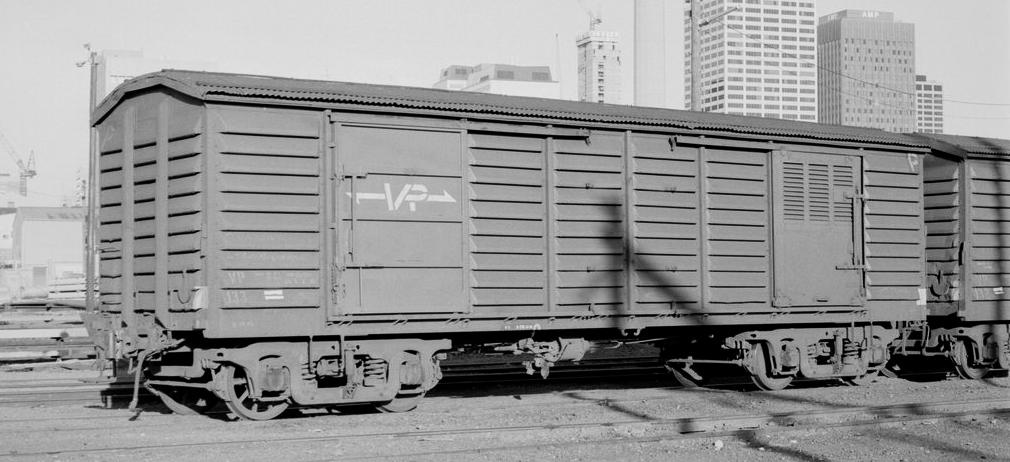 The VP number group was 100 - 149 and they were built between 1954 to 1956.
Their main use was on passenger trains for baggage, parcels and mail transport. A group of about 20 vans were permanently on the standard gauge for Melbourne - Sydney trains.
In 1974, VP 103 was partially destroyed in a fire. The roof was rebuilt with a VSX_ type as they were building VSX vans at Ballarat at the time.
The VP class were relettered to VLPY in the 1979 recoding.
   Photos   for  'VP  '

   FileID  Description................................................



   AU026   VP    101 - part view, large VR, North Melb C&W Shops, 28/8/1979, [oPJV]

   BC684   VP    101 - s2e1c, North Melbourne C&W Shops, 17/10/1976, [oRXO]

   DO617   VP    103 - distant, rear of Pass train, Ingleston Bank, 26/1/1979, [oPJV]

   BC686   VP    103 - s1e2, Spencer Street, 19/10/1976, [oRXO]

   BC685   VP    103 - s1e2h, rebuilt VSX roof, Spencer Street, c1977, [oRXO]

   AR566   VP    103 - VSX roof, Spencer Street, 1976, [oPJV]

   AT541   VP    104 - VR neg M6085, Spencer Street, c8/1958, [oPTC]

   CN316   VP    106 - roof view, trailing on train, s2e2, Spencer Street, 1970s, [oBAU]

   BC687   VP    106 - s1e2, Spencer Street, c1977, [oRXO]

   BV538   VP    108 - SG, South Dynon, 6/5/1979, [oPJV]

   BC688   VP    109 - s2e1, Castlemaine, 13/11/1976, [oRXO]

   AR567   VP    111 - SG, South Dynon, 15/3/1977, [oPJV]

   BF021   VP    112 - s2, small VR, Newport Workshops, 20/9/1975, [oPJV]

   BC689   VP    114 - s2e1, Spencer Street, 21/10/1976, [oRXO]

   CC079   VP    115 - part view BG, Centre Yard, 5/4/1979, [oPJV]

   BC690   VP    117 - s2e1, steel doors, Spencer Street, c1977, [oRXO]

   BC692   VP    118 - s1e2, Spencer Street, 21/10/1976, [oRXO]

   AU042   VP    119 - part view, lettering, Canal Zone, 24/1/1977, [oPJV]

   AR568   VP    120 - BG, s1e1c, c1976, [oPJV]

   BC693   VP    122 - s2e1, Spencer Street, 4/11/1976, [oRXO]

   CC388   VP    123, Ararat, 29/4/1978, [oPJV]

   CC387   VP    123 - part view attached to DRC 40, Ararat, 29/4/1978, [oPJV]

   BC694   VP    123 - s2e1, Spencer Street, 27/10/1976, [oRXO]

   AR569   VP    124 - BG, Tottenham Yard, 5/11/1978, [oPJV]

   BC695   VP    124 - s1e2, Spencer Street, 20/10/1976, [oRXO]

   AE975   VP    126 - SG, South Dynon, 23/4/1979, [oPJV]

   CC064   VP    128 - BG small class plate s2e1c, Spencer Street, 5/4/1979, [oPJV]

   AR572   VP    132 - BG, Spencer Street, c1976, [oPJV]

   AR573   VP    133 - BG, s1e2c, Spencer Street, c1975, [oPJV]

   BL946   VP    133 - part view, BG, North Melbourne C&W Shops, 18/4/1980, [oPJV]

   BK817   VP    134, Hump Yard, 28/2/1980, [oPJV]

   BC696   VP    135 - s1e2, East Yard, 12/11/1976, [oRXO]

   CB167   VP    136 - BG, Shepparton, 15/4/1979, [oPJV]

   BC697   VP    139 - s2e1, Traralgon, 9/10/1976, [oRXO]

   AS562   VP    140, [oBAU]

   AH590   VP    140 - cast bogies, 1978, [oBAU]

   BC698   VP    142 - s2e1, East Yard, 12/11/1976, [oRXO]

   BC699   VP    144 - s1, East Yard, 3/11/1976, [oRXO]

   BC700   VP    145 - s2, L4, Spencer Street, 20/10/1976, [oRXO]

   BA206   VP    146 - lettering panel/traffic board blanked, Spencer Street, 20/4/1979, [oPJV]

   BA205   VP    146 - SG, Spencer Street, 20/4/1979, [oPJV]

   BC701   VP    149 - s2, Spencer Street, 20/10/1976, [oRXO]

 
   Diagrams   for  'VP  '

   FileID  Description................................................



   AS494   VP        -  diagram V-6, Undated, [oPTC]

   AK389   VP    103 - diagram V-15, fitted VSX roof, 8/1/1976, [oPTC]

 
---
File c038m compiled by Peter J. Vincent, updated 19/3/2007