---
VSX - Large Bogie Louvre Van
---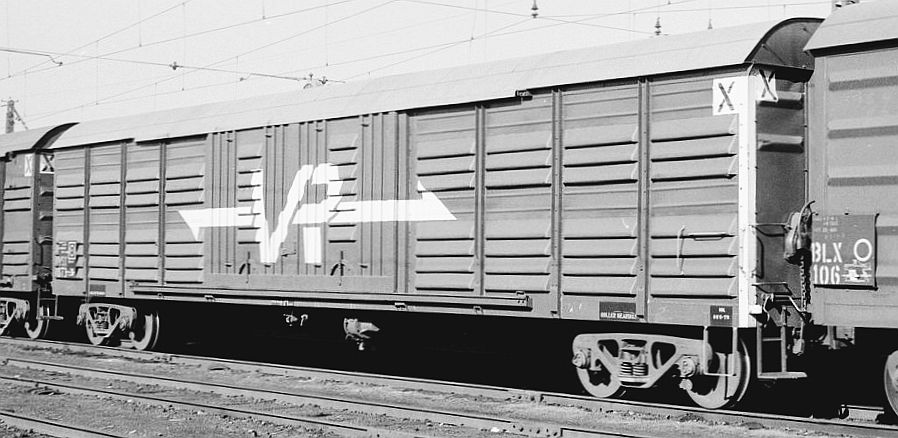 Between 1972 and 1976, two hundred and fifty large louvre vans were built. The vans were classed as VSX and were numbered 801 - 1050.
Features of the vans were Miner handbrake, corrugated sliding doors with central body opening, red painted body and silver roof.
To provide vans for Freight Centre traffic in 1978, several vans were reclassed to VSF_.
In 1978, VSX 809 was destroyed at Ubonia, WA and VSX 930 was destroyed at Port Augusta, South Australia.
In 1979, VSX 834 was destroyed at Zanthus, Western Australia.
With the 1979 recoding the VSX class was recoded to VLEX.
At the same time traffic commitments required conversions to other classes. There were conversion to VLEY and VLNX from the VSX group.
   Photos   for  'VSX  '

   FileID  Description................................................



   BC201   VSX        - all red, new paint, no lettering, sXp, Ballarat North Workshops, 2/10/1976, [oRXO]

   BO292   VSX    801 - lettering panel, Macauley, 21/1/1981, [oPJV]

   BO291   VSX    801 - s1e2, Macauley, 21/1/1981, [oPJV]

   BC233   VSX    802 - s1, Westall, 10/11/1976, [oRXO]

   B1533   VSX    804 - s2e2, North Melbourne C&W Shops, 1/4/1978, [oPJV]

   BC239   VSX    825 - s1e2c, Westall, 12/1976, [oRXO]

   DU277   VSX    827 - s1, Westall, 17/7/1976, [oPJV]

   BC240   VSX    830 - s1e2, ANR lettering, Westall, 12/1976, [oRXO]

   CB820   VSX    833, Tottenham Yard, 7/4/1979, [oPJV]

   BC243   VSX    840 - s1p, Westall, 30/1/1977, [oRXO]

   BC244   VSX    845 - s1e1, Port Melbourne, 27/10/1976, [oRXO]

   BK550   VSX    852, Flinders Street Yard, 22/7/1980, [oPJV]

   BC246   VSX    860 - s1e2, Westall, 10/11/1976, [oRXO]

   CC293   VSX    867, East Yard, 1/4/1979, [oPJV]

   BC248   VSX    870 - s2, Westall, 10/4/1976, [oRXO]

   BC249   VSX    879 - s1, Westall, 10/11/1976, [oRXO]

   CC308   VSX    884, East Yard, 1/4/1979, [oPJV]

   BA457   VSX    885 - s2p door open, Castlemaine, 22/4/1979, [oPJV]

   BA347   VSX    885 - s2q1 doors open, Castlemaine, 22/4/1979, [oPJV]

   BA533   VSX    885 - s2q2 door open, Castlemaine, 22/4/1979, [oPJV]

   AG671   VSX    890, South Dynon, 23/4/1979, [oPJV]

   AL586   VSX    896, South Dynon, 23/4/1979, [oPJV]

   CB821   VSX    904, Tottenham Yard, 7/4/1979, [oPJV]

   BH485   VSX    908, South Dynon, 23/4/1979, [oPJV]

   BB201   VSX    911, Castlemaine, 22/4/1979, [oPJV]

   BV101   VSX    914, Castlemaine, 23/11/1980, [oPJV]

   BC252   VSX    914 - s1, Westall, 10/11/1976, [oRXO]

   CF514   VSX    916, North Melbourne C&W Shops, 28/4/1978, [oPJV]

   BQ775   VSX    928 - s2e1, North Melbourne C&W, 5/2/1980, [oPJV]

   BV878   VSX    942, North Geelong Yard, 9/5/1979, [oPJV]

   CF493   VSX    943, Arden Street, 28/4/1978, [oPJV]

   BC257   VSX    949 - s2e1, East Yard, 18/11/1976, [oRXO]

   BC258   VSX    950 - s2, Westall, 30/1/1977, [oRXO]

   BC259   VSX    953 - s1e2, Westall, 30/1/1977, [oRXO]

   BC261   VSX    969 - part view, Bendigo, 1/11/1976, [oRXO]

   BB151   VSX    970 - s1p, Castlemaine, 22/4/1979, [oPJV]

   BB182   VSX    970 - s1q, Castlemaine, 22/4/1979, [oPJV]

   BC263   VSX    977 - s1e2, Westall, 30/1/1977, [oRXO]

   CC091   VSX    979, Centre Yard, 5/4/1979, [oPJV]

   BC266   VSX    989 - s2e1, Westall, 30/1/1977, [oRXO]

   AL706   VSX    995, South Dynon, 23/4/1979, [oPJV]

   BC268   VSX    996 - s1, doors open, Westall, 10/11/1976, [oRXO]

   BC269   VSX    998 - s1, Westall, 10/11/1976, [oRXO]

   BC274   VSX   1008 - s1, Westall, 10/11/1976, [oRXO]

   AW429   VSX   1011, Canal Zone, 28/2/1980, [oPJV]

   BF799   VSX   1015, South Dynon, 23/4/1979, [oPJV]

   DU278   VSX   1018 - s2e1, Westall, 17/7/1976, [oPJV]

   B1525   VSX   1021, Canal Zone, 1/4/1978, [oPJV]

   CG041   VSX   1029, Mildura, 21/4/1978, [oPJV]

   DG040   VSX   1029, Mildura, 20/4/1978, [oPJV]

   DS304   VSX   1032, North Geelong Yard, 29/4/1979, [oPJV]

   CG150   VSX   1036, Arden Street Sidings, 26/4/1978, [oPJV]

   CG117   VSX   1042 - s1e1c, 4/1978, [oPJV]

   CG118   VSX   1042 - s1e2, 4/1978, [oPJV]

   B1527   VSX   1044, Canal Zone, 1/4/1978, [oPJV]

   BC281   VSX   1047 - s2e1, Westall, 30/1/1977, [oRXO]

   CN318   VSX   1050 - s1e2c, 1970s, [oBAU]

 
   No diagrams found for VSX   
---
File c524m compiled by Peter J. Vincent, updated 1/1/2008