---
VLEX - Bogie Louvre Van
---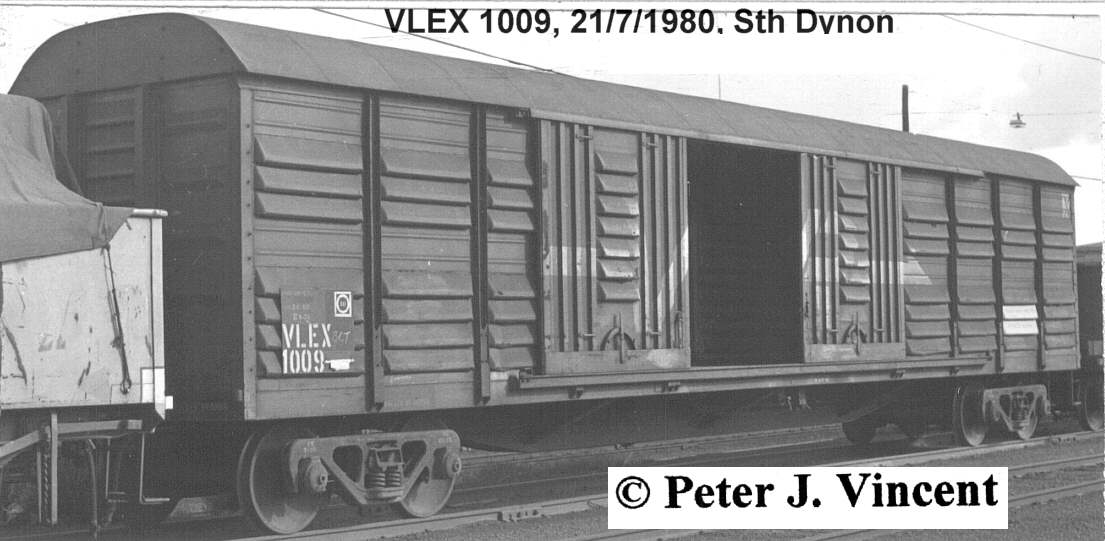 Between 1979 and 1983, the VSX class were recoded to VLEX. The number group for these wagons was 801 - 1050.
Various vans have been recoded/converted as follows:
Between 1979 and 1983, at least 120 vans recoded to VLEY for Freight Centre captive traffic. Recoded back in the mid 1980's.
Between June and October 1981, 9 vans were converted to VLNX for Newsprint traffic.
In April 1983 the underframe of VLEX 817 was converted to VFWY 1 - a Diesel Block Transport.
From 1990, flat (non-louvred) doors were used on some wagons in place of the louvred doors as illustrated above.
By 1991 at least eight VLEX's were stencilled for "PAPER TRAFFIC ONLY DYNON - DRY CREEK".
In March 1993, 2 underframes were converted to VZZF Bogie transfer wagons.
In 1993, three VLEX vans were destroyed in a derailment in Western Australia. In lieu of repayment, V/line requested three comparable vans in exchange. The three replacement VLEX vans: 873, 874 and 989 arrived in Victoria July 1993 converted from WBAX boxvans.
From mid-1994 approximately 70 vans were transferred to NRC and recoded RLEX.
During 1996, VLEX 949 was heavily modified to become VBFX 1. Another conversion from VLEX 1039 was started, but not completed.
During 1997, approximately 35 RLEX's were returned from NRC, recoded to VLEX and stored.
From late 1998, at least 37 VLEX's were placed onto standard gauge bogies fitted with constant contact side bearers and recoded to VLEY.
During 2000, forty-one surplus VLEX's had their bodies removed. The underframes were then modified to carry sawn pine logs and recoded VFTX.
In June 2001, there were still 61 vans shown in RAMS.
During 2003, at least 28 VLEX's were repainted into Freight Australia colours and recoded to VLRX for rice traffic.
   Photos   for  'VLEX  '

   FileID  Description................................................



   AV518   VLEX    803K, Middle Creek, 1/11/1999, [oPJV]

   AV516   VLEX    805F- Vline, Middle Creek, 1/11/1999, [oPJV]

   BQ777   VLEX    815 - s1e2, North Melbourne C&W, 5/2/1980, [oPJV]

   BL484   VLEX    841 - s2, East Yard, 20/3/1980, [oPJV]

   AV654   VLEX    842K- Paper traffic / Vline, Middle Creek, 1/11/1999, [oPJV]

   AV653   VLEX    842K- Paper traffic lettering only, Middle Creek, 1/11/1999, [oPJV]

   BQ144   VLEX    843 - part view, South Dynon, 5/2/1980, [oPJV]

   AV649   VLEX    844F- Paper traffic, Dynon-Dry Creek, Middle Creek, 1/11/1999, [oPJV]

   BO683   VLEX    847 - s1e2, Albury, NSW, 10/5/1980, [oPJV]

   AU079   VLEX    848 - Vline, med ctr left, East Yard, 7/10/1983, [oPJV]

   CB911   VLEX    854, Wangaratta, 7/4/1979, [oPJV]

   CB912   VLEX    854 - lettering, Wangaratta, 7/4/1979, [oPJV]

   AV517   VLEX    862W- Vline , lettered as RLEX, Middle Creek, 1/11/1999, [oPJV]

   BJ008   VLEX    868 - class panel, repaint ex VLEY, North Melbourne C&W Shops, 18/1/1982, [oPJV]

   BB685   VLEX    868 - number panel, Tottenham Yard, 29/3/1981, [oPJV]

   BJ006   VLEX    868 - s1@e1, FC blanked out, North Melbourne C&W Shops, 18/1/1982, [oPJV]

   BJ007   VLEX    868 - s1e2,  Yoke plate  chalks, North Melbourne C&W Shops, 18/1/1982, [oPJV]

   BB684   VLEX    868 - s1e2, VR, Tottenham Yard, 29/3/1981, [oPJV]

   BQ792   VLEX    873, South Dynon, 5/2/1980, [oPJV]

   BV100   VLEX    885, Castlemaine, 23/11/1980, [oPJV]

   BF870   VLEX    890 - s1e2, Dandenong, 3/10/1981, [oPJV]

   BP654   VLEX    895 - s2e1, Flinders Street Yard, 1/3/1980, [oPJV]

   AV253   VLEX    899 - body, Benalla, 18/1/2000, [oPJV]

   AU614   VLEX    901W- Vline, L4, Newport, 12/1984, [oPJV]

   BK503   VLEX    917, South Dynon, 21/7/1980, [oPJV]

   BP858   VLEX    918, Morwell, 3/2/1980, [oPJV]

   BV098   VLEX    920, Castlemaine, 23/11/1980, [oPJV]

   BQ888   VLEX    922, Arden Street, 7/12/1980, [oPJV]

   BM659   VLEX    926 - s1e2c, Sale, 3/2/1980, [oPJV]

   BD606   VLEX    932 - s2e1c, Tottenham Yard, 27/7/1981, [oPJV]

   BD447   VLEX    935 - s1e2, Dandenong, 20/6/1981, [oPJV]

   BO331   VLEX    936 - lettering / class, Newport Workshops, 21/1/1981, [oPJV]

   BO332   VLEX    936 - Newsprint traffic stencil, Newport Workshops, 21/1/1981, [oPJV]

   BO275   VLEX    936 - s1 doors/ Newsprint stencil, Tottenham Yard, 13/1/1981, [oPJV]

   BO274   VLEX    936 - s1e2, Newsprint traffic, Tottenham Yard, 13/1/1981, [oPJV]

   BO333   VLEX    936 - s1e2c, Newport Workshops, 21/1/1981, [oPJV]

   BQ471   VLEX    936 - s2e1c, Newport Workshops, 21/1/1981, [oPJV]

   BH132   VLEX    939 - s2e1, North Melbourne C&W Shops, 4/3/1981, [oPJV]

   DQ849   VLEX    948, North Melbourne C&W Shops, 1/9/1980, [oPJV]

   BQ113   VLEX    955 - ldd pallet, doors open, East Yard, 7/2/1980, [oPJV]

   BP798   VLEX    959 - class panel/damaged, North Melbourne C&W, 5/2/1980, [oPJV]

   BP797   VLEX    959 - damaged, North Melbourne C&W, 5/2/1980, [oPJV]

   AV652   VLEX    960P- door lock/lettering, Middle Creek, 1/11/1999, [oPJV]

   AV651   VLEX    960P- no logo, Middle Creek, 1/11/1999, [oPJV]

   AK917   VLEX    963, Dandenong, 17/10/1981, [oPJV]

   BQ795   VLEX    968, South Dynon, 5/2/1980, [oPJV]

   BK512   VLEX    969, South Dynon, 21/7/1980, [oPJV]

   BP799   VLEX    974, North Melbourne C&W, 5/2/1980, [oPJV]

   BD669   VLEX    982D- number panel, Arden St Sidings, 13/9/1984, [oPJV]

   BD477   VLEX    982D- s2e1c, VR, doors open, Arden St Sidings, 13/9/1984, [oPJV]

   AX000   VLEX    993 - s2, VR, East Yard, 10/6/1983, [oPJV]

   AX003   VLEX    993 - s2, VR (2), East Yard, 10/6/1983, [oPJV]

   AU609   VLEX    995P- L7, no logo, Newport Workshops, 12/1984, [oPJV]

   BL479   VLEX   1008 - FC blanked, Williamstown Pier, 18/3/1980, [oPJV]

   BK496   VLEX   1009, South Dynon, 21/7/1980, [oPJV]

   AV655   VLEX   1026D- Vline, plain doors, Middle Creek, 1/11/1999, [oPJV]

   BV634   VLEX   1030, North Geelong Yard, 9/5/1979, [oPJV]

   AX001   VLEX   1033 - s2, ex VLEY, VR, East Yard, 10/6/1983, [oPJV]

   AV519   VLEX   1036, Middle Creek, 1/11/1999, [oPJV]

   AX002   VLEX   1042 - s2, ex VLEY, VR, East Yard, 10/6/1983, [oPJV]

 
   No diagrams found for VLEX   
---
File c299m compiled by Peter J. Vincent, updated 24/9/2007