---
VLNX - Bogie Newsprint Van
---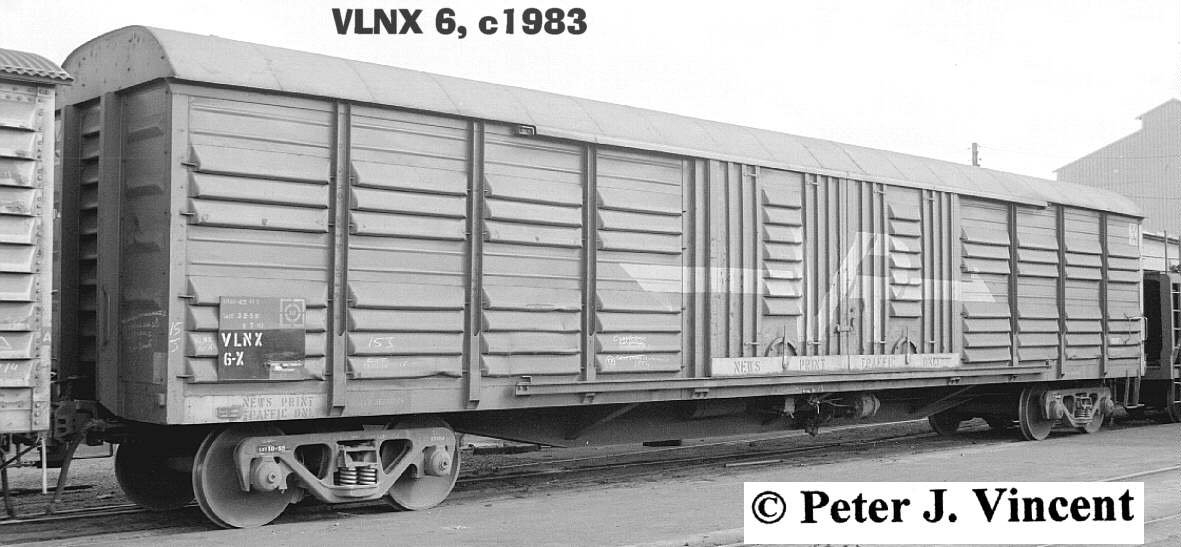 For newsprint traffic between Ettamogah, NSW ( north of Albury ) and Melbourne, Vic., twenty five VLEX / VLEY louvre vans were modified, stencilled and reclassed in 1981.
The class was VLNX ( N=Newsprint ), the number group 1 - 25.
In 1994/1995, NRC_ took control of the newsprint traffic and the vans were reclassed to RLNX.
The wagons were subsequently returned during 1997 and stored at Tottenham Yard. During 1999 they were stored at Middle Creek but later returned to Tottenham Yard for further storage. During 2003, they were removed from storage, repainted into Freight Australia colour scheme and recoded to VLRX rice traffic louvre vans.
   Photos   for  'VLNX  '

   FileID  Description................................................



   AV515   VLNX        - Vline, Middle Creek, 1/11/1999, [oPJV]

   DG475   VLNX      1J- e1p, 1980s, [oDVC]

   DG472   VLNX      1J- lettering, special waybill: WA to Qld, 1980s, [oDVC]

   DG478   VLNX      1J- s2e1c, 1980s, [oDVC]

   BI080   VLNX      4 - s2e1c, North Melbourne C&W Shops, 8/8/1983, [oPJV]

   AV505   VLNX      4N, Middle Creek, 1/11/1999, [oPJV]

   AV504   VLNX      4N- lettering panel, Middle Creek, 1/11/1999, [oPJV]

   BI238   VLNX      8 - lettering, East Yard, 11/12/1981, [oPJV]

   BI239   VLNX      8 - s1e2, East Yard, 11/12/1981, [oPJV]

   AU858   VLNX      8D- lettering panel, North Melbourne C&W, 1/9/1983, [oPJV]

   AU852   VLNX      8D- s1, large VR, North Melbourne C&W, 1/9/1983, [oPJV]

   DG453   VLNX     13 - dostant, 1980s, [oDVC]

   AV508   VLNX     15W- bogie VXC 18960/ maint. lettering, Middle Creek, 1/11/1999, [oPJV]

   AV507   VLNX     15W- doors only, Middle Creek, 1/11/1999, [oPJV]

   AV506   VLNX     15W- plain doors, Middle Creek, 1/11/1999, [oPJV]

   AV498   VLNX     17C- lettering panel, Middle Creek, 1/11/1999, [oPJV]

   AV659   VLNX     17L- NRC panel, Vline, Middle Creek, 1/11/1999, [oPJV]

   BO740   VLNX     21 - s1e2, North Melbourne C&W, 16/8/1982, [oPJV]

   BF985   VLNX     24 - class panel/lettering, North Melbourne C&W Shops, 30/9/1981, [oPJV]

   BF986   VLNX     24 - logo / lettering, North Melbourne C&W Shops, 30/9/1981, [oPJV]

   BF984   VLNX     24 - s2e1, North Melbourne C&W Shops, 30/9/1981, [oPJV]

   AV514   VLNX     24G- large VR, Middle Creek, 1/11/1999, [oPJV]

   AV658   VLNX     25P- Vline, Middle Creek, 1/11/1999, [oPJV]

 
   No diagrams found for VLNX   
---
File c502m compiled by Peter J. Vincent, updated 9/12/2007