---
VSF / VLEY - Bogie Freight Centre Traffic Van
---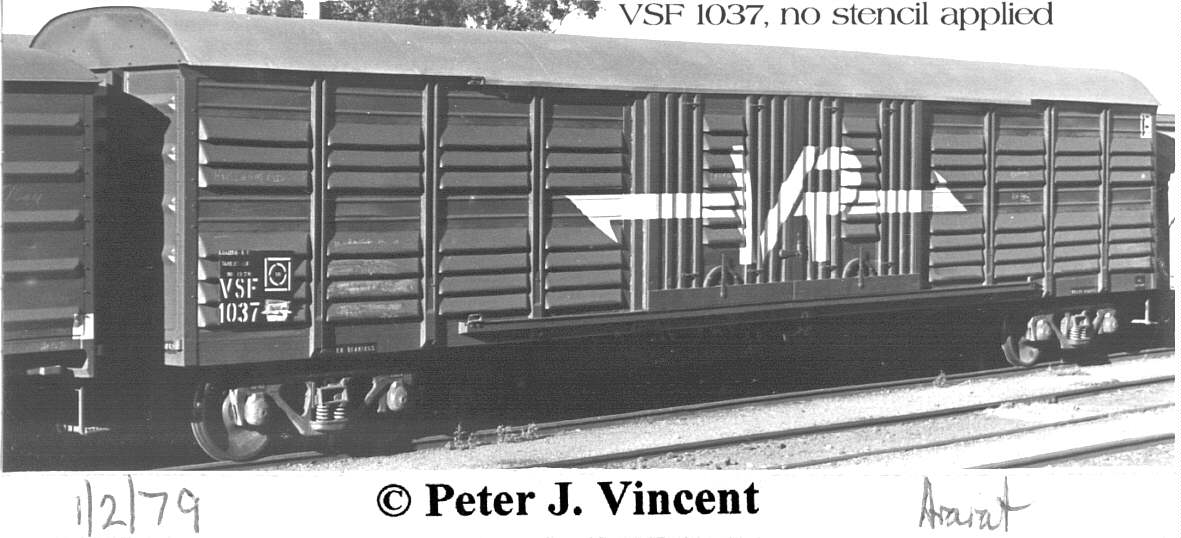 VSF
To provide dedicated louvre vans for Freight Centre traffic, seven VSX_ vans were reclassed to VSF and stencilled with 'Freight Centre Traffic' lettering in 1978/1979. Some VSX vans had already been stencilled for the traffic.
The Freight Centre concept replaced traffic to each station on a line with one or two main freight stations that received goods. Freight was then transported by road as required.
The VSF vans were a number block of 1036 to 1045.
In the 1979 recoding the vans were relettered to VLEY.
VLEY
Between 1979 and 1983, a further one hundred and eight vans were converted from VSX_ / VLEX. Most conversions were done 1979/1980.
From 1980 to 1983, the VLEY vans were reclassed back to VLEX or converted to Newsprint traffic as class VLNX.
   Photos   for  'VSF  '

   FileID  Description................................................



   BP882   VSF   1036, East Yard, 26/4/1979, [oPJV]

   AR605   

VSF   1037

, Ararat, 1/2/1979, [oPJV]

   AQ531   VSF   1039, Castlemaine, 22/4/1979, [oPJV]

   AQ533   VSF   1039 - lettering panel/waybill, Castlemaine, 22/4/1979, [oPJV]

   CB822   VSF   1040, Tottenham Yard, 7/4/1979, [oPJV]

   CC088   VSF   1041 - DO s1e1, Centre Yard, 5/4/1979, [oPJV]

   CC089   VSF   1041 - DO s1e2, Centre Yard, 5/4/1979, [oPJV]

 
   No diagrams found for VSF   
   Photos   for  'VLEY  '

   FileID  Description................................................



   BD435   VLEY    810 - s2e1, FC, Dandenong, 20/6/1981, [oPJV]

   BQ402   VLEY    822 - s1e2, Newport Workshops, 2/3/1981, [oPJV]

   BQ772   VLEY    830 - s2e1, North Melbourne C&W, 5/2/1980, [oPJV]

   BO138   VLEY    835, East Yard, 28/2/1980, [oPJV]

   BP857   VLEY    849, Morwell, 3/2/1980, [oPJV]

   BM209   VLEY    849 - lettering: FC sign, Morwell, 3/2/1980, [oPJV]

   DT197   VLEY    850, North Melbourne C&W Shops, 1/9/1980, [oPJV]

   BM187   VLEY    851 - part view, Newport Workshops, 2/6/1980, [oPJV]

   BQ909   VLEY    856, North Melbourne C&W, 9/12/1980, [oPJV]

   BL482   VLEY    858 - (poor, record only), Williamstown Pier, 18/3/1980, [oPJV]

   BB780   VLEY    870 - s2, FC, North Geelong, 29/3/1981, [oPJV]

   BL936   VLEY    876 - s1e2, FC, North Melbourne C&W Shops, 18/4/1980, [oPJV]

   BG895   VLEY    881 - s1e2, crayoned  Ararat General , Tottenham Yard, 1/2/1981, [oPJV]

   BO135   VLEY    882, East Yard, 28/2/1980, [oPJV]

   BB767   VLEY    888 - s1, FC, North Geelong, 29/3/1981, [oPJV]

   BF871   VLEY    899 - s2e1, FC, Dandenong, 3/10/1981, [oPJV]

   BO133   VLEY    907, East Yard, 28/2/1980, [oPJV]

   BJ121   VLEY    911, North Geelong Yard, 9/11/1980, [oPJV]

   BN166   VLEY    939 - s1e2, FC, North Melbourne C&W, 28/2/1980, [oPJV]

   BM931   VLEY    939 - s1e2c, North Melbourne C&W, 25/2/1980, [oPJV]

   BK586   VLEY    944 - s2, Hump Yard, 28/2/1980, [oPJV]

   BK686   VLEY    946, Hump Yard, 28/2/1980, [oPJV]

   BI522   VLEY    949 - s1, FC, Dandenong, 24/10/1981, [oPJV]

   BF869   VLEY    953 - s2e1, FC, Dandenong, 3/10/1981, [oPJV]

   BU976   VLEY    958, Bendigo, 23/11/1980, [oPJV]

   AK915   VLEY    960, Dandenong, 17/10/1981, [oPJV]

   BF864   VLEY    960 - s2e1, Dandenong, 3/10/1981, [oPJV]

   BQ878   VLEY    961, Tottenham Yard, 7/12/1980, [oPJV]

   BB763   VLEY    962 - s1, North Geelong, 29/3/1981, [oPJV]

   BM546   VLEY    970 - part view, Tottenham Yard, 20/4/1980, [oPJV]

   AW439   VLEY    970 - part view, North Melbourne C&W, 28/2/1980, [oPJV]

   BM941   VLEY    970 - s2e1, North Melbourne C&W, 25/2/1980, [oPJV]

   BI152   VLEY    972 - part view, North Melbourne C&W Shops, 2/11/1981, [oPJV]

   BN932   VLEY    977, Dandenong, 31/1/1981, [oPJV]

   BV096   VLEY    980, Castlemaine, 23/11/1980, [oPJV]

   BJ030   VLEY    983 - FC s2, Dandenong, 16/1/1982, [oPJV]

   BK502   VLEY    985, South Dynon, 21/7/1980, [oPJV]

   BV205   VLEY    987, Tottenham Yard, 9/11/1980, [oPJV]

   BN174   VLEY    988, Canal Zone, 28/2/1980, [oPJV]

   BM548   VLEY    989 - s2e1, Tottenham Yard, 20/4/1980, [oPJV]

   BI578   VLEY    990 - s2, FC, Bendigo, 18/10/1981, [oPJV]

   BQ880   VLEY    992, Tottenham Yard, 7/12/1980, [oPJV]

   BQ954   VLEY    997, Tottenham Yard, 4/1/1981, [oPJV]

   BH128   VLEY    997 - part view, North Melbourne C&W Shops, 4/3/1981, [oPJV]

   BB770   VLEY   1000 - number panel, North Geelong, 29/3/1981, [oPJV]

   BB771   VLEY   1000 - s1e2, FC, North Geelong, 29/3/1981, [oPJV]

   BI827   VLEY   1002 - s2 FC, Dandenong, 27/1/1982, [oPJV]

   BI831   VLEY   1004 - FC, Dandenong, 27/1/1982, [oPJV]

   BV204   VLEY   1005, Tottenham Yard, 9/11/1980, [oPJV]

   BB741   VLEY   1009 - s2, FC, North Geelong, 29/3/1981, [oPJV]

   BN164   VLEY   1014, Hump Yard, 28/2/1980, [oPJV]

   BN160   VLEY   1014, Hump Yard, 28/2/1980, [oPJV]

   BN929   VLEY   1017, Dandenong, 31/1/1981, [oPJV]

   BQ882   VLEY   1019, Tottenham Yard, 7/12/1980, [oPJV]

   BL481   VLEY   1019 - (poor, record only), Williamstown Pier, 18/3/1980, [oPJV]

   BY640   VLEY   1022, North Melbourne C&W Shops, 7/7/1980, [oPJV]

   BM732   VLEY   1023 - s2e1, East Yard, 5/3/1980, [oPJV]

   BD475   VLEY   1026 - s2e1, FC, Flinders Street Yard, 7/1981, [oPJV]

   BB926   VLEY   1027 - s1e2, FC, Tottenham Yard, 5/4/1981, [oPJV]

   BV102   VLEY   1028, Castlemaine, 23/11/1980, [oPJV]

   BQ883   VLEY   1030, Tottenham Yard, 7/12/1980, [oPJV]

   DS231   VLEY   1031, Tottenham Yard, 12/10/1980, [oPJV]

   BO658   VLEY   1032 - s2, FC, East Yard, 9/5/1980, [oPJV]

   BB769   VLEY   1035 - s2, FC, North Geelong, 29/3/1981, [oPJV]

   BN930   VLEY   1037, Dandenong, 31/1/1981, [oPJV]

   BM730   VLEY   1038 - s1e2, FC, East Yard, 5/3/1980, [oPJV]

   BP940   VLEY   1039 - lettering panel, MELB-WBOOL stickons, Hump Yard, 28/2/1980, [oPJV]

   BM141   VLEY   1041 - FC, doors open, s2, Dandenong, 3/6/1980, [oPJV]

   BD433   VLEY   1041 - s1e2, FC, Dandenong, 20/6/1981, [oPJV]

   BD432   VLEY   1042 - s2e1, FC, Dandenong, 20/6/1981, [oPJV]

   BP387   VLEY   1043, Woodend, 27/7/1980, [oPJV]

   BP403   VLEY   1043 - e1p, Woodend, 27/7/1980, [oPJV]

   BP401   VLEY   1043 - e1q, Woodend, 27/7/1980, [oPJV]

   BI682   VLEY   1044 - FC, Dandenong, 17/10/1981, [oPJV]

   BY230   VLEY   1045, North Melbourne C&W Shops, 9/7/1980, [oPJV]

   BQ114   VLEY   1046 - doors open, ldd, East Yard, 7/2/1980, [oPJV]

   BO833   VLEY   1046 - FC lettering, North Melbourne C&W, 14/7/1982, [oPJV]

   BO832   VLEY   1046 - s2e1, North Melbourne C&W, 14/7/1982, [oPJV]

   BQ953   VLEY   1049, Tottenham Yard, 4/1/1981, [oPJV]

   BQ226   VLEY   1050 - s1e2, North Melbourne C&W, 6/2/1981, [oPJV]

 
   No diagrams found for VLEY   
---
File c501m compiled by Peter J. Vincent, updated 22/4/2008