---
L - Sheep Trucks
---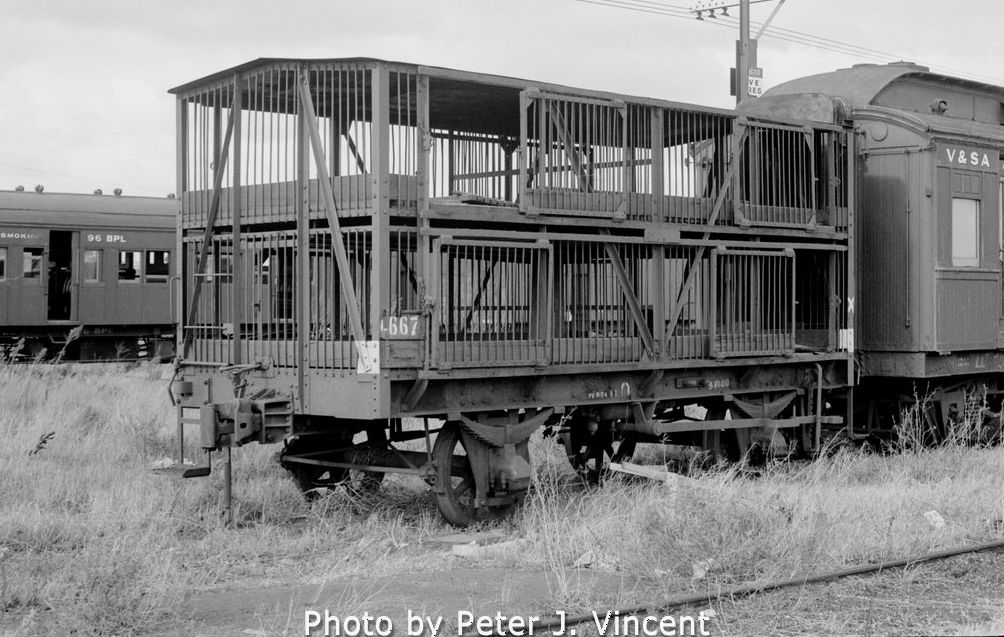 L sheep trucks were numbered 1 to 1432. By 1960 most of the older trucks had been scrapped or rebuilt and there were only 1260 vehicles on Register.
There were about 1650 of these vans actually built. The extra vehicles replaced older vans and were "rebuilt" to new designs.
They ran in block trains or were included in general goods trains when samll stock lots were moved. They were suitable for pigs, goats, sheep, though sheep were the main traffic. In transit, care was needed to ensure stock only remained in the vans for a limited time. For longer transits the stock was unloaded, fed and watered then reloaded.
Most of the vans were autocoupled between 1931 and 1933.
A group of vans were autocoupled at one end only and coupled in pairs with autocouplers together. These vans were recoded _LB_ and placed into service until full conversion took place. There is no date for conversion back to L; some data shows it was in the 1950's.
Details
Steel roof vans built through to 1925 were fitted with gable roofs. These are vans variously numbered up to L 1252. Vans 1253 and onwards were built from 1938 with curved roofs.
Vans built up to 1925 were fitted with screw couplings / continuous drawgear. Vans from 1938 were built new with auto couplers. Whilst most information suggests that auto couplers were built into all wagons from 1925, the L vans may be an exception. Data shows that these vans were modified to AC (auto coupler ) gear during 1931/1932 and some were fitted with transition hooks ( auto coupler draft gear attachment but a hook instead of a coupler head ). The data does not suggest AC gear / transition hooks as built for the 16 vans built during 1925.
   Photos   for  'L  '

   FileID  Description................................................



   AW743   L        -  ldd with sheep on Up train, Bairnsdale, 1/1967, [oPJV]

   B5376   L        -  on Up Geelong Pass, Spencer Street, 1920s, [oJCM]

   BG427   L        -  part view in siding, Hillside, 21/9/1975, [oPJV]

   11084   L        -  rake of 17+ trucks, Warrenheip, 29/4/1978, [oPJV]

   B3459   L        -  rake of sheepvans, Hamilton, 3/6/1979, [oPJV]

   BG433   L        -  rake of trucks, Bairnsdale, 22/9/1975, [oPJV]

   AT354   L        - trucks at cattle siding, Bairnsdale, 11/1968, [oPJV]

   CB710   L     17 - OR s1, Tottenham Yard, 7/4/1979, [oPJV]

   11075   L     24, Warrenheip, 29/4/1978, [oPJV]

   11072   L     34 - 7  number, 2  code, Warrenheip, 29/4/1978, [oPJV]

   AQ771   L     40 - s1, Bendigo, 22/4/1979, [oPJV]

   CB711   L     78 - OR s1, Tottenham Yard, 7/4/1979, [oPJV]

   CZ187   L    118 - part view, Bendigo North Workshops, 1/11/1976, [oRXO]

   CZ430   L    120 - s1, empty, Foster, 7/8/1976, [oRXO]

   CC127   L    132, Wodonga Coal Siding, 6/4/1979, [oPJV]

   CZ191   L    132 - s2, empty, Terang, 28/11/1976, [oRXO]

   CF905   L    155, Donald, 19/4/1978, [oPJV]

   CZ194   L    197 - s2, empty, Bendigo, 1/11/1976, [oRXO]

   CZ198   L    215 - s2p, Bendigo, 1/11/1976, [oRXO]

   BL873   L    216 - e1p, gable, Horsham, 2/6/1979, [oPJV]

   BL874   L    216 - e1q, Horsham, 2/6/1979, [oPJV]

   B3290   L    216 - pushed over siding into dirt mound, North Geelong Yard, 25/3/1979, [oPJV]

   BL875   L    216 - s2e1c, Horsham, 2/6/1979, [oPJV]

   CB709   L    241 - OR / part view, Tottenham Yard, 7/4/1979, [oPJV]

   AT366   L    252 - part view, Bairnsdale, 11/1968, [oPJV]

   CF898   L    264, Donald, 19/4/1978, [oPJV]

   11083   L    265, Warrenheip, 29/4/1978, [oPJV]

   11084   L    265 - rake of 17+ L trucks, Warrenheip, 29/4/1978, [oPJV]

   11078   L    301, Warrenheip, 29/4/1978, [oPJV]

   CF723   L    307 - OR, Ballarat Workshops, 17/4/1978, [oPJV]

   CC007   L    355, Wodonga, 6/4/1979, [oPJV]

   CF692   L    365 - part view, Ballarat Workshops, 17/4/1978, [oPJV]

   CF693   L    365 - part view, Ballarat Workshops, 17/4/1978, [oPJV]

   B1336   L    385 - lettering: vertical OR, Tottenham Yard, 16/4/1978, [oPJV]

   B1334   L    385 - OR/Vertical lettered, Tottenham Yard, 16/4/1978, [oPJV]

   DA651   L    389 - s1e2, mt, Pakenham, 17/7/1976, [oPJV]

   CZ225   L    410 - s1p, Bendigo, 1/11/1976, [oRXO]

   CC002   L    426, Wodonga, 6/4/1979, [oPJV]

   CC126   L    434 - (dark), Wodonga Coal Siding, 6/4/1979, [oPJV]

   AV928   L    442 - s2, bc, sl, Ararat, 27/2/1977, [oPJV]

   CA911   L    445, Echuca, 15/4/1979, [oPJV]

   AT366   L    486 - part view, Bairnsdale, 11/1968, [oPJV]

   B3288   L    561, North Geelong Yard, 25/3/1979, [oPJV]

   BX690   L    572, North Geelong Yard, 29/4/1979, [oPJV]

   CZ245   L    591 - s1p, Bendigo, 1/11/1976, [oRXO]

   CA910   L    598, Echuca, 15/4/1979, [oPJV]

   CF586   L    606, Ararat, 18/4/1978, [oPJV]

   CA916   L    612, Echuca, 15/4/1979, [oPJV]

   CF906   L    632, Donald, 19/4/1978, [oPJV]

   CB996   L    664, Wodonga, 6/4/1979, [oPJV]

   11068   L    698, Warrenheip, 29/4/1978, [oPJV]

   AW850   L    702 - part view, Newport Workshops, MayHol1967, [oPJV]

   CN108   L    720 - s1e1c, mt, 1970s, [oBAU]

   CA915   L    728, Echuca, 15/4/1979, [oPJV]

   CB995   L    868, Wodonga, 6/4/1979, [oPJV]

   CZ280   L    871 - s2, empty, Bendigo, 1/11/1976, [oRXO]

   AQ772   L    881 - s2, 2  class letter, Bendigo, 22/4/1979, [oPJV]

   CF897   L    887, Donald, 19/4/1978, [oPJV]

   CN105   L    925 - s2, mt, 1970s, [oBAU]

   CZ289   L    940 - s1p, empty, Bendigo, 1/11/1976, [oRXO]

   B3285   L    994 + L 1329, North Geelong Yard, 25/3/1979, [oPJV]

   11077   L   1011, Warrenheip, 29/4/1978, [oPJV]

   AW765   L   1019, Bairnsdale, 21/10/1967, [oPJV]

   11071   L   1031, Warrenheip, 29/4/1978, [oPJV]

   CZ301   L   1034 - s2e1, empty, Castlemaine, 13/11/1976, [oRXO]

   CZ303   L   1047 - s2p, Bendigo, 1/11/1976, [oRXO]

   11070   L   1054, Warrenheip, 29/4/1978, [oPJV]

   CC001   L   1057, Wodonga, 6/4/1979, [oPJV]

   CZ306   L   1063 - s1, empty, Bendigo, 1/11/1976, [oRXO]

   11081   L   1099, Warrenheip, 29/4/1978, [oPJV]

   AQ863   L   1115 - s2, Bendigo, 22/4/1979, [oPJV]

   DA652   L   1141 - s2e1, mt, Berwick, 17/7/1976, [oPJV]

   11074   L   1142, Warrenheip, 29/4/1978, [oPJV]

   B3289   L   1160, North Geelong Yard, 25/3/1979, [oPJV]

   AR042   L   1200 - door detail, Wodonga, 14/1/1974, [oPJV]

   AQ741   L   1200 - end, Wodonga, 14/1/1974, [oPJV]

   AQ963   L   1200 - side, Wodonga, 14/1/1974, [oPJV]

   CZ317   L   1206 - s2e1, empty, Camperdown, 27/11/1976, [oRXO]

   AU640   L   1214 - part view, North Melbourne, 2/1977, [oPJV]

   AW765   L   1268 - part view, Bairnsdale, 21/10/1967, [oPJV]

   CN107   L   1275 - s1e2c, mt, 1970s, [oBAU]

   CB997   L   1276, Wodonga, 6/4/1979, [oPJV]

   CF907   L   1297, Donald, 19/4/1978, [oPJV]

   11069   L   1299, Warrenheip, 29/4/1978, [oPJV]

   CZ329   L   1300 - s1p, empty, Bendigo, 1/11/1976, [oRXO]

   CF899   L   1309, Donald, 19/4/1978, [oPJV]

   CZ331   L   1313 - s2, empty, Castlemaine, 13/11/1976, [oRXO]

   CZ332   L   1319 - s2e1c, empty, Camperdown, 27/11/1976, [oRXO]

   CZ334   L   1325 - s2p, empty, Bendigo, 1/11/1976, [oRXO]

   BL229   L   1327 - part view, Newport Goods Yard, 19/9/1975, [oPJV]

   B3287   L   1329, North Geelong Yard, 25/3/1979, [oPJV]

   B3285   L   1329 - part view, cpld L 994, North Geelong Yard, 25/3/1979, [oPJV]

   11076   L   1333, Warrenheip, 29/4/1978, [oPJV]

   CZ336   L   1335 - s1p, empty, Bendigo, 1/11/1976, [oRXO]

   CF874   L   1351 - mt, number only, Ouyen, 19/4/1978, [oPJV]

   CZ342   L   1368 - s1p, empty, Bendigo, 1/11/1976, [oRXO]

   AU640   L   1379 - part view, North Melbourne, 2/1977, [oPJV]

   CC000   L   1393, Wodonga, 6/4/1979, [oPJV]

   11082   L   1398, Warrenheip, 29/4/1978, [oPJV]

   CZ349   L   1404 - s2, empty, Camperdown, 27/11/1976, [oRXO]

   11080   L   1407, Warrenheip, 29/4/1978, [oPJV]

   CA914   L   1414, Echuca, 15/4/1979, [oPJV]

   CC006   L   1417, Wodonga, 6/4/1979, [oPJV]

   11079   L   1419, Warrenheip, 29/4/1978, [oPJV]

   BI564   L   1420 - part view, Bendigo, 18/10/1981, [oPJV]

   CZ351   L   1421 - s2p, empty, Bendigo, 1/11/1976, [oRXO]

   CF896   L   1422 - mt, Donald, 19/4/1978, [oPJV]

   BG715   L   1428 - part view, Hamilton, 11/8/1976, [oPJV]

   CC005   L   1432 - s1, Wodonga, 6/4/1979, [oPJV]

 
   Diagrams   for  'L  '

   FileID  Description................................................



   BF544   L        -  (5 dia), 1904, [oD04]

   BF717   L        -  4 dia, [sPJV]

 
---
File c012m, compiled by Peter J. Vincent, updated 26/11/2009