---
VLF / VLX - Bogie Louvre Van
---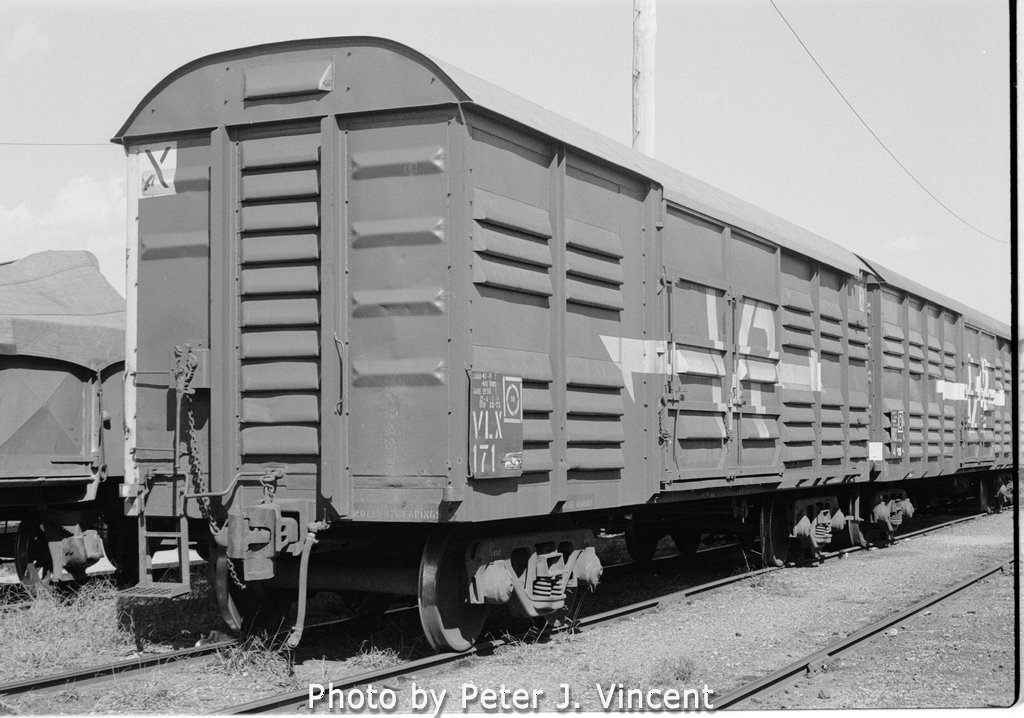 VLF
New louvre vans for standard gauge and interchange traffic were built from 1962 to 1964. The vans were classed VLF. The numbers were 1 - 87, 99 - 135.
During 1964/1965 these vans were reclassed to VLX.
VLX
The program to build vans was continuous. From 1964 the VLF code letters were altered to VLX and construction continued to 1968. The number group at 1968 was 1 - 660.
They were the railways primary bogie van on broad and standard gauge. They could be seen on any standard gauge territory from Perth to Brisbane.
VLX 467 was fitted with a 'Miner' wheel handbrake. It appears to have been fitted to trial the handbrake type. Otherwise, handbrakes on this class were 'Ratchet' type.
From 1979 the class was recoded to VLCX.
   No photos found for VLF   
   No diagrams found for VLF   
   Photos   for  'VLX  '

   FileID  Description................................................



   CN310   VLX      1 - s2e2, 1970s, [oBAU]

   AR506   VLX      2, [sPJV]

   BC640   VLX      3 - s1, East Yard, 12/11/1976, [oRXO]

   BC641   VLX      4 - s1e1, Port Melbourne, 27/10/1976, [oRXO]

   BC642   VLX      8 - s1, Westall, 10/11/1976, [oRXO]

   B2993   VLX     10, Canal Zone, 1/4/1978, [oPJV]

   CG308   VLX     10 - s2e2c, North Melbourne C&W Shops, 7/4/1978, [oPJV]

   BC643   VLX     12 - s1e2, Dandenong, 14/11/1976, [oRXO]

   AL343   VLX     21 - part view, South Dynon, 23/4/1979, [oPJV]

   AR510   VLX     37, [sPJV]

   B3279   VLX     38, North Geelong Yard, 25/3/1979, [oPJV]

   AL345   VLX     40, South Dynon, 23/4/1979, [oPJV]

   AR512   VLX     43, [sPJV]

   11039   VLX     43 - door/catch detail, Mildura, 20/4/1978, [oPJV]

   BV532   VLX     43 - part view, South Dynon, 6/5/1979, [oPJV]

   11038   VLX     43 - test door catches, Mildura, 20/4/1978, [oPJV]

   BC644   VLX     44 - s1, Westall, 10/11/1976, [oRXO]

   AL345   VLX     49 - part view, South Dynon, 23/4/1979, [oPJV]

   BC645   VLX     50 - s1e2, Castlemaine, 13/11/1976, [oRXO]

   AR515   VLX     51, [sPJV]

   BC646   VLX     56 - s1e2, East Yard, 12/11/1976, [oRXO]

   CB990   VLX     65, Wodonga, 6/4/1979, [oPJV]

   CC070   VLX     70, East Yard, 5/4/1979, [oPJV]

   AR516   VLX     75, [sPJV]

   DR656   VLX     85, Dandenong, 6/10/1980, [oPJV]

   CB729   VLX     88, Castlemaine, 8/4/1979, [oPJV]

   BM889   VLX     91 - part view, Spencer Street, 20/1/1976, [oPJV]

   CN315   VLX     93 - s2e2c, Dandenong, 1970s, [oBAU]

   B1619   VLX    105, Tottenham Yard, 12/3/1979, [oPJV]

   BC648   VLX    106 - s2e1, Westall, 10/11/1976, [oRXO]

   DS151   VLX    107, North Geelong Yard, 29/4/1979, [oPJV]

   CG272   VLX    116, Mildura, 21/4/1978, [oPJV]

   11043   VLX    116, Mildura, 20/4/1978, [oPJV]

   CB060   VLX    121 - DO/ldd kaolin, Dandenong, 19/4/1979, [oPJV]

   AR504   VLX    123, [sPJV]

   AR505   VLX    127, [sPJV]

   BC649   VLX    127 - s2e1, twin roof louvres, Traralgon, 9/10/1976, [oRXO]

   CF876   VLX    128, Ouyen, 19/4/1978, [oPJV]

   B3281   VLX    132, North Geelong Yard, 25/3/1979, [oPJV]

   BC650   VLX    143 - s1, doors open, Westall, 10/11/1976, [oRXO]

   CG135   VLX    144, 4/1978, [oPJV]

   CB492   VLX    151 - lift/no doors/s2e2c, Bendigo Workshops, 8/4/1979, [oPJV]

   CU674   VLX    161 - s1e1c, Westall, 10/1/1979, [oPJV]

   CU673   VLX    161 - s1e2, Westall, 10/1/1979, [oPJV]

   CB935   VLX    166, Benalla, 7/4/1979, [oPJV]

   DT245   VLX    173, North Geelong Yard, 29/4/1979, [oPJV]

   CB050   VLX    178, Dandenong, 19/4/1979, [oPJV]

   BC651   VLX    180 - s2, Westall, 30/1/1977, [oRXO]

   DS192   VLX    183, North Melbourne C&W Shops, 1/5/1979, [oPJV]

   BM141   VLX    188 - part view, Dandenong, 3/6/1980, [oPJV]

   CB052   VLX    190 - DO, Dandenong, 19/4/1979, [oPJV]

   BV663   VLX    192, North Geelong Yard, 9/5/1979, [oPJV]

   CM963   VLX    197 - part view/lettering, 1970s, [oBAU]

   CB989   VLX    200, Wodonga, 6/4/1979, [oPJV]

   B1020   VLX    201, Tottenham Yard, 25/3/1979, [oPJV]

   B2823   VLX    202 - unloading/truck, Oakleigh, 4/4/1978, [oPJV]

   AE531   VLX    203, North Melbourne C&W Shops, 23/4/1979, [oPJV]

   CB055   VLX    203 - DO ldd, Dandenong, 19/4/1979, [oPJV]

   CB056   VLX    203 - ldd palletised kaolin bags, Dandenong, 19/4/1979, [oPJV]

   AD588   VLX    203 - part view, North Melbourne C&W Shops, 23/4/1979, [oPJV]

   AR507   VLX    207, [sPJV]

   AR508   VLX    211, [sPJV]

   BA217   VLX    220, Castlemaine, 22/4/1979, [oPJV]

   CF525   VLX    221, Arden Street, 26/4/1978, [oPJV]

   CN311   VLX    230 - s2e1, chalked  disc , 1970s, [oBAU]

   CA955   VLX    237, North Melbourne C&W Shops, 16/4/1979, [oPJV]

   CB878   VLX    241 - SG, different NSW bogies each end, Albury, NSW, 6/4/1979, [oPJV]

   AS809   VLX    248 - part view, Bendigo, 22/4/1979, [oPJV]

   B3309   VLX    252, North Geelong Yard, 25/3/1979, [oPJV]

   CA963   VLX    254, North Melbourne C&W Shops, 16/4/1979, [oPJV]

   BC652   VLX    262 - s2, East Yard, 19/11/1976, [oRXO]

   CF526   VLX    266, Arden Street, 26/4/1978, [oPJV]

   CB407   VLX    268 - part view, Bendigo, 8/4/1979, [oPJV]

   BC653   VLX    269 - s1e2, Castlemaine, 13/11/1976, [oRXO]

   CN312   VLX    276 - s1e1, doors open, Woodend, 1970s, [oBAU]

   AV722   VLX    290 - large VR, Spencer Street, 18/2/1977, [oPJV]

   AS800   VLX    291, Bendigo, 22/4/1979, [oPJV]

   CB053   VLX    296 - DO, Dandenong, 19/4/1979, [oPJV]

   BC654   VLX    301 - s2, East Yard, 19/11/1976, [oRXO]

   BC655   VLX    301 - s2e1, East Yard, 25/11/1976, [oRXO]

   CN313   VLX    304 - s1e1, 1970s, [oBAU]

   BC656   VLX    306 - s1e2, Spencer Street, c1977, [oRXO]

   BB428   VLX    311, Castlemaine, 22/4/1979, [oPJV]

   BC657   VLX    330 - s1, Westall, 30/1/1977, [oRXO]

   BC659   VLX    332 - s2e1, East Yard, 25/11/1976, [oRXO]

   BP804   VLX    335, North Melbourne C&W, 5/2/1980, [oPJV]

   AR509   VLX    342, [sPJV]

   BC660   VLX    345 - s2, Westall, 30/1/1977, [oRXO]

   BV045   VLX    346, Tottenham Yard, 6/5/1979, [oPJV]

   BC661   VLX    347 - s1e2, Westall, 10/4/1976, [oRXO]

   CF583   VLX    355, Ararat, 18/4/1978, [oPJV]

   CC073   VLX    358, East Yard, 5/4/1979, [oPJV]

   CA834   VLX    364, Newport Workshops, 2/4/1979, [oPJV]

   BC662   VLX    370 - s2e1, Westall, 10/11/1976, [oRXO]

   BF832   VLX    371, South Dynon, 23/4/1979, [oPJV]

   CB988   VLX    379, Wodonga, 6/4/1979, [oPJV]

   CB987   VLX    386, Wodonga, 6/4/1979, [oPJV]

   BC663   VLX    396 - part view, East Yard, 12/1976, [oRXO]

   AR511   VLX    400, [sPJV]

   BH457   VLX    404, South Dynon, 23/4/1979, [oPJV]

   11041   VLX    405, Mildura, 20/4/1978, [oPJV]

   BC664   VLX    405 - part view, Bendigo, 1/11/1976, [oRXO]

   AA368   VLX    405 - part view lettering, [oPJV]

   BV664   VLX    407, North Geelong Yard, 9/5/1979, [oPJV]

   CC078   VLX    409 - DO, East Yard, 5/4/1979, [oPJV]

   B2885   VLX    410 - ID/panel outline of lettering, Bendigo Workshops, 15/3/1978, [oPJV]

   B2882   VLX    410 - lift/repaint/code only, Bendigo Workshops, 15/3/1978, [oPJV]

   AT377   VLX    411 - medium VR logo, Flinders Street Yard, 18/7/1976, [oPJV]

   BC682   VLX    416 - part view, Oakleigh, 21/1/1977, [oRXO]

   DU300   VLX    432 - s2, Flinders Street Yard, 18/7/1976, [oPJV]

   BC665   VLX    439 - s1e2, Spencer Street, 18/10/1976, [oRXO]

   AL343   VLX    444, South Dynon, 23/4/1979, [oPJV]

   BC666   VLX    447 - s1e1, Westall, 30/1/1977, [oRXO]

   BC667   VLX    449 - part view, u/f obscured, Westall, 30/1/1977, [oRXO]

   BC668   VLX    451 - s2e1, Spencer Street, 27/10/1976, [oRXO]

   CB936   VLX    452, Benalla, 7/4/1979, [oPJV]

   DU302   VLX    453 - s2, Flinders Street Yard, 18/7/1976, [oPJV]

   AR513   VLX    459, [sPJV]

   AR514   VLX    467, [sPJV]

   CG134   VLX    468, 4/1978, [oPJV]

   CB054   VLX    473 - DO, ldd, Dandenong, 19/4/1979, [oPJV]

   BQ789   VLX    474, South Dynon, 5/2/1980, [oPJV]

   BC670   VLX    483 - s2e1, East Yard, 18/11/1976, [oRXO]

   AG711   VLX    487 - AN stencilled numbers/code, South Dynon, 23/4/1979, [oPJV]

   BC683   VLX    493 - part view, Oakleigh, 21/1/1977, [oRXO]

   BL717   VLX    493 - part view, Bendigo Workshops, 13/4/1980, [oPJV]

   BL718   VLX    493 - part view, Bendigo Workshops, 13/4/1980, [oPJV]

   DU297   VLX    493 - s1, Flinders Street Yard, 18/7/1976, [oPJV]

   AL118   VLX    497, South Dynon, 23/4/1979, [oPJV]

   CC111   VLX    507, Wodonga Coal Siding, 6/4/1979, [oPJV]

   CT724   VLX    517, Bairnsdale, 25/12/1978, [oPJV]

   CT722   VLX    521, Bairnsdale, 25/12/1978, [oPJV]

   BC671   VLX    524 - s1e2, Woodend, 8/11/1976, [oRXO]

   CC276   VLX    526, Flinders Street Yard, 1/4/1979, [oPJV]

   BC672   VLX    531 - part view, Albury, NSW, 7/11/1976, [oRXO]

   BU819   VLX    534, Tottenham Yard, 6/5/1979, [oPJV]

   BY080   VLX    555, North Geelong Yard, 29/4/1979, [oPJV]

   CB879   VLX    557, Albury, NSW, 6/4/1979, [oPJV]

   BC673   VLX    562 - s1e1, Bendigo, 1/11/1976, [oRXO]

   BC674   VLX    568 - s1p, c1977, [oRXO]

   AV934   VLX    585 - s1, large VR, Ararat, 27/2/1977, [oPJV]

   CB412   VLX    587 - part view, Bendigo, 8/4/1979, [oPJV]

   BM115   VLX    588 - s2, Morwell, 3/2/1980, [oPJV]

   CG040   VLX    590, Mildura, 21/4/1978, [oPJV]

   BC675   VLX    591 - part view, Bendigo, 1/11/1976, [oRXO]

   CN314   VLX    591 - s1e2c, Arden Street, 1970s, [oBAU]

   BC676   VLX    607 - s2e1c, Dandenong, 30/1/1977, [oRXO]

   AG712   VLX    610, South Dynon, 23/4/1979, [oPJV]

   BC677   VLX    612 - s1e2, Westall, 30/1/1977, [oRXO]

   AV935   VLX    612 - s2, large VR, Ararat, 27/2/1977, [oPJV]

   BB004   VLX    614, Castlemaine, 22/4/1979, [oPJV]

   CC072   VLX    616, East Yard, 5/4/1979, [oPJV]

   BC678   VLX    616 - s1p, test VSX doors, Bendigo, 1/11/1976, [oRXO]

   BC679   VLX    617 - s2e1, doors open, Westall, 10/11/1976, [oRXO]

   BC681   VLX    621 - s2e1, Spencer Street, 15/11/1976, [oRXO]

   BY033   VLX    623, North Geelong Yard, 12/10/1980, [oPJV]

   BV665   VLX    624, North Geelong Yard, 9/5/1979, [oPJV]

   CC275   VLX    630, Flinders Street Yard, 1/4/1979, [oPJV]

   AE420   VLX    632 - part view, North Melbourne C&W Shops, 23/4/1979, [oPJV]

   BV532   VLX    640, South Dynon, 6/5/1979, [oPJV]

   CB414   VLX    645 - part view, Bendigo Workshops, 8/4/1979, [oPJV]

   AA368   VLX    646 - large VR, sXp, [oPJV]

   CK468   VLX    647, North Geelong Yard, 12/3/1979, [oPJV]

   CB382   VLX    651 - s1e1c, Bendigo, 8/4/1979, [oPJV]

   BD271   VLX    652 - e1p, Wodonga, 12/4/1975, [oPJV]

   BD272   VLX    652 - e1q, Wodonga, 12/4/1975, [oPJV]

   CB412   VLX    656, Bendigo, 8/4/1979, [oPJV]

   B9962   VLX    657, Bendigo Workshops, 15/3/1978, [oPJV]

   DR638   VLX    658, North Melbourne C&W Shops, 1/5/1979, [oPJV]

   CB091   VLX    659, North Melbourne C&W Shops, 16/4/1979, [oPJV]

   BG143   VLX    660 - s1e2, South Dynon, 23/4/1979, [oPJV]

 
   Diagrams   for  'VLX  '

   FileID  Description................................................



   AS905   VLX        -  386 - 660, diagram V-13, 19/3/1973, [oPTC]

   AS491   VLX        -  diagram V-3, 19/3/1973, [oPTC]

   AS492   VLX        -  diagram V-4, 11/5/1966, [oPTC]

   AS493   VLX        -  diagram V-5, 24/5/1966, [oPTC]

 
---
File c037m compiled by Peter J. Vincent, updated 18/3/2007