---
VLCX - Bogie Louvre Van
---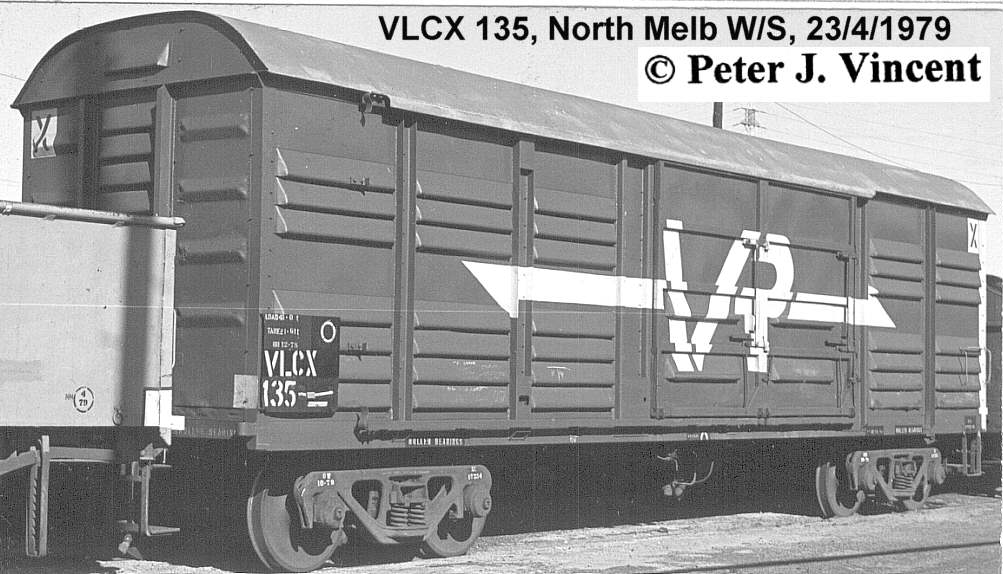 The VLCX vans are the 1979 recoding of the VLX_ van.
The vans were progressively recoded between 1979 and 1982, with some vans done in 1985.
During the late 1980's, some vans were cut down to flatwagons and modified as VZSX sleeper transports.
By 1991 about one hundred vans were surplus to requirements and placed into storage.
For NRC use, the vans were recoded to RLCX from 1994. They were being returned from this traffic from December 1996, coded back to VLCX again.
To retain some vans for intrastate use, V/line recoded some vans to VLVX for parcels traffic use.
By 1996, most of the early numbered vans had been scrapped. Underframes were being used to replace older underframes under tank wagons.
   Photos   for  'VLCX  '

   FileID  Description................................................



   AX130   VLCX        - bodies on ground, Bendigo Workshops, 3/1993, [oPJV]

   AV252   VLCX        - body - in Plums metal scrap yard, Benalla, 18/1/2000, [oPJV]

   BI750   VLCX        - body on side/underframe view, Wodonga Coal Siding, 7/11/1982, [oPJV]

   BM606   VLCX        - body, derail damage, Wodonga Coal Siding, 14/8/1982, [oPJV]

   BM608   VLCX        - body, part view, derail damage, Wodonga Coal Siding, 14/8/1982, [oPJV]

   AM103   VLCX        - rake, Middle Creek, 8/7/1999, [sARH]

   CB051   VLCX        - rake of 5 unloading, Dandenong, 19/4/1979, [oPJV]

   BO657   VLCX      1 - s1e2, East Yard, 9/5/1980, [oPJV]

   BQ118   VLCX      6 - door open, ldd, East Yard, 7/2/1980, [oPJV]

   BJ004   VLCX     10 - s1e2, North Melbourne C&W Shops, 18/1/1982, [oPJV]

   BO036   VLCX     11 - 4  code, 7  number, Arden Street, 6/2/1981, [oPJV]

   BH192   VLCX     14 - s2e1c, Shepparton, 15/3/1981, [oPJV]

   BI530   VLCX     18 - s1, Dandenong, 24/10/1981, [oPJV]

   BQ958   VLCX     20, Tottenham Yard, 4/1/1981, [oPJV]

   CR406   VLCX     22 - distant, no logo, Melbourne Yard, 1990s, [oNXB]

   BI529   VLCX     24 - s1, Dandenong, 24/10/1981, [oPJV]

   BR195   VLCX     26, North Geelong Yard, 4/1/1981, [oPJV]

   BB513   VLCX     32 - s1e2, Tottenham Yard, 29/3/1981, [oPJV]

   BG060   VLCX     33 - s2e1, VSX doors, North Geelong Yard, 27/9/1981, [oPJV]

   BP126   VLCX     37 - part view, North Melbourne C&W, 20/8/1982, [oPJV]

   BN066   VLCX     38R- body with VBBX body, North Melbourne, 12/2000, [oPJV]

   DT158   VLCX     43, Arden Street Sidings, 9/7/1980, [oPJV]

   BG144   VLCX     47 - s2e1, spokes, Tottenham Yard, 27/9/1981, [oPJV]

   BV052   VLCX     48, North Geelong Yard, 9/11/1980, [oPJV]

   BU971   VLCX     51, Bendigo, 23/11/1980, [oPJV]

   AK918   VLCX     55, Dandenong, 17/10/1981, [oPJV]

   BI519   VLCX     55 - s2, Dandenong, 24/10/1981, [oPJV]

   AW385   VLCX     55C- class panel, North Melbourne C&W, 21/11/1984, [oPJV]

   AW383   VLCX     55C- part view, North Melbourne C&W, 21/11/1984, [oPJV]

   BP978   VLCX     56 - s2e1c, Flinders Street Yard, 2/4/1982, [oPJV]

   BN925   VLCX     59, Dandenong, 31/1/1981, [oPJV]

   BV053   VLCX     61, North Geelong Yard, 9/11/1980, [oPJV]

   BF988   VLCX     67 - s2e1, North Melbourne C&W Shops, 30/9/1981, [oPJV]

   BU818   VLCX     69, Tottenham Yard, 6/5/1979, [oPJV]

   BV082   VLCX     72, North Geelong Yard, 9/11/1980, [oPJV]

   BB937   VLCX     75 - s1e2c, twin end louvres, Tottenham Yard, 5/4/1981, [oPJV]

   BY653   VLCX     82, Oakleigh, 2/8/1980, [oPJV]

   BY722   VLCX     82 - e2p, Oakleigh, 2/8/1980, [oPJV]

   BY718   VLCX     82 - e2q, Oakleigh, 2/8/1980, [oPJV]

   BS028   VLCX     88, North Melbourne C&W, 7/1/1981, [oPJV]

   BY492   VLCX    102, Oakleigh, 2/8/1980, [oPJV]

   BY679   VLCX    102 - e2p, Oakleigh, 2/8/1980, [oPJV]

   BY616   VLCX    102 - e2q, Oakleigh, 2/8/1980, [oPJV]

   BM398   VLCX    108 - s1e2, Wahgunyah, 11/5/1980, [oPJV]

   BI681   VLCX    111, Dandenong, 17/10/1981, [oPJV]

   BM307   VLCX    111 - part view, Dandenong, 20/5/1980, [oPJV]

   BH186   VLCX    112 - s2e1, North Melbourne C&W Shops, 3/3/1981, [oPJV]

   AW362   VLCX    118X- Vl, L3, s2e1, Flinders Street Yard, 21/11/1984, [oPJV]

   BQ881   VLCX    119, Tottenham Yard, 7/12/1980, [oPJV]

   BG149   VLCX    119 - s2e1, Tottenham Yard, 27/9/1981, [oPJV]

   AU909   VLCX    122 - no logo, Melbourne Yard, 15/9/1983, [oPJV]

   AV134   VLCX    122X- lettering/panel only, Flinders Street Yard, 29/9/1983, [oPJV]

   AV100   VLCX    122X- s2, no logo, Flinders Street Yard, 29/9/1983, [oPJV]

   BQ143   VLCX    125 - 2 end louvres 2, Flinders Street Yard, 10/2/1980, [oPJV]

   BQ074   VLCX    125 - s2e1c, 2 end louvres, Flinders Street Yard, 10/2/1980, [oPJV]

   BO052   VLCX    127 - part view, North Melbourne C&W, 6/2/1981, [oPJV]

   BH193   VLCX    132 - various load crayon markings, Shepparton, 15/3/1981, [oPJV]

   BV146   VLCX    134, North Geelong Yard, 9/11/1980, [oPJV]

   AO241   VLCX    135, North Melbourne C&W Shops, 23/4/1979, [oPJV]

   BM308   VLCX    143 - part view, Dandenong, 20/5/1980, [oPJV]

   AU823   VLCX    153 - L7, no logo, North Melbourne C&W, 1/9/1983, [oPJV]

   AU824   VLCX    153 - no logo, 2 x VLCX vans, large VR, North Melbourne C&W, 1/9/1983, [oPJV]

   BJ201   VLCX    154, North Geelong Yard, 9/11/1980, [oPJV]

   AU824   VLCX    156 - large VR, part view, North Melbourne C&W, 1/9/1983, [oPJV]

   BM282   VLCX    158 - part view, Bendigo, 12/5/1980, [oPJV]

   BN198   VLCX    159, Canal Zone, 28/2/1980, [oPJV]

   CR407   VLCX    159D- distant, Vline logo, Dandenong, 3/1991, [oNXB]

   BQ796   VLCX    162, South Dynon, 5/2/1980, [oPJV]

   BQ886   VLCX    162, Tottenham Yard, 7/12/1980, [oPJV]

   BG059   VLCX    163 - s2e1, North Geelong Yard, 27/9/1981, [oPJV]

   BQ884   VLCX    169, Tottenham Yard, 7/12/1980, [oPJV]

   BJ216   VLCX    179, North Geelong Yard, 9/11/1980, [oPJV]

   BG901   VLCX    181 - s1e2, Tottenham Yard, 1/2/1981, [oPJV]

   BK551   VLCX    185, Flinders Street Yard, 22/7/1980, [oPJV]

   BB762   VLCX    188 - s1e2, North Geelong, 29/3/1981, [oPJV]

   AX982   VLCX    190A- part view, doors with louvres, Flinders Street Yard, 11/11/1983, [oPJV]

   AX988   VLCX    190A- part view, s2e1, shows doors, Flinders Street Yard, 11/11/1983, [oPJV]

   AX983   VLCX    190A- s1e2, no logo, Flinders Street Yard, 11/11/1983, [oPJV]

   BD443   VLCX    192 - s1e2, Dandenong, 20/6/1981, [oPJV]

   BQ699   VLCX    192S- Vl, Dandenong, 7/11/1984, [oPJV]

   BO183   VLCX    193, Centre Yard, 28/2/1980, [oPJV]

   CZ899   VLCX    193E- VSX doors, Vline logo, South Dynon, 18/11/2004, [oPJV]

   CC077   VLCX    195 - class panel, East Yard, 5/4/1979, [oPJV]

   CC076   VLCX    195 - DO var loading/tyre dunnage, East Yard, 5/4/1979, [oPJV]

   BB744   VLCX    197 - s1e2c, North Geelong, 29/3/1981, [oPJV]

   DU512   VLCX    201N- FA, logo, Wangaratta, 4/6/2001, [oDMG]

   AV521   VLCX    203X- bogie VXB 322, Middle Creek, 1/11/1999, [oPJV]

   AV135   VLCX    203X- s1, VR, Flinders Street Yard, 1/10/1983, [oPJV]

   AV520   VLCX    203X- Vline, Middle Creek, 1/11/1999, [oPJV]

   BF867   VLCX    206 - s1e2, Dandenong, 3/10/1981, [oPJV]

   AV510   VLCX    208B- Vline, Middle Creek, 1/11/1999, [oPJV]

   BI683   VLCX    214 - chalked loads, Dandenong, 17/10/1981, [oPJV]

   BD452   VLCX    217G- s1e2, Vl, door open, Arden St Sidings, 13/9/1984, [oPJV]

   BD451   VLCX    223B- s1e2, no logo, Arden St Sidings, 13/9/1984, [oPJV]

   BY804   VLCX    226, Oakleigh, 2/8/1980, [oPJV]

   AK920   VLCX    232, Dandenong, 17/10/1981, [oPJV]

   BI521   VLCX    232 - s1, Dandenong, 24/10/1981, [oPJV]

   BI155   VLCX    243, Dandenong, 3/11/1981, [oPJV]

   BQ698   VLCX    251H- class L7, number L3, Vl, Dandenong, 7/11/1984, [oPJV]

   BD442   VLCX    253 - s1e2, Dandenong, 20/6/1981, [oPJV]

   BG147   VLCX    256 - s2e1, Tottenham Yard, 27/9/1981, [oPJV]

   BV058   VLCX    262, North Geelong Yard, 9/11/1980, [oPJV]

   BV529   VLCX    264, South Dynon, 6/5/1979, [oPJV]

   BJ118   VLCX    270, North Geelong Yard, 9/11/1980, [oPJV]

   BL937   VLCX    273 - s2e1, door open, North Melbourne C&W Shops, 18/4/1980, [oPJV]

   BI703   VLCX    275 - s1, Castlemaine, 18/10/1981, [oPJV]

   BN936   VLCX    279, Dandenong, 31/1/1981, [oPJV]

   BM396   VLCX    280 - s1e2, Wahgunyah, 11/5/1980, [oPJV]

   BQ863   VLCX    284, Tottenham Yard, 7/12/1980, [oPJV]

   AW439   VLCX    291 - part view, North Melbourne C&W, 28/2/1980, [oPJV]

   BM942   VLCX    291 - part view, North Melbourne C&W, 25/2/1980, [oPJV]

   BO688   VLCX    293 - part view, Albury, NSW, 10/5/1980, [oPJV]

   AX130   VLCX    294U- body, other VLCX bodies, Bendigo Workshops, 3/1993, [oPJV]

   AX129   VLCX    294U- body, s1, no doors, Bendigo Workshops, 3/1993, [oPJV]

   BQ952   VLCX    307, Tottenham Yard, 4/1/1981, [oPJV]

   BO756   VLCX    309 - s1e2, North Geelong Yard, 5/9/1982, [oPJV]

   BP460   VLCX    311, Castlemaine, 27/7/1980, [oPJV]

   BP462   VLCX    311 + ALPY 11 - similar body style, Castlemaine, 27/7/1980, [oPJV]

   BI702   VLCX    314 - s2, Castlemaine, 18/10/1981, [oPJV]

   BN200   VLCX    315 - PV Islington 12.79, Canal Zone, 28/2/1980, [oPJV]

   BN199   VLCX    315 - s1e1, Canal Zone, 28/2/1980, [oPJV]

   BS016   VLCX    316, North Melbourne C&W, 7/1/1981, [oPJV]

   BI518   VLCX    324 - s2, Dandenong, 24/10/1981, [oPJV]

   BI697   VLCX    327 - s1e2, Woodend, 18/10/1981, [oPJV]

   BI699   VLCX    328 - part view, Castlemaine, 18/10/1981, [oPJV]

   BP172   VLCX    330 - s1e2, North Melbourne C&W, 1/7/1982, [oPJV]

   BI537   VLCX    335 - s1e2c, Dandenong, 29/10/1981, [oPJV]

   BG146   VLCX    339 - s2e1, Tottenham Yard, 27/9/1981, [oPJV]

   BM308   VLCX    341 - part view, Dandenong, 20/5/1980, [oPJV]

   BB752   VLCX    345 - s1e2, North Geelong, 29/3/1981, [oPJV]

   BH362   VLCX    346F- s2, Vline, Flinders Street Yard, 16/10/1984, [oPJV]

   BH375   VLCX    346F- small lettering with check letter, 1984, [oPJV]

   BB730   VLCX    351 - s1e2, North Geelong, 29/3/1981, [oPJV]

   BN179   VLCX    354, Canal Zone, 28/2/1980, [oPJV]

   BJ200   VLCX    356, North Geelong Yard, 9/11/1980, [oPJV]

   BD466   VLCX    362X- s2e1, swapped logo doors, Arden St Sidings, 13/9/1984, [oPJV]

   BQ864   VLCX    364, Tottenham Yard, 7/12/1980, [oPJV]

   BJ067   VLCX    370, Tottenham Yard, 9/11/1980, [oPJV]

   BQ955   VLCX    371, Tottenham Yard, 4/1/1981, [oPJV]

   BL817   VLCX    373 - s2e1, Flinders Street Yard, 14/4/1980, [oPJV]

   BU972   VLCX    375, Bendigo, 23/11/1980, [oPJV]

   BQ697   VLCX    378B- L3, Vl, Dandenong, 7/11/1984, [oPJV]

   BQ961   VLCX    383, Tottenham Yard, 4/1/1981, [oPJV]

   AV509   VLCX    383N- Vline, Middle Creek, 1/11/1999, [oPJV]

   BB745   VLCX    387 - s1e2c, North Geelong, 29/3/1981, [oPJV]

   BQ885   VLCX    388, Tottenham Yard, 7/12/1980, [oPJV]

   BV097   VLCX    389, Castlemaine, 23/11/1980, [oPJV]

   BO763   VLCX    392 - s1e2, North Geelong Yard, 5/9/1982, [oPJV]

   BQ956   VLCX    394, Tottenham Yard, 4/1/1981, [oPJV]

   BP803   VLCX    395, North Melbourne C&W, 5/2/1980, [oPJV]

   BI999   VLCX    395 - part view, North Melbourne C&W Shops, 18/1/1982, [oPJV]

   BN937   VLCX    397, Dandenong, 31/1/1981, [oPJV]

   BU977   VLCX    399, Bendigo, 23/11/1980, [oPJV]

   BJ192   VLCX    400, North Geelong Yard, 9/11/1980, [oPJV]

   BR934   VLCX    401 - part view, Newport Workshops, 2/12/1980, [oPJV]

   BJ032   VLCX    404 - s1e1, Dandenong, 16/1/1982, [oPJV]

   AV522   VLCX    407M, Middle Creek, 1/11/1999, [oPJV]

   BI548   VLCX    409 - s2, doors open, Dandenong, 29/10/1981, [oPJV]

   BG145   VLCX    409 - s2e1, L7, Tottenham Yard, 27/9/1981, [oPJV]

   BN935   VLCX    412, Dandenong, 31/1/1981, [oPJV]

   CB680   VLCX    414 - s1,  53 Wool Bo  chalk, Bendigo, 18/10/1981, [oPJV]

   BD441   VLCX    423 - s1e2, Dandenong, 20/6/1981, [oPJV]

   BD461   VLCX    424B- s1e2, VR, Arden St Sidings, 13/9/1984, [oPJV]

   BL938   VLCX    425 - part view, North Melbourne C&W Shops, 18/4/1980, [oPJV]

   BB892   VLCX    426 - s2, Tottenham Yard, 5/4/1981, [oPJV]

   BM939   VLCX    431 - s2e1, North Melbourne C&W, 25/2/1980, [oPJV]

   BI154   VLCX    435, Dandenong, 3/11/1981, [oPJV]

   BI830   VLCX    443 - s1e2, Dandenong, 27/1/1982, [oPJV]

   BI538   VLCX    445 - s2e1, Dandenong, 29/10/1981, [oPJV]

   DG454   VLCX    447 - distant, attached SAR van, 1980s, [oDVC]

   BP941   VLCX    449 - s2e1 VSX doors, Hump Yard, 28/2/1980, [oPJV]

   BN928   VLCX    451, Dandenong, 31/1/1981, [oPJV]

   BM947   VLCX    461 - door open, end damaged, North Melbourne C&W, 25/2/1980, [oPJV]

   BF863   VLCX    465 - s2e1c, Dandenong, 3/10/1981, [oPJV]

   B1571   VLCX    476 - FA, North Dynon, 8/2001, [oRXO]

   BI828   VLCX    480 - s1e2, Dandenong, 27/1/1982, [oPJV]

   BO150   VLCX    489C- no logo, Flinders Street Yard, 16/10/1984, [oPJV]

   AV513   VLCX    494J, Middle Creek, 1/11/1999, [oPJV]

   BI087   VLCX    495U- number panel, 4 , North Melbourne C&W Shops, 8/8/1983, [oPJV]

   BI086   VLCX    495U- s1e2, VR, North Melbourne C&W Shops, 8/8/1983, [oPJV]

   AK913   VLCX    496 - s1, Dandenong, 17/10/1981, [oPJV]

   DG450   VLCX    496 - VR, 1980s, [oDVC]

   BN947   VLCX    497, Tottenham Yard, 1/2/1981, [oPJV]

   BH112   VLCX    499 - part view, North Melbourne C&W Shops, 4/3/1981, [oPJV]

   BY146   VLCX    504, Oakleigh, 2/8/1980, [oPJV]

   BM541   VLCX    505 - s1e2, Tottenham Yard, 20/4/1980, [oPJV]

   BP425   VLCX    507, Castlemaine, 27/7/1980, [oPJV]

   BF809   VLCX    513 - s2e1,  Benalla  ldd marks, North Geelong Yard, 27/9/1981, [oPJV]

   BO017   VLCX    514 - s1e2, Newport Workshops, 16/3/1981, [oPJV]

   BQ960   VLCX    517, Tottenham Yard, 4/1/1981, [oPJV]

   BF866   VLCX    518 - s1e2c, Dandenong, 3/10/1981, [oPJV]

   AL060   VLCX    523, South Dynon, 23/4/1979, [oPJV]

   BW556   VLCX    523, Echuca, 15/4/1979, [oPJV]

   BJ033   VLCX    530 - s1, doors open, Dandenong, 16/1/1982, [oPJV]

   BN924   VLCX    531, Dandenong, 31/1/1981, [oPJV]

   BI715   VLCX    531 - part view, Bendigo, 18/10/1981, [oPJV]

   BI151   VLCX    534 - part view, North Melbourne C&W Shops, 2/11/1981, [oPJV]

   BR802   VLCX    535 - part view, Shepparton, 23/11/1980, [oPJV]

   BF868   VLCX    536 - s1e2, Dandenong, 3/10/1981, [oPJV]

   BW558   VLCX    542, Echuca, 15/4/1979, [oPJV]

   BV148   VLCX    543, North Geelong Yard, 9/11/1980, [oPJV]

   AY910   VLCX    543 - no logo, Dandenong, 27/8/1983, [oPJV]

   BB764   VLCX    546 - s2, North Geelong, 29/3/1981, [oPJV]

   BL616   VLCX    550 - part view, Dandenong, 5/4/1980, [oPJV]

   BI574   VLCX    554 - s2,  S Hill  chalk, Bendigo, 18/10/1981, [oPJV]

   AK914   VLCX    558, Dandenong, 17/10/1981, [oPJV]

   BK705   VLCX    559 - s1,  Goulburn  loading chalk, Bendigo, 27/7/1980, [oPJV]

   BJ217   VLCX    561, North Geelong Yard, 9/11/1980, [oPJV]

   BI575   VLCX    565 - s2e1, Bendigo, 18/10/1981, [oPJV]

   BI520   VLCX    567 - s1, Dandenong, 24/10/1981, [oPJV]

   BG148   VLCX    572 - s1e2, Tottenham Yard, 27/9/1981, [oPJV]

   BO039   VLCX    574 - pushed over end of siding, North Melbourne C&W, 6/2/1981, [oPJV]

   BY508   VLCX    575, Oakleigh, 2/8/1980, [oPJV]

   BB453   VLCX    583 - part view, North Melbourne C&W, 20/8/1984, [oPJV]

   BF872   VLCX    586 - s1e2c, Dandenong, 3/10/1981, [oPJV]

   BK152   VLCX    594, Woodend, 23/11/1980, [oPJV]

   BN938   VLCX    598, Dandenong, 31/1/1981, [oPJV]

   BP846   VLCX    612, Sale, 3/2/1980, [oPJV]

   BB753   VLCX    614 - s1e2, North Geelong, 29/3/1981, [oPJV]

   BR890   VLCX    614 - s2e1, Tottenham Yard, 7/12/1980, [oPJV]

   BP627   VLCX    616 - s2e1, VSX doors, Hump Yard, 28/2/1980, [oPJV]

   BG133   VLCX    617 - part view, Tottenham Yard, 27/9/1981, [oPJV]

   CC224   VLCX    619, Newport Workshops, 2/4/1979, [oPJV]

   CC226   VLCX    619 - class panel, Newport Workshops, 2/4/1979, [oPJV]

   DS988   VLCX    626 - recode from VLX, no code stencilled, North Melbourne C&W Shops, 1/5/1979, [oPJV]

   BB731   VLCX    626 - s1e2, North Geelong, 29/3/1981, [oPJV]

   BI684   VLCX    627, Dandenong, 17/10/1981, [oPJV]

   BV203   VLCX    631, Tottenham Yard, 9/11/1980, [oPJV]

   BD744   VLCX    643 - s1e2, no logo, Flinders Street Yard, 3/9/1984, [oPJV]

   BN178   VLCX    648, Canal Zone, 28/2/1980, [oPJV]

   BK240   VLCX    648 - part view, Electric Crane Area, 9/11/1980, [oPJV]

   BF990   VLCX    650 - s2e1,  EYRC  crayoned, North Melbourne C&W Shops, 30/9/1981, [oPJV]

   BR835   VLCX    656 - part view, Newport Workshops, 2/12/1980, [oPJV]

   BK498   VLCX    660, South Dynon, 21/7/1980, [oPJV]

   AX132   VLCX    660L- body, Vline, Bendigo Workshops, 3/1993, [oPJV]

 
   No diagrams found for VLCX   
---
File c298m compiled by Peter J. Vincent, updated 24/9/2007