---
AX / VMAX - Motor Car Transport
---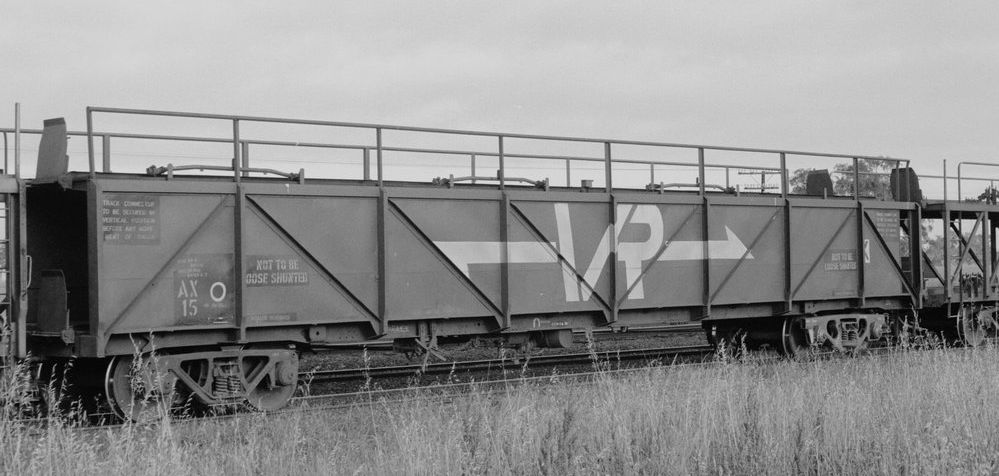 AX
The class AX was recoded from _AF_ motor car transport. The group was numbered 1 - 22.
Between 1969 and 1972 the underframes were strengthened. Some records mention 'new underframe' in the modifications but observation of the same vehicles much later still showed truss bars and splice plates midway along the underframes. The modifications appear to have been new end sills and strengthened centre beams.
In the early 1970's, several wagons were allocated to 'Motorail' service between Melbourne and Mildura on the overnight passenger train. The remaining vehicles were on standard gauge in motor car traffic between Melbourne and Sydney.
The Motorail vehicle on the Mildura line service were numbered 2, 8, 9, 11, 17, 20. They were originally painted dark blue with white lettering. When the tangarine scheme was introduced in 1981 these vehicles were painted in the colour too.
The 1979 recoding saw the class recoded to VMAX.
Vehicles AX 8, 17 were reclassed to VMAY 1979/1980. Other Motorail cars were recoded to VMAX.
VMAX
Between 1979 and 1980 the remaining wagons were relettered to VMAX.
In 1980, the Motorail wagons were reclassed to VMAY. These were VMAX 2, 9, 11, 20.
In 1991 all the wagons were in storage.
VMAX 7, 15 were scrapped in 1993.
   Photos   for  'AX  '

   FileID  Description................................................



   AK493   AX        -  lift/trestle, on row of outside bogie changes, North Melbourne C&W Shops, 20/10/1977, [oPJV]

   BG820   AX        - 3 wagons trailing on Vinelander, Melton, 12/11/1975, [oPJV]

   BG851   AX        - end lettering, Newport Workshops, 27/1/1976, [oPJV]

   BG853   AX        - eXp, Newport Workshops, 27/1/1976, [oPJV]

   BG852   AX        - eXq, Newport Workshops, 27/1/1976, [oPJV]

   BG664   AX        - interior, Newport Workshops, 27/1/1976, [oPJV]

   DQ783   AX      2 - s2, empty, Spencer Street, 15/1/1976, [oRXO]

   CG045   AX      5 - ldd cars, s2, Mildura, 21/4/1978, [oPJV]

   CC286   AX      7, Spencer Street, 1/4/1979, [oPJV]

   CB876   AX      7 - old u/f, Albury, NSW, 6/4/1979, [oPJV]

   CM947   AX      8 - MOTORAIL, Spencer Street, 1970s, [oBAU]

   DQ784   AX      8 - s1e2 at platform, empty, Spencer Street, 25/8/1976, [oRXO]

   DN705   AX      8 - s2e1 clear, MOTORAIL, Spencer Street, 15/11/1976, [oRXO]

   CG290   AX     11 - Motorail, Mildura, 20/4/1978, [oPJV]

   DQ785   AX     11 - s2, Motorail sign, empty, Spencer Street, 15/11/1976, [oRXO]

   DS101   AX     12 - s2p, North Melbourne C&W Shops, 1/9/1980, [oPJV]

   BY899   AX     12 - s2q, North Melbourne C&W Shops, 1/9/1980, [oPJV]

   BH420   AX     13 - new underframe, South Dynon, 23/4/1979, [oPJV]

   BH421   AX     14 - new underframe, South Dynon, 23/4/1979, [oPJV]

   AW816   AX     15 - part view plain bearing bogies, Sunshine, MayHol1967, [oPJV]

   CG291   AX     17 - Motorail ldd, Mildura, 20/4/1978, [oPJV]

   CG043   AX     20 - ldd cars, s1, old uf, Mildura, 21/4/1978, [oPJV]

   DQ786   AX     20 - Motorail sign, s1, empty at platform, Spencer Street, c1976, [oRXO]

 
   No diagrams found for AX   
   Photos   for  'VMAX  '

   FileID  Description................................................



   CA959   VMAX      2 - lettering/bogie, North Melbourne C&W Shops, 16/4/1979, [oPJV]

   CA960   VMAX      2 - old u/frame, North Melbourne C&W Shops, 16/4/1979, [oPJV]

   BV094   VMAX      4, Castlemaine, 23/11/1980, [oPJV]

   BQ103   VMAX     11 - VR, Spencer Street, 23/2/1980, [oPJV]

   AW403   VMAX     13 - part view, in shunt collision, Canal Zone, 7/1/1981, [oPJV]

   BO044   VMAX     15 - s1e2, North Melbourne C&W, 6/2/1981, [oPJV]

   BQ106   VMAX     17 - track connectors shown down, eX, Spencer Street, 23/2/1980, [oPJV]

   BQ104   VMAX     17 - VR MOTORAIL, Spencer Street, 23/2/1980, [oPJV]

   BQ105   VMAX     17 - VR MOTORAIL lettering, Spencer Street, 23/2/1980, [oPJV]

   AV083   VMAX     18U- lettering only, North Melbourne C&W Shops, 26/9/1983, [oPJV]

 
   No diagrams found for VMAX   
---
File c063m compiled by Peter J. Vincent, updated 16/4/2007