---
VBCW - 'Ford' Boxvan
---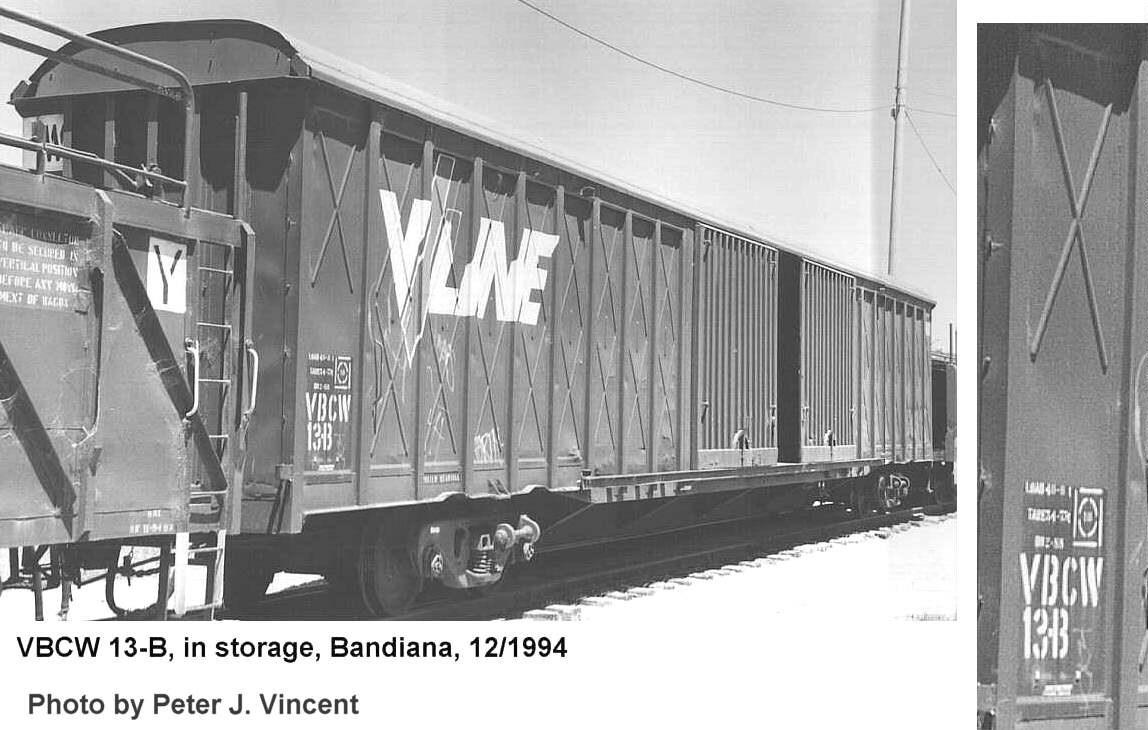 The vans VBCW 1 to 40 were recoded from BFW_ vans between 1979 and 1982. They were in the car parts transfer traffic between Geelong and the 'Ford' assembly plant at Campbellfield. The trains were usually 9 - 10 these bogie vans long. These trains stopped running in the late 1980's.
Some vans were used in general freight traffic. As freight traffic decreased they were placed into storage. A few vans were placed at stations for demurrage purposes.
By the mid 1990's the vans were in storage and by 1996 most had been cut for scrap with underframe sections salvaged to repair other stock. Some bodies may be found for sale in the Wangaratta area as at Feb 1997.
On an interesting note, the 'Ford' traffic continues on road, run by a few 'B-double' tautliner trucks in shuttle service between Geelong and Campbellfield.
   Photos   for  'VBCW  '

   FileID  Description................................................



   DE521   VBCW        -  end sills in scrap pile (?), Ballarat Workshops, 21/4/2003, [oPJV]

   BK449   VBCW      4 - VR, Ford sign, Laverton, 16/7/1980, [oPJV]

   BP179   VBCW      6 - s2, North Melbourne C&W, 1/7/1982, [oPJV]

   BP109   VBCW     10 - s2e1 FORD, North Melbourne C&W, 16/8/1982, [oPJV]

   BP178   VBCW     11 - s2, North Melbourne C&W, 1/7/1982, [oPJV]

   BP108   VBCW     21 - s2e1 FORD, North Melbourne C&W, 16/8/1982, [oPJV]

   AT013   VBCW     25 - part view Vl, lettering, Spencer Street, 21/8/1983, [oPJV]

   AW986   VBCW     25 - part view, Vline lettering, Spencer Street, 21/8/1983, [oPJV]

   AW987   VBCW     25 - Vline lettering, Spencer Street, 21/8/1983, [oPJV]

   BP177   VBCW     28 - s2e1, North Melbourne C&W, 1/7/1982, [oPJV]

   BP110   VBCW     29 - s2e1 FORD, North Melbourne C&W, 16/8/1982, [oPJV]

   AX211   VBCW     34D- part view, North Melbourne, 10/1998, [oNXB]

 
   No diagrams found for VBCW   
---
File c082m compiled by Peter J. Vincent, updated 28/4/2007