---
BFW - Large "Ford" Boxvan
---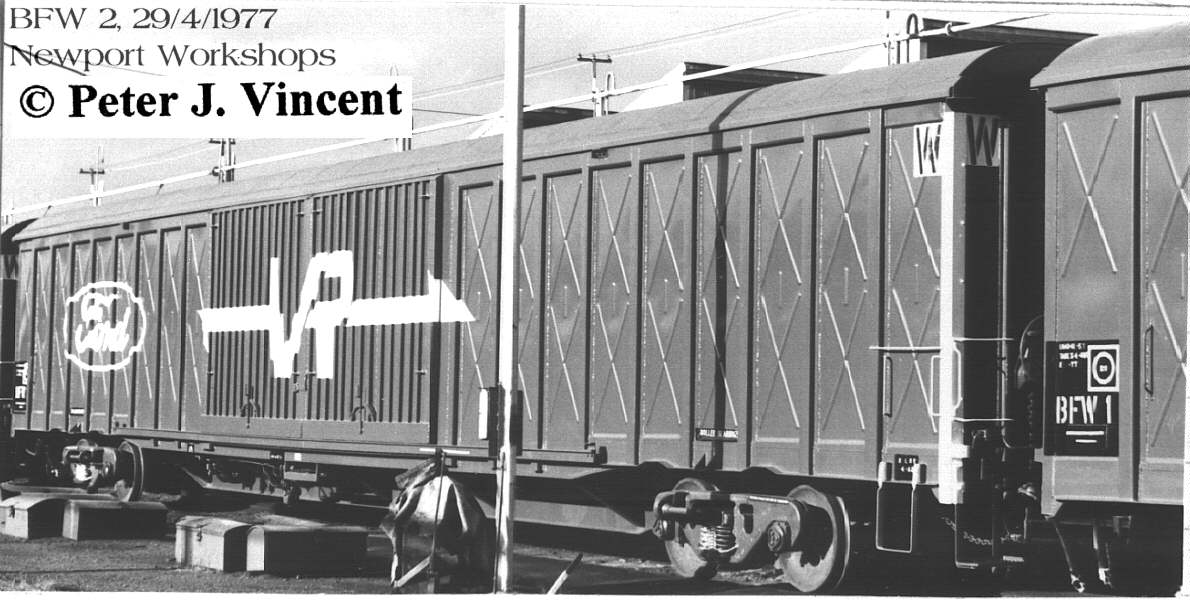 In 1977 a group of large boxvans were built for Geelong to Campbellfield (Somerton) traffic. They were classed as 'BFW' and numbered 1 to 40.
They were built to transport palletised car parts manufactured at the 'Ford' plant Geelong to the car assembly plant at Campbellfield, near the Upfield station.
They replaced four wheel open vehicles of the _I__ and _IA_ type. These trains were blocks of about 20 to 30 vehicles. They ran loaded Geelong - Newport - Sunshine - Somerton - 'Ford' plant. Sometimes they ran to Melbourne Yard or Caulfield where the locomotive changed ends to continue the journey.
When the train ran with BFW's, the consist was much shorter, about 9 or 10 of the vans, usually hauled by a _T__ loco.
The boxvans were large, about 75' long. They were fitted with FCF_ bogies, couplers and brake gear. With this gear they ran with a low floor height and gooseneck couplers to match existing coupler height.
In the 1979 recoding the class was recoded to VBCW.
   Photos   for  'BFW  '

   FileID  Description................................................



   AV809   BFW        - construction - body, east end, Newport Workshops, 19/2/1977, [oPJV]

   AV810   BFW        - construction - body, west end, Newport Workshops, 19/2/1977, [oPJV]

   AV797   BFW        - construction - Erecting shops, Newport Workshops, 19/2/1977, [oPJV]

   AV812   BFW        - construction - roof jig 1, Newport Workshops, 19/2/1977, [oPJV]

   AV813   BFW        - construction - roof jig 2, Newport Workshops, 19/2/1977, [oPJV]

   AV814   BFW        - construction - roof jig 3, Newport Workshops, 19/2/1977, [oPJV]

   AV802   BFW        - construction - roof jig, part body, Newport Workshops, 19/2/1977, [oPJV]

   AV815   BFW        - construction - roof rib metal press, Newport Workshops, 19/2/1977, [oPJV]

   AV808   BFW        - construction - roof, jig, elec welder, Newport Workshops, 19/2/1977, [oPJV]

   AV804   BFW        - construction - roofs / jig, Newport Workshops, 19/2/1977, [oPJV]

   AV801   BFW        - construction - sheet metal, Newport Workshops, 19/2/1977, [oPJV]

   AV796   BFW        - construction - steel frame, Newport Workshops, 19/2/1977, [oPJV]

   AV805   BFW        - construction - u/f trestle, part body, Newport Workshops, 19/2/1977, [oPJV]

   AV806   BFW        - construction - u/f trestle, part body 2, Newport Workshops, 19/2/1977, [oPJV]

   AV803   BFW        - construction - u/f, upturned jig, Newport Workshops, 19/2/1977, [oPJV]

   AV800   BFW        - construction - underframe in rotating jig, Newport Workshops, 19/2/1977, [oPJV]

   AV807   BFW        - construction - underframe jig, Newport Workshops, 19/2/1977, [oPJV]

   AV798   BFW        - construction - underframe jig, Newport Workshops, 19/2/1977, [oPJV]

   AV799   BFW        - construction - underframe jig 2, Newport Workshops, 19/2/1977, [oPJV]

   AV811   BFW        - construction - view east, Newport Workshops, 19/2/1977, [oPJV]

   CA818   BFW        - Ford vans on train, Laverton, c1980, [sPJV]

   BW197   BFW        - rake of 7 BFW vans, North Geelong Yard, 9/5/1979, [oPJV]

   DK649   BFW      1 - shell, under construction, Erecting Shop, Newport Workshops, 19/2/1977, [oPJV]

   BW160   BFW      8 - s2p, North Geelong Yard, 9/5/1979, [oPJV]

   BW173   BFW      8 - s2q, North Geelong Yard, 9/5/1979, [oPJV]

   BW179   BFW     15, North Geelong Yard, 9/5/1979, [oPJV]

   CU517   BFW     17 - turned on table by F 213, Geelong Loco, 12/3/1979, [oPJV]

   CU519   BFW     17 - turning on table/F 213, Geelong Loco, 12/3/1979, [oPJV]

   CU518   BFW     17 - with shunter on step F 213, Geelong Loco, 12/3/1979, [oPJV]

   BW143   BFW     19 - s2q, North Geelong Yard, 9/5/1979, [oPJV]

   BW195   BFW     29, North Geelong Yard, 9/5/1979, [oPJV]

   BW197   BFW     29 - heads rake of 7 BFW vans, North Geelong Yard, 9/5/1979, [oPJV]

   BW180   BFW     38, North Geelong Yard, 9/5/1979, [oPJV]

   BW162   BFW     40 - profile e1, North Geelong Yard, 9/5/1979, [oPJV]

   BW161   BFW     40 - s1p, North Geelong Yard, 9/5/1979, [oPJV]

   BW163   BFW     40 - s1q, North Geelong Yard, 9/5/1979, [oPJV]

 
   No diagrams found for BFW   
---
File c348m compiled by Peter J. Vincent, updated 18/10/2007