---
BLX / VBBX - Bogie Boxvan
---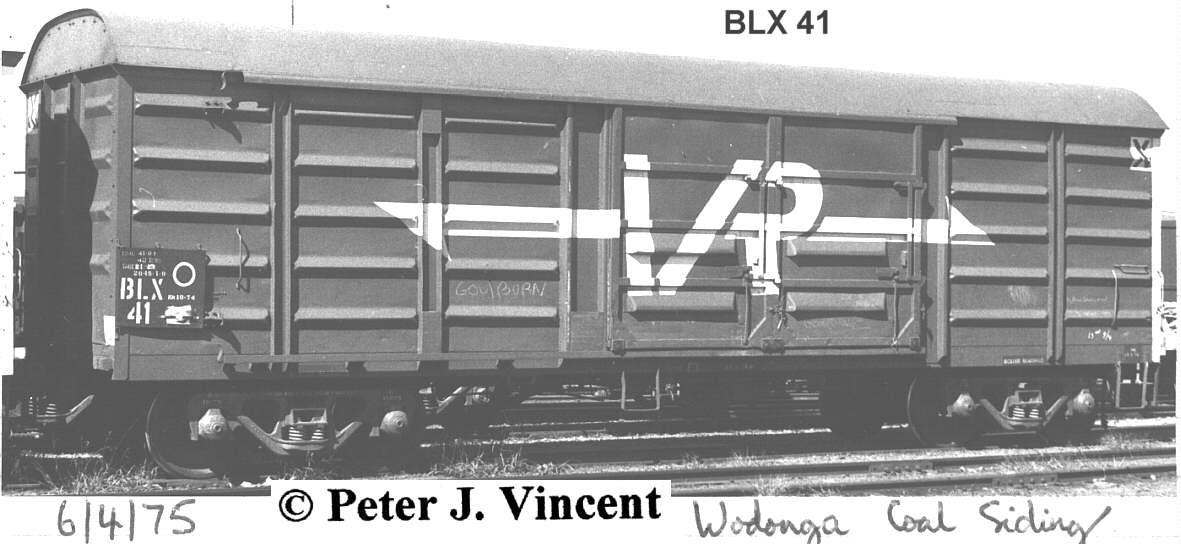 BLX
Between 1963 and 1965, the bogie boxvans coded BLF_ were modified and reclassed to BLX. This allowed them to be interchanged between broad and standard gauges via 'bogie exchange' facilities.
The number group was 23 - 151.
They were steel boxvans used for transporting most goods.
For special cement traffic twenty four vans, numbered 121 - 144, were modified, stencilled and recoded to BLF_ in 1967/1968.
This made the BLX numbers 23 - 120, 145 - 151 from this date.
BLX 120 was specially modified for cheese traffic. The van was not stencilled for the traffic and the area of traffic was not known by the author.
VBBX
In the 1979 recoding the BLX class was relettered to VBBX. One van ( BLX 113 ) was recoded to VBAX 113 by mistake. It ran several weeks until relettered.
From 1990, the vans were removed from service. From 1991, the vans were being scrapped.
Some of the van bodies were sold from the Bendigo Workshops. Some of these bodies can be found in the Yarrawonga area.
   Photos   for  'BLX  '

   FileID  Description................................................



   DN436   BLX     26 - large VR, s2, East Yard, 16/11/1976, [oRXO]

   BU847   BLX     27, Tottenham Yard, 6/5/1979, [oPJV]

   CB406   BLX     32, Bendigo, 8/4/1979, [oPJV]

   BM395   BLX     33 - s2e1, Wahgunyah, 11/5/1980, [oPJV]

   CB218   BLX     36 - e1p, Burnley, 13/4/1979, [oPJV]

   CB217   BLX     36 - e1q, Burnley, 13/4/1979, [oPJV]

   DN518   BLX     36 - s2p, VR, Westall, 10/11/1976, [oRXO]

   B3369   BLX     37, Tottenham Yard, 18/3/1979, [oPJV]

   AI241   BLX     41, Wodonga Coal Siding, 6/4/1975, [oPJV]

   AT394   BLX     42, Bendigo, 22/4/1979, [oPJV]

   CF688   BLX     47, Ballarat Workshops, 17/4/1978, [oPJV]

   AV924   BLX     48 - VSX doors, Electric Crane Area, 20/4/1979, [oPJV]

   CT723   BLX     49, Bairnsdale, 25/12/1978, [oPJV]

   DN645   BLX     50 - s2e1 clear, doors open, East Yard, 12/11/1976, [oRXO]

   CT966   BLX     53 - e2p, Appleton Dock, 13/1/1979, [oPJV]

   CT965   BLX     53 - e2q, Appleton Dock, 13/1/1979, [oPJV]

   CT963   BLX     53 - s2p, Appleton Dock, 13/1/1979, [oPJV]

   CT964   BLX     53 - s2q, Appleton Dock, 13/1/1979, [oPJV]

   CB049   BLX     55, Dandenong, 19/4/1979, [oPJV]

   DN676   BLX     56 - s1e2, large VR, Spencer Street, c1976, [oRXO]

   AI242   BLX     57, Westall, 22/8/1977, [oPJV]

   DN677   BLX     57 - s1 perp, large VR, Westall, c10/1975, [oRXO]

   B2995   BLX     63, Canal Zone, 1/4/1978, [oPJV]

   BM944   BLX     76, North Melbourne C&W, 25/2/1980, [oPJV]

   CB910   BLX     79, Wangaratta, 7/4/1979, [oPJV]

   AO345   BLX     80 - part view, South Dynon, 6/5/1979, [oPJV]

   BY903   BLX     81, North Geelong Yard, 29/4/1979, [oPJV]

   CM964   BLX     85 - s1e1c, 1970s, [oBAU]

   AI243   BLX     86 - SG opening, advert paint, 1970, [oPXC]

   AF881   BLX     86 - Stephens advert, North Dynon, 1970, [oPXC]

   CU675   BLX     89, Westall, 10/1/1979, [oPJV]

   DN712   BLX     89 - s1, East Yard, 12/1976, [oRXO]

   B1530   BLX     90, North Melbourne C&W Shops, 1/4/1978, [oPJV]

   AM307   BLX     95 - 4  lettering, part view, Geelong, 25/3/1971, [oPJV]

   CM965   BLX     98, Dandenong, 1970s, [oBAU]

   CG042   BLX    100, Mildura, 21/4/1978, [oPJV]

   AI239   BLX    101, Flinders Street Yard, 27/7/1978, [oPJV]

   11042   BLX    106, Mildura, 20/4/1978, [oPJV]

   CC093   BLX    108, Centre Yard, 5/4/1979, [oPJV]

   DN725   BLX    110 - s1e1, Port Melbourne, 27/10/1976, [oRXO]

   BO689   BLX    117 - s2e1c, Albury, NSW, 10/5/1980, [oPJV]

   DN745   BLX    145 - s1, VR, Bendigo, 1/11/1976, [oRXO]

 
   Diagrams   for  'BLX  '

   FileID  Description................................................



   AS473   BLX        -  load diagram, 1973, [oPTC]

 
   Photos   for  'VBBX  '

   FileID  Description................................................



   AI240   VBBX        - 3 bodies / white, [sPJV]

   AF212   VBBX        - body, Wodonga Coal Siding, [oDMG]

   AR285   VBBX        - body 2, 1996, [sPJV]

   AR739   VBBX        - body 2, Wodonga Coal Siding, [sPJV]

   AR286   VBBX        - body 3, 1996, [sPJV]

   BN066   VBBX        - body with VLCX 38R body, North Melbourne, 12/2000, [oPJV]

   BR176   VBBX     23, North Geelong Yard, 4/1/1981, [oPJV]

   CB801   VBBX     23K, Korumburra, 7/12/1997, [oJAB]

   AU123   VBBX     23K- high Vline, Korumburra, 10/1995, [oNXB]

   AV084   VBBX     33S- VR, s1, North Melbourne C&W Shops, 26/9/1983, [oPJV]

   BK357   VBBX     34 - part view, Dandenong, 16/3/1980, [oPJV]

   AT631   VBBX     35 - s1e2, North Melbourne C&W, 10/6/1983, [oPJV]

   BI998   VBBX     39 - part view, North Melbourne C&W Shops, 18/1/1982, [oPJV]

   AU124   VBBX     42 - body, Vline, South Dynon Loco, 10/1999, [oNXB]

   BN091   VBBX     42B- body in parts compound, South Dynon, 12/2000, [oPJV]

   BM937   VBBX     44 - s1e2, North Melbourne C&W, 25/2/1980, [oPJV]

   BP800   VBBX     45, North Melbourne C&W, 5/2/1980, [oPJV]

   AR291   VBBX     47, [sPJV]

   AR292   VBBX     48, [sPJV]

   BM306   VBBX     48 - s1e2, Dandenong, 20/5/1980, [oPJV]

   BN934   VBBX     49, Dandenong, 31/1/1981, [oPJV]

   AF166   VBBX     54, [oDMG]

   AU133   VBBX     54 - body, Vline, North Melbourne, 4/2000, [oNXB]

   AF167   VBBX     54 - bogie XB 1001, [oDMG]

   AU134   VBBX     55 - body, Vline; Louden St, California Gully, 4/1998, [oNXB]

   BI523   VBBX     57 - s1,  Sale L/Goods  chalk, Dandenong, 24/10/1981, [oPJV]

   BL617   VBBX     58 - s2, Dandenong, 5/4/1980, [oPJV]

   BI704   VBBX     59, Castlemaine, 18/10/1981, [oPJV]

   BJ005   VBBX     60 - s1e2,  Kerang  chalk loadings, North Melbourne C&W Shops, 18/1/1982, [oPJV]

   BB463   VBBX     61B- Vline, North Melbourne C&W, 20/8/1984, [oPJV]

   BV147   VBBX     62, North Geelong Yard, 9/11/1980, [oPJV]

   AT543   VBBX     63, 18/6/1983, [oPJV]

   BG010   VBBX     64 - s2e1, North Melbourne C&W Shops, 10/9/1981, [oPJV]

   BO684   VBBX     69 - s2e1, Albury, NSW, 10/5/1980, [oPJV]

   AU810   VBBX     72S- body, Bendigo, 4/1990, [oNXB]

   BM397   VBBX     74 - s2, Wahgunyah, 11/5/1980, [oPJV]

   CA973   VBBX     82 - s1e1, North Melbourne C&W Shops, 16/4/1979, [oPJV]

   BJ000   VBBX     95 - s1e2, North Melbourne C&W Shops, 18/1/1982, [oPJV]

   BS027   VBBX     97, North Melbourne C&W, 7/1/1981, [oPJV]

   AW363   VBBX     97K- Vl, L7, s2e1, Flinders Street Yard, 21/11/1984, [oPJV]

   BG132   VBBX     98 - s1e2c, Tottenham Yard, 27/9/1981, [oPJV]

   BV093   VBBX    100, Woodend, 23/11/1980, [oPJV]

   AU811   VBBX    104 - body, Elmore, 6/1996, [oNXB]

   DT307   VBBX    105, North Melbourne C&W Shops, 1/9/1980, [oPJV]

   BM394   VBBX    109 - s1e2c, Wahgunyah, 11/5/1980, [oPJV]

   BJ209   VBBX    112, North Geelong Yard, 9/11/1980, [oPJV]

   AW756   VBBX    113 - as VBAX 113, Centre Yard, 20/4/1979, [oPJV]

   CN307   VBBX    113 - lettered as VBAX 113, 1970s, [oBAU]

   AR287   VBBX    113 - lettered VBAX, [sPJV]

   BM248   VBBX    113 - s1e2, Tallarook, 13/6/1980, [oPJV]

   AW676   VBBX    113 - stencilled as VBAX 113, Centre Yard, 20/4/1979, [oPJV]

   AK919   VBBX    115, Dandenong, 17/10/1981, [oPJV]

   CC297   VBBX    120, East Yard, 1/4/1979, [oPJV]

   AR290   VBBX    120, [sPJV]

   BY797   VBBX    145, Tottenham Yard, 12/10/1980, [oPJV]

   AY123   VBBX    145F- Vline, s1e2, Spencer Street, 27/12/1983, [oPJV]

   AY124   VBBX    145F- Vline, s2@e1, Spencer Street, 27/12/1983, [oPJV]

   AV245   VBBX    146Y, Benalla, 18/1/2000, [oPJV]

   AV246   VBBX    146Y- Bogie/maintenance lettering, Benalla, 18/1/2000, [oPJV]

   BM695   VBBX    149 - s1e2, North Geelong Yard, 5/9/1982, [oPJV]

 
   No diagrams found for VBBX   
---
File c117m compiled by Peter J. Vincent, updated 15/6/2007