---
BLF / VBBY / VBBF - Bogie Boxvan
---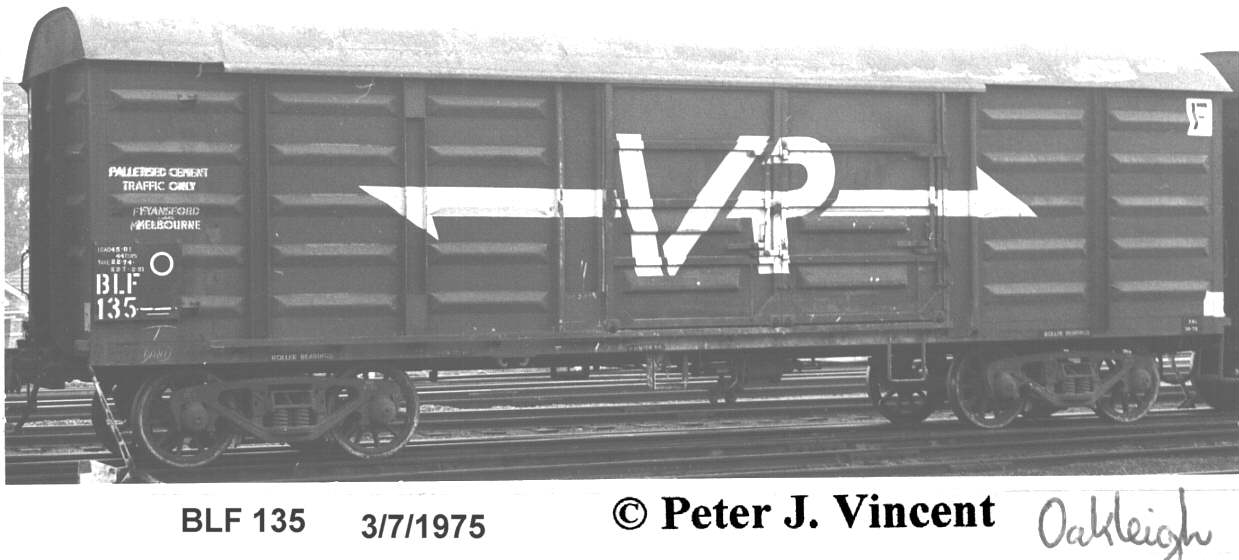 BLF (1961)
During 1961/1962 thirty two BLF wagons built. In the same period, wagons of the same design with codes _BB_ and _BF_ were recoded to BLF.
The BLF number group was 23 - 151.
This group comprises one hundred and twenty-nine vans. The vans are the identical underframe and body style to the early VLX_ louvre vans except pressed panels were used for the sides and ends.
The number group starts at '23' as numbers 1 - 21 were _BB_ ex _TT_vans and number '22' was _BB_ prototype of vans that became _BP_ and BMX_ classes.
The BLF vans initially entered service as 'BB' with plain bearing bogies. Some vans entered service with roller bearing bogies and were issued with the 'BF' coding. The same number group was retained.
Between 1963 and 1965 all the BLF vans, numbered 23 - 151 were recoded to BLX_ with the same numbers retained.
BLF (1967)
In 1967/1968 twenty four vans were placed into dedicated palletised cement traffic. These vans were recoded from BLX back to BLF. The numbers were 121 to 144. All vans were stencilled at the left hand end of each side.
These vans were loaded at the cement plant at Fyansford, near Geelong. The cement was then consigned to areas within the Melbourne metropolitan area and certain cement depots at country locations.
VBBY
In the 1979 recoding the BLF class was relettered to VBBY.
VBBF
In the late 1980s the letter 'Y' was dropped in lieu of 'F'. The class was relettered from VBBY to VBBF.
The class was in storage from 1991. Scrappings started in 1993.
   Photos   for  'BLF  '

   FileID  Description................................................



   AF544   BLF        - or VLF end on SG showing  F , Broadford, 1967, [sPJV]

   DI835   BLF     95 - part view, L4/lettering panel, Geelong, 25/3/1971, [oPJV]

   AI233   BLF    121, Burnley, 15/12/1977, [oPJV]

   CB058   BLF    124 - ID/lettering panel, Dandenong, 19/4/1979, [oPJV]

   CB057   BLF    124 - load: palletised cement/DO/brake equipment, Dandenong, 19/4/1979, [oPJV]

   AI234   BLF    125 - no cement lettering, Burnley, 15/6/1978, [oPJV]

   CZ140   BLF    128 - s1, no handbrake stripe, square only, Dandenong, 30/1/1977, [oRXO]

   DA608   BLF    132 - s2e1, Dandenong, 17/7/1976, [oPJV]

   CM962   BLF    133, 1970s, [oBAU]

   B3248   BLF    133, North Geelong Yard, 25/3/1979, [oPJV]

   AI235   BLF    135, Oakleigh, 3/7/1975, [oPJV]

   CZ141   BLF    135 - s1, VR, Palletised Cement traffic, Arden Street sidings, 3/2/1982, [oRXO]

   CZ142   BLF    136 - s1, no handbrake stripe, square only, Oakleigh, 21/1/1977, [oRXO]

   CZ143   BLF    136 - s2, VR, Palletised Cement, East Yard, 22/12/1981, [oRXO]

   B3292   BLF    138, North Geelong Yard, 25/3/1979, [oPJV]

   CB216   BLF    139 - s1e2, Burnley, 13/4/1979, [oPJV]

   CM963   BLF    142, 1970s, [oBAU]

 
   Diagrams   for  'BLF  '

   FileID  Description................................................



   AU704   BLF        -  23-151, [oD26]

 
   Photos   for  'VBBY  '

   FileID  Description................................................



   BO758   VBBY    121 - Blue Circle logo/lettering, North Geelong Yard, 5/9/1982, [oPJV]

   BO759   VBBY    121 - class/lettering, North Geelong Yard, 5/9/1982, [oPJV]

   BO757   VBBY    121 - s2e2, Blue Circle, North Geelong Yard, 5/9/1982, [oPJV]

   BD444   VBBY    122 - s2e1, Palletised cement, Dandenong, 20/6/1981, [oPJV]

   BD444   VBBY    124 - part view, Dandenong, 20/6/1981, [oPJV]

   BJ211   VBBY    125, North Geelong Yard, 9/11/1980, [oPJV]

   BO761   VBBY    125 - s2e1, Blue circle, North Geelong Yard, 5/9/1982, [oPJV]

   BG061   VBBY    126 - s1e2, FYN-MEL, North Geelong Yard, 27/9/1981, [oPJV]

   BX751   VBBY    127, North Geelong Yard, 12/10/1980, [oPJV]

   BU952   VBBY    128 - part view, Bendigo Worshops, 23/11/1980, [oPJV]

   BP063   VBBY    128 - s2e1, North Geelong Yard, 5/9/1982, [oPJV]

   BP277   VBBY    129 - class/end lettering, Arden Street, 7/4/1982, [oPJV]

   BE233   VBBY    129 - lettering, North Geelong, 26/8/1984, [oPJV]

   BP278   VBBY    129 - lettering: Blue Circle, large CEMENT, Arden Street, 7/4/1982, [oPJV]

   BP259   VBBY    129 - s1e2, Blue Circle, North Melbourne C&W, 16/4/1982, [oPJV]

   BP276   VBBY    129 - s2e1 Blue Circle, Arden Street, 7/4/1982, [oPJV]

   BE232   VBBY    129 - s2e1, Blue circle, North Geelong, 26/8/1984, [oPJV]

   CR407   VBBY    129G- distant, Vline, Blue Circle logos, Tottenham Yard, 7/1987, [oNXB]

   AU812   VBBY    129G- Vline, Blue Circle, Tottenham Yard, 7/1987, [oNXB]

   AW282   VBBY    129G- Vline, Blue Circle, Tottenham, 3/1988, [oNXB]

   BP282   VBBY    130 - lettering: Blue Circle, small CEMENT, Arden Street, 7/4/1982, [oPJV]

   AW996   VBBY    130 - s1, Blue Circle, Arden St, 10/6/1983, [oPJV]

   BP281   VBBY    130 - s1e2c, Blue Circle, Arden Street, 7/4/1982, [oPJV]

   BG056   VBBY    130 - s2e1, FYN-MEL, North Geelong Yard, 27/9/1981, [oPJV]

   BO760   VBBY    131 - s2e1, Blue circle, North Geelong Yard, 5/9/1982, [oPJV]

   BP279   VBBY    131 - s2e1c, Blue Circle, Arden Street, 7/4/1982, [oPJV]

   BP280   VBBY    133 - s1e2, Blue Circle, Arden Street, 7/4/1982, [oPJV]

   BE233   VBBY    137 - Blue circle logo, North Geelong, 26/8/1984, [oPJV]

   BE231   VBBY    137 - s2e1, Blue circle, North Geelong, 26/8/1984, [oPJV]

   BO762   VBBY    137 - s2e1, Blue circle, North Geelong Yard, 5/9/1982, [oPJV]

   BO776   VBBY    140 - s1e2, North Geelong Yard, 5/9/1982, [oPJV]

   AW999   VBBY    140 - s2, Blue Circle, East Yard, 10/6/1983, [oPJV]

   BM697   VBBY    142 - part view, North Geelong Yard, 5/9/1982, [oPJV]

 
   No diagrams found for VBBY   
   Photos   for  'VBBF  '

   FileID  Description................................................



   AT833   VBBF    126 - Vl, Ballarat, 12/1994, [oNXB]

   AT834   VBBF    129 - Vl, Blue Circle, Bendigo, 12/1992, [oNXB]

   AT835   VBBF    134 - Vl, Bendigo, 12/1992, [oNXB]

   AU122   VBBF    135 - Vl, Blue Circle, Bendigo, 12/1992, [oNXB]

   AU121   VBBF    138 - large VR, Fyansford stencil, Tottenham Yard, 3/1988, [oNXB]

 
   No diagrams found for VBBF   
---
File c326m compiled by Peter J. Vincent, updated 10/10/2007