---
G - Suburban/Excursion Car
---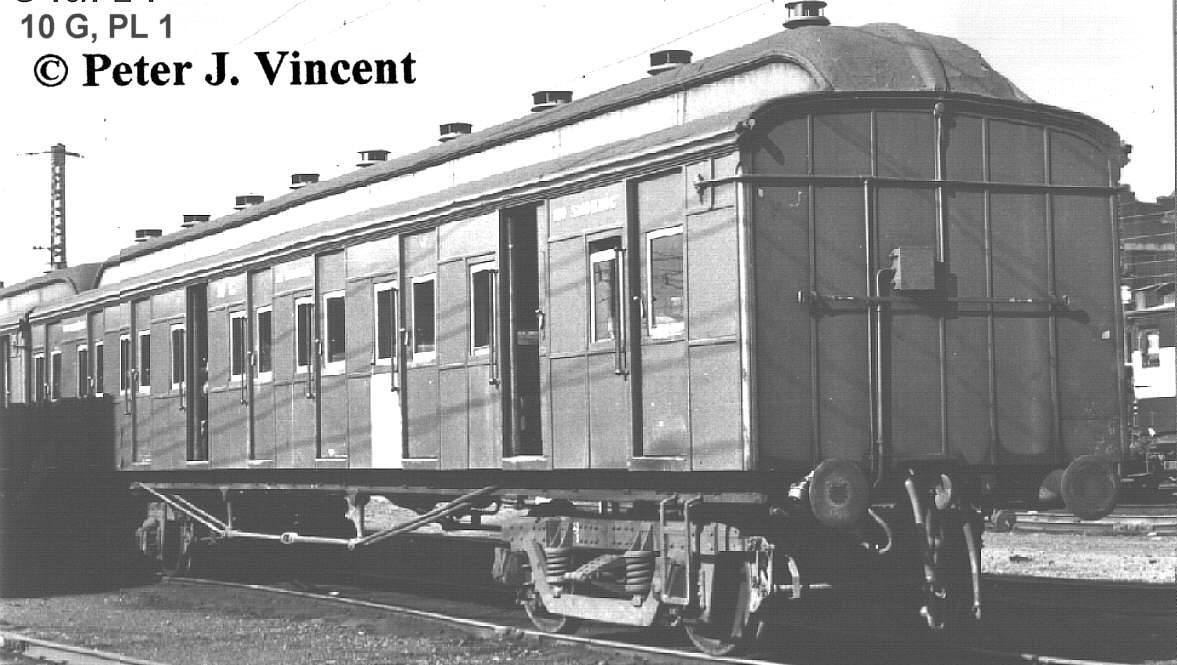 By 1917 the railways had planned to use surplus carriage underframes for a new type of excursion car. The underframes were leftover when older swing door carriages were placed onto new underframes that could be fitted with traction equipment. The new excursion cars were coded APL_ / BPL_. Originally 224 excursion cars were planned but there were only 140 or so underframes available.
By 1923, construction started on new excursion cars to complete the project. The cars were built as dual purpose to cater for the seasonal nature of holiday traffic and special events. The cars were built for suburban traffic and were electrically lit. For country and loco hauled use, the cars were gaslit.
For suburban use they were placed in seven car train sets. At holiday times, those trains were reduced to six car sets and the cars transferred to country service.
The cars were classed G and were numbered 1 - 103.
In 1923, the swing door electric car conversion had been suddenly stopped. Several underframes had already been built for the swing door _M__ use. These underframes were placed under G cars. As these underframes suited a longer bogie, the bogie centres were different which made these cars somewhat different. Another visual clue was the very narrow underframe under a wide body.
Another feature of the cars was a shunters' emergency brake. The cars were placed on the west end of East End units. A 'unit' being M-T or M-T-G. For off peak use, the unit was detached from the 'Block', an M-T-T-M set. At the start of peak traffic the 'unit' was reversed back to the platform; the driver at the east end and a shunter at the doorway of the west end car. As the shunter was unable to stop the car movement in an emergency situation a 'shunter emergency valve' was provided at the car end. It was piped from the brake pipe at the car end and went to the side door nearest the end for shunting. This feature was added in 1925 and was initially a temporary one until such time as driver shunting controls were provided. However by the late 1920's the feature proved safe enough that driving controls were no longer required. The feature of shunters taps was also fitted to Harris cars when they arrived. For normal service and shunting at Flinders Street, these taps were used up until the late 1960's. Their use was then for workshops shunting or emergencies as required.
In the early 1970's, several Tait cars were fitted with fluorescent lighting. The additional equipment to run the lighting was fitted at one end on the outside of the car.
   Photos   for  'G  '

   FileID  Description................................................



   B3601   G        -   bogie, c1976, [oPJV]

   BN818   G        -  t, gas vent/roof, [oPJV]

   AO409   G        -  t, waybill, [sDMG]

   AI357   G        - bogie, [oPJV]

   BN823   G        - t, arch roof gas/elec ducting/vents, [oPJV]

   BN820   G        - t, car roof shows gas/elec ducting/vents, [oPJV]

   BN822   G        - t, clere roof elec/gas ducting/vents, [oPJV]

   BN825   G        - t, gas vent hole/arch roof car, [oPJV]

   BN824   G        - t, gas/elec ducting/vents, [oPJV]

   B2875   G      1, Flinders Street Yard, 4/4/1978, [oPJV]

   BG518   G      1 - fw, Flinders Street Yard, 16/10/1975, [oPJV]

   BM148   G      2 - t, Jolimont Workshops, 3/6/1980, [oPJV]

   BG993   G      3 - fw, Flinders Street Yard, 9/3/1976, [oPJV]

   BE149   G      4 - end clear, shows flouro converter box, Jolimont Workshops, 3/8/1981, [oPJV]

   AL199   G      4 - flouro box end, Jolimont Workshops, c1976, [oPJV]

   BM138   G      6 - part view, Flinders Street Yard, 3/6/1980, [oPJV]

   CZ091   G      8 - end profile, bogie centre inset, Jolimont Workshops, 31/8/1983, [oPJV]

   AL204   G      8 - full windows, sXeXc, gas tank fitted, Jolimont Workshops, c1975, [oPJV]

   CZ090   G      8 - stored, Jolimont Workshops, 31/8/1983, [oPJV]

   AU876   G     10 - end: light switch, shunters tap, Flinders Street Yard, 18/8/1983, [oPJV]

   CU298   G     10 - eXp, tap/light switch, Jolimont Workshops, 25/5/1977, [oPJV]

   CU297   G     10 - eXq, tap/light switch, Jolimont Workshops, 25/5/1977, [oPJV]

   AL187   G     10 - shows shunters tap end, Jolimont Workshops, c1976, [oPJV]

   CB221   G     10 - t, Jolimont Workshops, 14/4/1979, [oPJV]

   CU296   G     10 - tap/light switch same end, Jolimont Workshops, 25/5/1977, [oPJV]

   B2877   G     15, Flinders Street Yard, 4/4/1978, [oPJV]

   BG999   G     18, Flinders Street Yard, 9/3/1976, [oPJV]

   AL192   G     31, Jolimont Workshops, 2/3/1979, [oPJV]

   AE990   G     31 - roof, 1976, [oPJV]

   BL830   G     35 - t, Flinders Street Yard, 17/4/1980, [oPJV]

   AL194   G     36, Jolimont Workshops, 7/4/1978, [oPJV]

   BI217   G     37 - t, Flinders Street Yard, 8/1/1982, [oPJV]

   AL195   G     40 - full windows, Jolimont Workshops, 9/3/1976, [oPJV]

   CT915   G     41 - t, Jolimont Workshops, 25/5/1977, [oPJV]

   AL196   G     42 - 2/3 windows, Flinders Street Yard, c1976, [oPJV]

   DL558   G     42 - part view, underframe on truck, Newport Workshops, 22/7/1980, [oPJV]

   AO408   G     45 - t, waybill, [sDMG]

   B3411   G     47, Flinders Street Yard, 19/3/1979, [oPJV]

   AL197   G     47 - 2/3 windows, Jolimont Workshops, 29/1/1977, [oPJV]

   AF756   G     47 - grey/red, arch roof, [sDXJ]

   AL198   G     47 - moonstone stripe/full windows, Spencer Street, c1950, [oDXJ]

   AD663   G     47 - sXp, [oPJV]

   AD664   G     47 - sXq, [oPJV]

   BQ214   G     48 - t, yellow lettering/lights, Jolimont Workshops, 24/3/1981, [oPJV]

   B3130   G     51 - t, Flinders Street Yard, 24/3/1979, [oPJV]

   BG850   G     53 - fw, Newport Workshops, 6/11/1975, [oPJV]

   AL200   G     54 - full windows, Jolimont Workshops, c1975, [oPJV]

   AI422   G     56 - part view, Flinders Street Yard, 1/8/1983, [oPJV]

   DA703   G     59, Flinders Street Yard, 14/7/1976, [oPJV]

   11234   G     59 + T 425 t, Lilydale, 8/4/1978, [oPJV]

   11233   G     59 - t, Lilydale, 8/4/1978, [oPJV]

   AL201   G     61 - 2/3w, NL, Flinders Street Yard, 6/3/1978, [oPJV]

   AL202   G     62, Flinders Street Yard, c1976, [oPJV]

   BF102   G     62, Flinders Street Yard, 3/7/1975, [oPJV]

   BB071   G     62 - scrapped underframe, Newport Workshops, 18/6/1984, [oPJV]

   BD657   G     64, Jolimont Workshops, 1/8/1981, [oPJV]

   DA687   G     64 - disc wheels, Jolimont Workshops, 9/7/1976, [oPJV]

   BG995   G     70 - fw, Flinders Street Yard, 9/3/1976, [oPJV]

   BG996   G     70 - Gas vents/lights, part view roof outlin, Flinders Street Yard, 9/3/1976, [oPJV]

   AA974   G     71, 1925, [oMDN]

   AA032   

G     71

, c1924, [oMDN]

   AC594   G     72, [sPJV]

   AC595   G     72 - end tap/switch, [oPJV]

   AC596   G     72 - end tap/switch, [oPJV]

   DK541   G     72 - scrap row: 72G-M-M-T-M-M, Allendale, 3/8/1978, [oPJV]

   AL203   G     74, Newport Workshops, c1976, [oPJV]

   BR896   G     75 - part view, Newport Workshops, 24/11/1980, [oPJV]

   BG994   G     77 - interior lights - gas/elec, Flinders Street Yard, 9/3/1976, [oPJV]

   BC100   G     78 - part view, fire damage, scrap road, Newport Workshops, 14/6/1981, [oPJV]

   BX645   G     78 - t, burnt, Jolimont Workshops, 2/9/1980, [oPJV]

   BI340   G     81, Newport Workshops, 13/5/1983, [oPJV]

   BD371   G     81 - part view, Jolimont Workshops, 31/3/1975, [oPJV]

   DO623   G     83 - part view, Up PTM, Flinders Street, 29/1/1979, [oPJV]

   BS891   G     84 - t, part view, Jolimont Workshops, 30/11/1984, [oPJV]

   BB068   G     91 - scrapped underframe, Newport Workshops, 18/6/1984, [oPJV]

   CK423   G     93, Jolimont Workshops, 11/3/1979, [oPJV]

   AL206   G     94 - 2/3w, Hurstbridge, 31/7/1977, [oPJV]

   AL207   G     94 - NL, Jolimont Workshops, 7/4/1978, [oPJV]

   DL231   G     94 - t, 2nd car in set, Sunshine, 29/3/1980, [oPJV]

   AL208   G     95, Flinders Street Yard, c1975, [oPJV]

   AV785   G     95 - full windows, lettering, Newport Workshops, 19/2/1977, [oPJV]

   BG988   G     95 - sXp, Flinders Street Yard, 3/7/1975, [oPJV]

   DK387   G     96 - 2nd car on scrap train, Jolimont Workshops, 22/4/1977, [oPJV]

   BB106   G     97, Jolimont Workshops, 20/6/1984, [oPJV]

   AL209   G     97, Flinders Street Yard, 4/4/1978, [oPJV]

   CZ255   G     97 - part view, Jolimont Workshops, 17/10/1976, [oRXO]

   BS893   G     97 - t, part view, Jolimont Workshops, 30/11/1984, [oPJV]

   AL210   G     98, Jolimont Workshops, 3/1976, [oPJV]

   CZ261   G     98 - part view, Jolimont Workshops, 17/10/1976, [oRXO]

   BQ619   G     98 - t, Jolimont Workshops, 7/11/1984, [oPJV]

   BG992   G    100, Flinders Street Yard, 9/3/1976, [oPJV]

   AL188   G    100, Flinders Street Yard, c1976, [oPJV]

   AK338   G    100 - 3/4W, tap, Jolimont Workshops, 19/10/1977, [oPJV]

   BD419   G    103 - part view, Flinders Street Yard, 20/6/1981, [oPJV]

   BI422   G    103 - part view/stored, Newport Workshops, 26/5/1983, [oPJV]

   BI421   G    103 - stored cars for scrap, Newport Workshops, 26/5/1983, [oPJV]

 
   Diagrams   for  'G  '

   FileID  Description................................................



   AU577   G        -  position of internal signs, [sPJV]

   AU670   G        -  Tait, [oPTC]

 
---
File c124m compiled by Peter J. Vincent, updated 10/11/2013