---
M - Swing Door Suburban Motor Car
---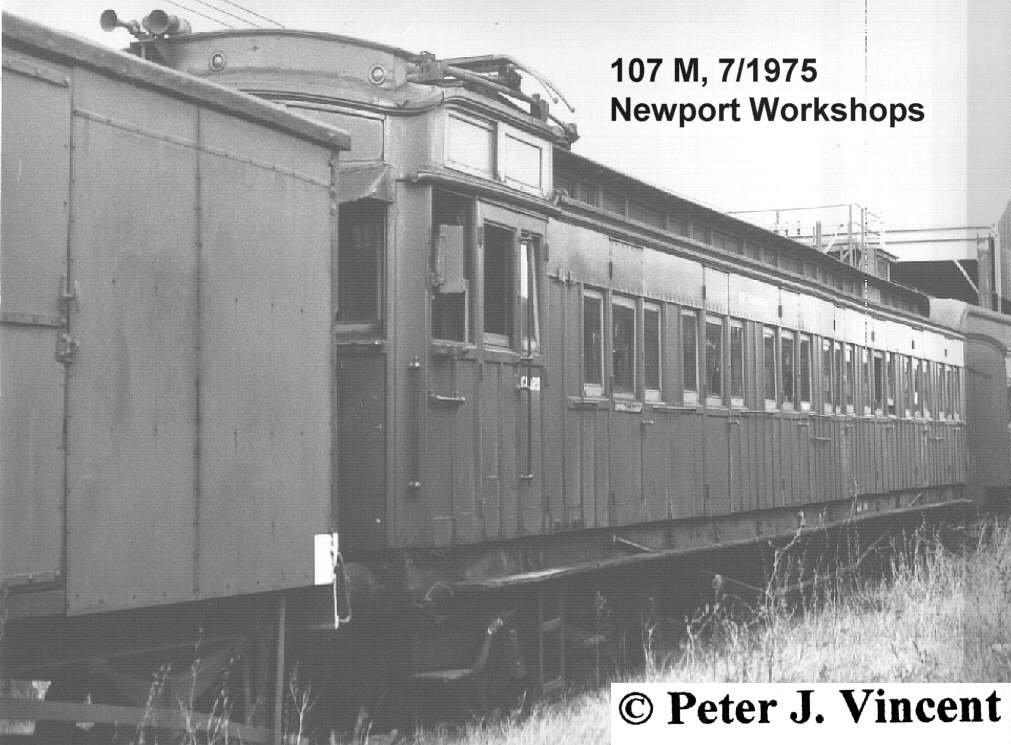 From 1917 to 1924 steam hauled cars were converted for electric suburban use.
The initial codes used for electric traction were "steam hauled" car codes with an [M]otor, [D]riving trailer or [T]railer suffix.
As some of the codes were three and four letters long, the coding was rationalized in 1921 to a simple M, _D__ or _T__.
Cars coded ACM_ or BCM_. were relettered to M. After 1921, conversions were from steam hauled cars coded _AC_ and _BC_.
To segregate swing door cars from sliding door cars, the swing door group occupied numbers from 1 upwards and sliding cars were numbered from 201 upwards.
From 1908 to 1914 swing door cars were lengthened from 45' to about 60'. At the time they were gas lit. Most cars were lengthened by adding passenger or guards van compartments, later used as driving/guard compartments.
The M numbers were:

     1 -     4,      6,      8 -    21,     23,     25,     26,
    28 -    30,     32,     34,     35,     37,     39 -    41,     43
    44,     46,     48 -    51,     54,     57,     62 -   164

Between 1926 and 1937, most of the cars destined for service as 'double end' driving cars in the original scheme were converted to ABM_ for single car operation on lightly trafficked lines.
The car numbers missing were cars never completed by 1924, when the project was suddenly halted. Part completed cars were patched up and returned to service with original codes and numbers. They remained in steam haul service with evidence of drivers windows, canopy lights and fittings for electric suburban use.
For long haul outer "suburban" use, some M cars were utilized in tandem to haul steam hauled cars to the outskirts of electrification. The M's were detached and steam locomotives continued the haul. On the return journey, the locomotives were swapped for the M cars. These trains were later known as "E" trains from the timetable column heading. For this use the cars were coded ACM_ from the mid 1920's, later adopting _AM_, then M as class letters. The cars were: 1, 8 15, 46, 65, 78. These cars had the traction overload circuit set to 850 amps, not the standard 650 amps. On train departure the acceleration was so great that severe jolting could cause injury or mechanical damage. Train crews always departed with one motor car 'off line'.
In 1939 a collision at Croydon saw two M cars destroyed. The underframes were re-used and two Tait _M__ bodies were built onto the frames. This resulted in two wide body cars on narrow underframes with noticeable overhang.
Swing door cars were reasonably narrow. This was to ensure that two opposing trains with open outward swing doors were clear of each other. At certain locations, clearances were tight and there are stories of swing door cars losing doors that accidentally opened. The new sliding door trains of 1910 had no such restriction and were much wider.
Often with peak loading the outward swinging doors would jam on the platform as the carriage settled with the weight. The only solution was to empty the carriage to free the doors and reload carefully.
From the late 1950's to 1970 the swing door trains were replaced by the "Harris" trains. The cars were noted for their age; the majority of cars were built between 1887 and 1893.
The last swing door cars in service were parcels coaches ( _CM_ class ) and two cars used as workshops shunters at Jolimont until about 1990.
The writer believes one of the great mysteries has been unraveled. Two swing door cars were in unusual service. One became a workshops shunter at Jolimont ( 113M ) and the other became a spare parcels coach when needed ( 156M ). Both performed shunting duties in the Jolimont Yard and ran transfer trains between Flinders Street and Newport Workshops. 113M was a shunter from at least 1926 and 156M a temporary coach from 1923.
In compiling these pages for swing doors, it was realized that if ten _T__ trailer cars were surplus in 1929, then there was a good chance that maybe there were surplus M cars too. The swing door conversion program was suddenly halted as mentioned above. This would lead to the conclusion that there would be an odd number of cars converted which may not make complete six cars sets ( M-T-T-M-T-M ) at the time.
It seems likely that at least two cars were surplus. As electric cars, they could not be returned to steam service without great expense. Cars 113M and 156M appear to be in service not planned for. There is no mention of shunter cars and standby parcels coaches in the planning references.
Another mystery of 30 years has apparently been solved. There were eight M cars in service with 9'6" deep guards vans. Normal vans were about 5' 4". With whispers of 'milk traffic use' rumoured about 20 years ago, serious research into these cars has only taken place in 1997. It appears that the cars were built as 50'2" long ADAD between 1898 and 1908. The cars were lengthened for suburban electrification by adding a compartment at the non-van end. Research at the Public Records Office and other available files show no mention of special traffic or reasons. However, research of all cars built after 1898 shows all stock was built on 50'2" underframes. As First Class compartments are wider than Second Class, there would be insufficient room for one more compartment, leaving the extra space in the van. BDBD cars were built with smaller Second Class compartments allowing for a standard van size.
Given that these vehicles have unusual van sizes, it is possible to see how the cars can be utilized for extraordinary traffic, such as milk cans and the like.
   Photos   for  'M  '

   FileID  Description................................................



   BI200   M      1 - mk, with 113M swd shunting, Flinders Street Yard, 8/1/1982, [oPJV]

   AY998   M    113 - swd -  Workshop Pilot  lettering, Jolimont Workshops, 31/8/1983, [oPJV]

   AY996   M    113 - swd -  113 M  lettering, Jolimont Workshops, 31/8/1983, [oPJV]

   CZ299   M    113 - swd - 1 x CE, 3 x ghosts, Jolimont Workshops, 4/6/1983, [oPJV]

   AY995   M    113 - swd - 1.80 PV 1.81, Jolimont Workshops, 31/8/1983, [oPJV]

   BD658   M    113 - swd - buffers, e2, ZD 31 buffer plates remvd, Jolimont Workshops, 1/8/1981, [oPJV]

   BD663   M    113 - swd - car lines, west end, Jolimont Workshops, 1/8/1981, [oPJV]

   BA983   M    113 - swd - distant, with MK and Harris/ghost/std, Flinders Street Yard, 6/7/1984, [oPJV]

   AY992   M    113 - swd - e1p, Jolimont Workshops, 31/8/1983, [oPJV]

   AY993   M    113 - swd - e1q, Jolimont Workshops, 31/8/1983, [oPJV]

   AY994   M    113 - swd - JL 12-60 lettering, Jolimont Workshops, 31/8/1983, [oPJV]

   AY997   M    113 - swd - JP 2.56 L 1.65 JP 4.75, Jolimont Workshops, 31/8/1983, [oPJV]

   AU645   M    113 - swd - Met, Jolimont Workshops, 1/11/1983, [oPJV]

   AU912   M    113 - swd - Met, 3 x Taits in shops, Jolimont Workshops, 22/9/1983, [oPJV]

   BA949   M    113 - swd - on Harris set, Jolimont Workshops, 6/7/1984, [oPJV]

   AY991   M    113 - swd - panto up, Jolimont Workshops, 31/8/1983, [oPJV]

   BD708   M    113 - swd - pilot shunting, Flinders Street Yard, 1981, [oPJV]

   BD240   M    113 - swd - s2e2c, blue/yellow, Jolimont Workshops, 17/10/1976, [oRXO]

   BA982   M    113 - swd - s2p, Flinders Street Yard, 6/7/1984, [oPJV]

   BE052   M    113 - swd - shunts Harris, Jolimont Workshops, 5/8/1981, [oPJV]

   AY100   M    113 - swd - with 2 x CE M cars, Jolimont Workshops, 26/12/1983, [oPJV]

   AY070   M    113 - swd - with 3 car CE met set, Jolimont Workshops, 21/12/1983, [oPJV]

   BD690   M    113 - swd - with 376M vic, side cabs, Jolimont Workshops, 13/9/1984, [oPJV]

   BA980   M    113 - swd - with coupler match van ZD 31, Flinders Street Yard, 6/7/1984, [oPJV]

   AY073   M    113 - swd - with ZD match van, Jolimont Workshops, 21/12/1983, [oPJV]

   AV343   M    113 - swd - with ZD, cables along ZD side, Jolimont Workshops, 6/6/1983, [oPJV]

   B3207   M    113 - swd e2p, Jolimont Workshops, 24/3/1979, [oPJV]

   B3206   M    113 - swd e2q, Jolimont Workshops, 24/3/1979, [oPJV]

   BO283   M    113 - swd e2q, part view, Jolimont Workshops, 20/1/1981, [oPJV]

   BP184   M    113 - swd met s2e1c, Jolimont Workshops, 13/11/1984, [oPJV]

   B3208   M    113 - swd s2e2c, Jolimont Workshops, 24/3/1979, [oPJV]

   B2837   M    113 - swd s2p, Jolimont Workshops, 5/4/1978, [oPJV]

   B2836   M    113 - swd s2q, Jolimont Workshops, 5/4/1978, [oPJV]

   BS047   M    137 - swd - restored, Williamstown, [sPJV]

   AY917   M    156 - swd - e2, Met, Jolimont Workshops, 29/8/1983, [oPJV]

   AU068   M    156 - swd - headboard  PETRONIUS 210BC , Jolimont Workshops, 8/9/1983, [oPJV]

   BA877   M    156 - swd - Met, s1e2c, Jolimont Workshops, 13/6/1984, [oPJV]

   BD411   M    156 - swd - Met, s2e2, Jolimont Workshops, c1982, [oPJV]

   AY908   M    156 - swd - new Met colours, e1, Jolimont Workshops, 27/8/1983, [oPJV]

   AX230   M    156 - swd - part view, coupled M&K 122M, Jolimont Workshops, 17/8/1983, [oPJV]

   AX225   M    156 - swd - shunting MK set, Jolimont Workshops, 17/8/1983, [oPJV]

   AY084   M    156 - swd - shunts at east end, Jolimont Workshops, 21/12/1983, [oPJV]

   AX232   M    156 - swd - side damaged a/c side swipe, Jolimont Workshops, 17/8/1983, [oPJV]

   BE160   M    156 - swd - with 13M, 106M s mk, Jolimont Workshops, 3/8/1981, [oPJV]

   CN127   M    156 - swd s2e2c, east end, Jolimont Workshops, 1970s, [oBAU]

   DK383   M    156 - swd stabled with 113M, Jolimont Workshops, 20/4/1977, [oPJV]

   B2827   M    156 - swd turn M mk on turntable, Jolimont Workshops, 5/4/1978, [oPJV]

   BR425   M    156 - swd with Harris ghost set, Tait, Jolimont Workshops, 27/11/1984, [oPJV]

 
   No diagrams found for M   
---
File c226m compiled by Peter J. Vincent, updated 3/9/2007