---
BCPL - Bogie 1st/2nd/Guards Van
---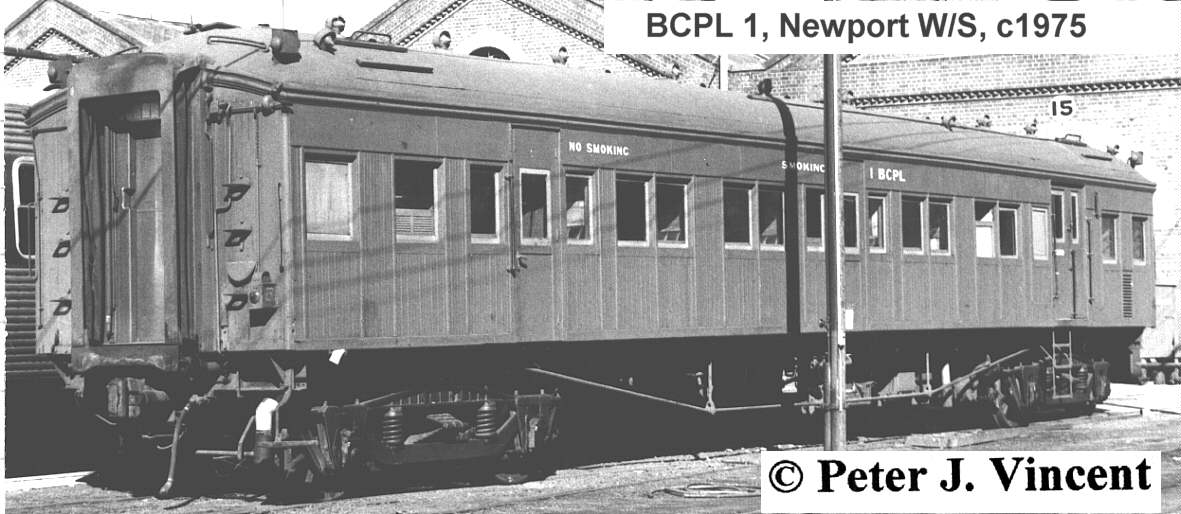 For comparison trial of the new railcars in 1928 a standard 'PL' car was converted to a railmotor trailer. In 1940, the car was recoded from 25 _MT_ to BCPL 1. It remained the only BCPL car until 1966.
Between 1966 and 1973 another thirty 'PL' type cars were modified with van compartments and recoded to BCPL. Cars 2 - 14 were converted from APL_ class cars 1966/1967. Cars 15 - 32 were converted from BPL_class cars 1968 to 1973. Indeed many of these BPL cars were converted from APL cars anyway.
The idea of the cars was to reduce the tonnage of short haul interurban trains by incorporating a guards van into a carriage rather than towing a dedicated guards van.
The class numbers were 1 to 32.
In the late 1970's BCPL 11 was converted to 'Dance Car' for special train trips. The seats were removed allowing the car to become one large dance floor.
From 1978 to 1988 the cars were withdrawn from service and scrapped.
   Photos   for  'BCPL  '

   FileID  Description................................................



   DN262   BCPL        -  part view, storage line, Newport Workshops, 10/10/1980, [oPJV]

   BG990   BCPL        - eXp, Flinders Street Yard, 3/7/1975, [oPJV]

   BG989   BCPL        - eXq, Flinders Street Yard, 3/7/1975, [oPJV]

   BM970   BCPL        - on train set BCPL-PL-W car, Broadmeadows, 1/3/1982, [oPJV]

   AB026   BCPL      1, Newport Workshops, c1975, [oPJV]

   BB642   BCPL      3 - Apex spcl, Bonegilla, 30/3/1975, [oPJV]

   BP548   BCPL      3 - part view, scrapped underframe, Newport Workshops, 9/6/1982, [oPJV]

   BM880   BCPL      3 - s2e2 undergear lit, Spencer Street, 20/1/1976, [oPJV]

   BK187   BCPL      4 - body, Primary School (Joe Geddes wife teacher), Erica, 3/11/1980, [oPJV]

   BD174   BCPL      4 - s1e2, Spencer Street, 20/10/1976, [oRXO]

   BD176   BCPL      6 - s2e1c, Spencer Street, 18/10/1976, [oRXO]

   BM935   BCPL      7 - damaged end, North Melbourne C&W, 25/2/1980, [oPJV]

   BX763   BCPL      7 - end/damage, North Melbourne C&W Shops, 11/7/1980, [oPJV]

   DS317   BCPL      7 - half of body on ground, North Melbourne C&W Shops, 2/10/1980, [oPJV]

   BQ152   BCPL      7 - s1e1, collision damage, Spencer Street, 4/2/1980, [oPJV]

   BM936   BCPL      7 - s1e1, damaged end, North Melbourne C&W, 25/2/1980, [oPJV]

   DS042   BCPL      7 - scrapping: underframe/half of body, North Melbourne C&W Shops, 2/10/1980, [oPJV]

   BX635   BCPL      7 - shunt damage, North Melbourne C&W Shops, 11/7/1980, [oPJV]

   BK214   BCPL      7 - underframe, after body scrap, North Melbourne C&W Shops, 4/11/1980, [oPJV]

   AB030   BCPL      9, Flinders Street Yard, c1976, [oPJV]

   BX841   BCPL      9 - part view, Spencer Street, 29/4/1979, [oPJV]

   BD177   BCPL      9 - s2e1, Spencer Street, 21/10/1976, [oRXO]

   BD178   BCPL     10 - s1e2, Spencer Street, 21/10/1976, [oRXO]

   AB027   BCPL     11, 19/11/1976, [oPJV]

   BQ748   BCPL     11 - s2e1, Spencer Street, 26/4/1979, [oPJV]

   CC219   BCPL     12 - OR, Spotswood Rec Depot, 2/4/1979, [oPJV]

   BD179   BCPL     12 - s2e1, Spencer Street, 18/10/1976, [oRXO]

   BD180   BCPL     14 - s1e2c, Spencer Street, 18/10/1976, [oRXO]

   DA694   BCPL     15, Flinders Street Yard, 13/7/1976, [oPJV]

   BL931   BCPL     15 - part view, Newport Workshops, 17/4/1980, [oPJV]

   DL348   BCPL     15 - part view, scrap line, Newport Workshops, 17/4/1980, [oPJV]

   BC099   BCPL     17 - body, Newport Workshops, 14/6/1981, [oPJV]

   B3416   BCPL     17 - e1q, Flinders Street Yard, 19/3/1979, [oPJV]

   B3418   BCPL     17 - part side s2/van, Flinders Street Yard, 19/3/1979, [oPJV]

   B3415   BCPL     17 - s2e1c, Flinders Street Yard, 19/3/1979, [oPJV]

   BD181   BCPL     18 - s1e2, Spencer Street, 21/10/1976, [oRXO]

   BD182   BCPL     19 - s1e1, Spencer Street, 4/11/1976, [oRXO]

   BH009   BCPL     20 - part view, Flinders Street Yard, 9/3/1976, [oPJV]

   CC389   BCPL     20 - part view, Ararat, 29/4/1978, [oPJV]

   CC366   BCPL     20 - s1e2, Ararat, 29/4/1978, [oPJV]

   BD183   BCPL     20 - s2e1, Spencer Street, 19/10/1976, [oRXO]

   BD184   BCPL     21 - s2e2c, Spencer Street, 9/11/1976, [oRXO]

   BD185   BCPL     24 - part view, Bendigo North Workshops, 1/11/1976, [oRXO]

   BD187   BCPL     25 - s1e1c, Spencer Street, 19/10/1976, [oRXO]

   AB028   BCPL     27, Spencer Street, c1977, [oPJV]

   CB498   BCPL     27 - s1e1c / from height, Bendigo Workshops, 8/4/1979, [oPJV]

   BD188   BCPL     27 - s1e2, Spencer Street, 18/10/1976, [oRXO]

   AB029   BCPL     30, Flinders Street Yard, c1976, [oPJV]

   11416   BCPL     30 - end of L 1166 train/collision/lean, Flinders Street Yard, 7/4/1978, [oPJV]

   11423   BCPL     30 - lean against Harris, Flinders Street Yard, 7/4/1978, [oPJV]

   BD189   BCPL     30 - s1e1, Warragul, 9/10/1976, [oRXO]

   BG496   BCPL     30 - s1e1, Flinders Street Yard, 16/10/1975, [oPJV]

   11420   BCPL     30 - with Harris / staff congregate, Flinders Street Yard, 7/4/1978, [oPJV]

   BD190   BCPL     31 - s2e1, Warragul, 9/10/1976, [oRXO]

   B3417   BCPL     E1P, Flinders Street Yard, 19/3/1979, [oPJV]

 
   Diagrams   for  'BCPL  '

   FileID  Description................................................



   AS863   BCPL        -   11, Dance car, diagram B-13, 1977, [oPTC]

   AB790   BCPL        -  51 passengers, [oPTC]

   AK630   BCPL     11 - B-13, Dance car, [sPJV]

 
---
File c325m compiled by Peter J. Vincent, updated 10/10/2007